A selection of the best UEFA Champions League items is now live in FIFA 19 Ultimate Team. Find out the new Road to the Final squad, available for a limited time, and the UCL Live items you will be able to find in packs.

FIFA 19 UEFA ITEMS
UCL CARDS | UCL LIVE CARDS | PLAYERS | UPGRADES



You can see all RTTF upgrades clicking here.
FIFA 19 UEFA Champions League Items
All UCL cards
As explained here, there are several UEFA Champions League player's items on FIFA 19 Ultimate Team. Let's see which ones:

CHAMPIONS LEAGUE REGULAR CARDS
Every UEFA Champions League-eligible player who has been confirmed by their club or made an appearance for their club in this year's tournament receives a Champions League card with +1 to their overall rating (OVR) and each of the six main stat categories.

MOTM CARDS
cMOTM items are split into Champions League MOTM cards and Europa League MOTM cards, depending on the competition where the player stood out. These items don't have any periodicity and are usually assigned for standout performances in Champions League fixtures.

SQUAD BUILDING CHALLENGES REWARD CARDS
FIFA 19 Squad Building Challenges cards are unique items that players can get completing specific Champions League challenges. They can't be found in packs. These cards are only available as rewards and for that reason they are untradeable.

TEAM OF THE TOURNAMENT CARDS
TOTT cards assigned to the best players of European Champions League – Team of the Groups Stage (TOTGS) and Team of the Knockout stage (TOTKS). The ratings and attributes of these cards are usually boosted in one or two points, compared to their previous card.

UCL OTW CARDS
The UEFA Live items are assigned to a very limited selection of players who are playing the Champions League. These cards replace the regular UCL player cards in specific times and boost in rating and stats every time their team progresses to the next stage.
FIFA 19 UCL Live Items
What are the FIFA 19 UCL Live Items?
The UCL Live Items are the most important Champions League cards because they are the only Dynamic items. If you know how OTW cards work, you already have a good idea about these new cards.
First of all, you should know that UEFA Live items are assigned to a very limited selection of players who are playing the Champions League. 21 UEFA Champions League Dynamic Items that will be available in packs for a limited time, while 4 UEFA Europa League Dynamic Player Items will be available through SBCs, throughout the event.
The Champions League Live items are based on the UCL regular cards, the ones that already have a +1 boost. When they are released, they look very similar, since they feature the same rating and stats. However, select players from teams that advance through key stages of the UEFA Champions League and UEFA Europa League will receive an upgrade to their OVR. The ratings on this item type update automatically, whether they are in your Club or listed on the Transfer Market. Each item's dynamic ratings will increase based on the club's real-world performances throughout the competition. If the team wins or advances at select times during the competition, the player gets an upgrade regardless of their individual performance. A player could receive a maximum of six upgrades throughout the season:
1 Advancing to the Knockout Stage
December 14, 2018
2 Winning in the first leg of Round of 16
February 22, 2019
3 Advancing to the Quarter-Final
March 15, 2019
4 Advancing to the Semi-Final
April 19, 2019
5 Advancing to the Final
May 10, 2019
6 Winning the Final
June 1, 2019
It's important to clarify that regular ones to watch cards are not affected by UCL Live upgrades. In the same way, when a new TOTW or special card is released, the respective UCL Live item is not upgraded.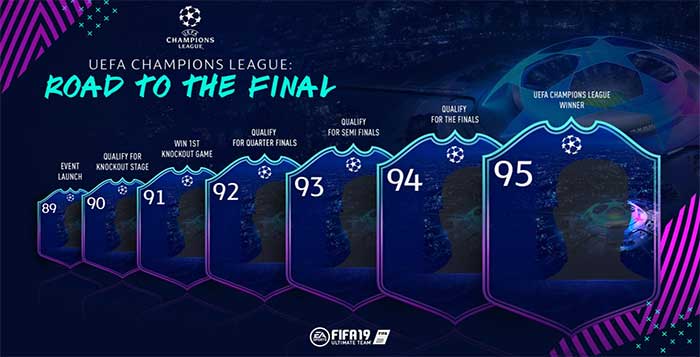 Here is a short FAQ that may help you to understand better how it works:
Q: How big is the upgrade?
A: Each time a player is upgraded they will receive an equivalent of an in-form.
Q: What happens if a Road To The Final player doesn't play but their team advances?
A: A Road To The Final player does not need to be selected or have played in the game for them to receive an upgrade.
Q: What happens if the player transfers?
A: If a player transfers to a club not playing in either tournament they will no longer receive any upgrades.
Q: What happens if the player's team finishes 3rd in the UEFA Champions League group stage?
A: The Player Item will be updated to a UEFA Europa League: Road To The Final item, they will not receive a OVR upgrade for advancing to the Knockout stage but will continue to receive upgrades if their club advances to the other stages of the competition.
Q: What happens if a player's club is knocked out of either tournament?
A: If a player gets knocked out of either tournament they will no longer receive any upgrades.
Q: How long will it take for the attribute boost to be applied to a player item when a shift occurs?
A: Dynamic Player Items can take a few hours to update in-game.
UEFA Champions League Road to the Final Live Squad
Who are the players who got a UCL Live Item in FIFA 19?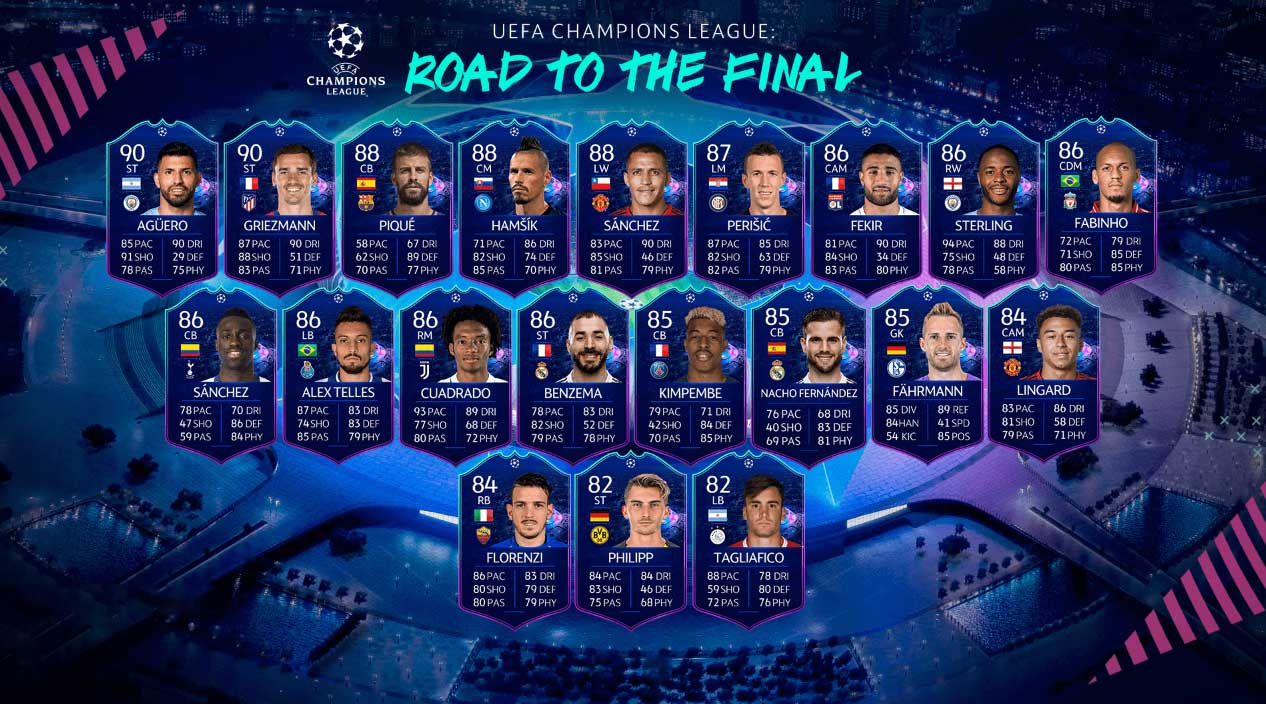 The FIFA 19 UEFA Champions League Live cards will be available from November 9 to November 16. Here is the list of new dynamic cards for FIFA 19 Ultimate Team:

GOALKEEPERS
85 ?? GK: Ralf Fahrmann (Schalke 04)

DEFENDERS
84 ?? RB: Alessandro Florenzi (AS Roma)
88 ?? CB: Gerard Piqué (FC Barcelona)
85 ?? CB: Nacho Fernández (Real Madrid)
86 ?? CB: Davinson Sanchez (Tottenham Hotspur)
85 ?? CB: Presnel Kimpembe (Paris Saint-Germain)
86 ?? LB: Alex Telles (FC Porto)
82 ?? LB: Nicolas Tagliafico (Ajax)

MIDFIELDERS
86 ?? CDM: Fabinho (Liverpool)
88 ?? CM: Marek Hamsik (Napoli)
81 ?? CM: Renato Sanches (FC Bayern)
86 ?? CAM: Nabil Fékir (Olympique Lyonnais)
84 ??????? CAM: Jesse Lingard (Manchester United)
86 ?? RM: Juan Cuadrado (Juventus)
86 ??????? RW: Raheem Sterling (Manchester City)
87 ?? LM: Ivan Perisic (Inter)
88 ?? LW: Alexis Sánchez (Manchester United)

STRIKERS
90 ?? ST: Sergio Aguero (Manchester City)
90 ?? ST: Antoine Griezmann (Atlético Madrid)
86 ?? ST: Karim Benzema (Real Madrid)
82 ?? ST: Max Philipp (Borussia Dortmund)
FIFA 19 UCL Live Upgrades
The boosted cards

UPGRADE 5
? May 8, 2019 (new cards added on May 11)

DEFENDERS
90 ?? RB: Serge Aurier (Tottenham)
93 ?? CB: Van Dijk (Liverpool)
91 ?? CB: Davinson Sanchez (Tottenham Hotspur)

MIDFIELDERS
90 ?? CDM: Fabinho (Liverpool)
UPGRADE 4
? April 17, 2019 (new cards added on April 19)

DEFENDERS
89 ?? RB: Serge Aurier (Tottenham)
91 ?? CB: Gerard Piqué (FC Barcelona)
92 ?? CB: Van Dijk (Liverpool)
90 ?? CB: Davinson Sanchez (Tottenham Hotspur)
87 ?? LB: Nicolas Tagliafico (Ajax)

MIDFIELDERS
89 ?? CDM: Fabinho (Liverpool)

STRIKERS
95 ?? ST: Luís Suárez (FC Barcelona)
UPGRADE 3
? March 13, 2019 (new cards added on March 15)

DEFENDERS
88 ?? RB: Serge Aurier (Tottenham)
90 ?? CB: Gerard Piqué (FC Barcelona)
91 ?? CB: Van Dijk (Liverpool)
89 ?? CB: Davinson Sanchez (Tottenham Hotspur)
88 ?? LB: Alex Telles (FC Porto)
86 ?? LB: Nicolas Tagliafico (Ajax)

MIDFIELDERS
88 ?? CDM: Fabinho (Liverpool)
86 ??????? CAM: Jesse Lingard (Manchester United)
88 ?? RM: Juan Cuadrado (Juventus)
91 ??????? RW: Raheem Sterling (Manchester City)
89 ?? LM: Douglas Costa (Juventus)
90 ?? LW: Alexis Sánchez (Manchester United)

STRIKERS
94 ?? ST: Luís Suárez (FC Barcelona)
93 ?? ST: Sergio Aguero (Manchester City)
UPGRADE 2
? February 22, 2019 (new cards added on February 23)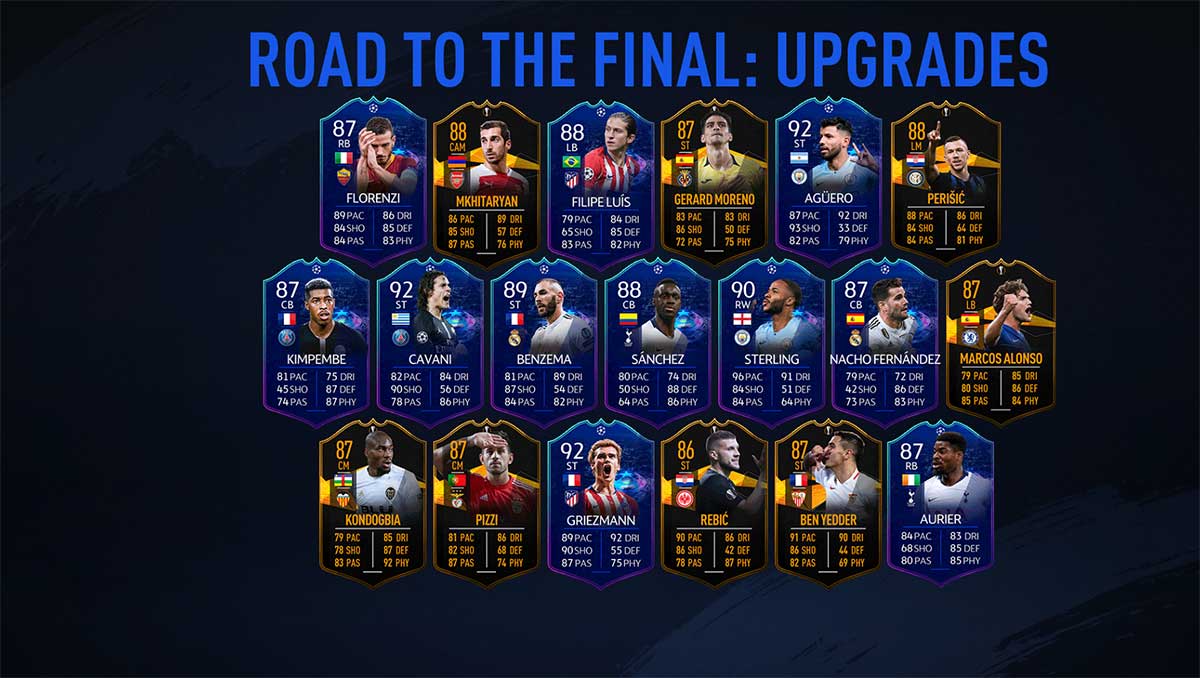 GOALKEEPERS
86
?? GK: Ralf Fahrmann (Schalke 04)
DEFENDERS
87
?? RB: Alessandro Florenzi (AS Roma)
+1
87
?? RB: Serge Aurier (Tottenham)
+1
89
?? CB: Gerard Piqué (FC Barcelona)
90
?? CB: Van Dijk (Liverpool)
87
?? CB: Nacho Fernández (Real Madrid)
+1
88
?? CB: Davinson Sanchez (Tottenham Hotspur)
+1
87
?? CB: Presnel Kimpembe (Paris Saint-Germain)
+1
87
?? LB: Alex Telles (FC Porto)
88
?? LB: Filipe Luís (Atlético Madrid)
+1
84
?? LB: Nicolas Tagliafico (Ajax)
MIDFIELDERS
87
?? CDM: Fabinho (Liverpool)
84
?? CM: Renato Sanches (FC Bayern)
90
?? CAM: James Rodríguez (FC Bayern)
87
?? CAM: Nabil Fékir (Olympique Lyonnais)
85
??????? CAM: Jesse Lingard (Manchester United)
87
?? RM: Juan Cuadrado (Juventus)
84
?? RM: Christian Pulisic (Borussia Dortmund)
90
??????? RW: Raheem Sterling (Manchester City)
+1
88
?? LM: Douglas Costa (Juventus)
89
?? LW: Alexis Sánchez (Manchester United)
STRIKERS
93
?? ST: Luís Suárez (FC Barcelona)
92
?? ST: Sergio Aguero (Manchester City)
+1
92
?? ST: Antoine Griezmann (Atlético Madrid)
+1
91
?? ST: Edinson Cavani (Paris Saint-Germain)
89
?? ST: Karim Benzema (Real Madrid)
+1
84
?? ST: Max Philipp (Borussia Dortmund)
UPGRADE 1
? December 14, 2018 (new cards added on December 21)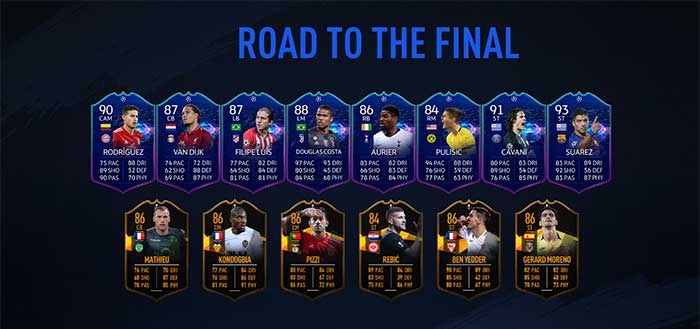 GOALKEEPERS
86
?? GK: Ralf Fahrmann (Schalke 04)
DEFENDERS
86
?? RB: Alessandro Florenzi (AS Roma)
86
?? RB: Serge Aurier (Tottenham)
NEW
89
?? CB: Gerard Piqué (FC Barcelona)
87
?? CB: Van Dijk (Liverpool)
NEW
86
?? CB: Nacho Fernández (Real Madrid)
87
?? CB: Davinson Sanchez (Tottenham Hotspur)
86
?? CB: Presnel Kimpembe (Paris Saint-Germain)
87
?? LB: Alex Telles (FC Porto)
87
?? LB: Filipe Luís (Atlético Madrid)
NEW
84
?? LB: Nicolas Tagliafico (Ajax)
MIDFIELDERS
87
?? CDM: Fabinho (Liverpool)
84
?? CM: Renato Sanches (FC Bayern)
90
?? CAM: James Rodríguez (FC Bayern)
NEW
87
?? CAM: Nabil Fékir (Olympique Lyonnais)
85
??????? CAM: Jesse Lingard (Manchester United)
87
?? RM: Juan Cuadrado (Juventus)
84
?? RM: Christian Pulisic (Borussia Dortmund)
NEW
87
??????? RW: Raheem Sterling (Manchester City)
88
?? LM: Douglas Costa (Juventus)
NEW
89
?? LW: Alexis Sánchez (Manchester United)
STRIKERS
93
?? ST: Luís Suárez (FC Barcelona)
NEW
91
?? ST: Sergio Aguero (Manchester City)
91
?? ST: Antoine Griezmann (Atlético Madrid)
91
?? ST: Edinson Cavani (Paris Saint-Germain)
NEW
87
?? ST: Karim Benzema (Real Madrid)
84
?? ST: Max Philipp (Borussia Dortmund)