The FIFA 20 Bundesliga TOTS awards the most inform players playing in Germany. Discover the predictions and the official squad of the Bundesliga Team of the Season So Far of FIFA 20 Ultimate Team.
FIFA 20 Bundesliga TOTS
This TOTS joins the players that played better on the Bundesliga.
This season's most impressive players from the Bundesliga have been recognized as part of the FIFA 20 Bundesliga Team of the Season. Upgrade your FUT squad with as many of these player items as possible, as they will only be found in packs for a limited time (one week). Don't forget the items you can get exclusively via weekly objectives and via SBC.
Our Predictions
Predictions made based on the player's performances over the season
94 GK

Yann Sommer (Borussia M'gladbach)
92 GK

Péter Gulácsi (RB Leipzig)
93 RB

Achraf Hakimi (Borussia Dortmund)
96 CB

Mats Hummels (Borussia Dortmund)
89 CB

Matthias Ginter (Borussia M'gladbach)
92 CB

Dayot Upamecano (RB Leipzig)
90 LB

Marcel Halstenberg (RB Leipzig)
92 LB

Alphonso Davies (Bayern München)
95 CDM

Joshua Kimmich (Bayern Munchen)
94 CM

Thiago (Bayern Munchen)
93 CM

Christopher Nkunku (RB Leipzig)
88 CM

Suat Serdar (FC Schalke 04)
95 CAM

Marco Reus (Borussia Dortmund)
94 CAM

Kai Havertz (Bayer 04 Leverkusen)
94 CAM

Thomas Müller (Bayern Munchen)
91 CAM

Marcel Sabitzer (RB Leipzig)
95 RW

Jadon Sancho (Borussia Dortmund)
94 RM

Serge Gnabry (Bayern Munchen)
92 LM

Filip Kostić (Eintracht Frankfurt)
98 ST

Robert Lewandowski (Bayern Munchen)
96 ST

Timo Werner (RB Leipzig)
93 ST

Alassane Plea (Borussia M'gladbach)
89 ST

Florian Niederlechner (FC Augsburg)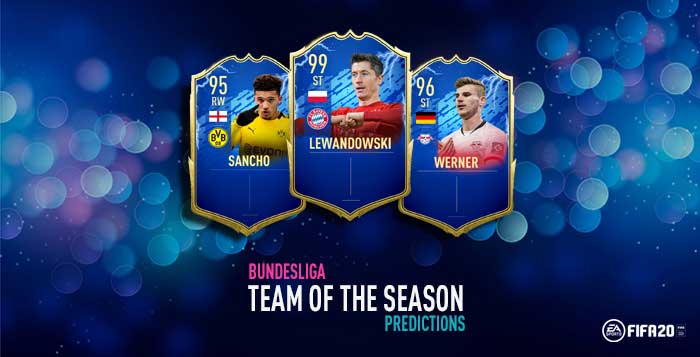 Official Squad
Available in packs from May 14 to May 21, 2020
94 GK

Yann Sommer (Borussia M'gladbach)
91 GK
Lukáš Hrádecký (Bayer 04 Leverkusen)
91 RWB

Achraf Hakimi (Borussia Dortmund)
96 CB

Mats Hummels (Borussia Dortmund)
93 CB

Dayot Upamecano (RB Leipzig)
92 CB

Matthias Ginter (Borussia M'gladbach)
88 CB
Martin Hinteregger (Eintracht Frankfurt)
92 LB

Alphonso Davies (Bayern München)
96 CDM

Joshua Kimmich (Bayern Munchen)
95 CM

Thomas Müller (Bayern Munchen)
88 CM

Suat Serdar (FC Schalke 04)
95 CAM

Marco Reus (Borussia Dortmund)
94 CAM

Kai Havertz (Bayer 04 Leverkusen)
93 RW

Serge Gnabry (Bayern Munchen)
96 RF

Jadon Sancho (Borussia Dortmund)
94 LM

Filip Kostić (Eintracht Frankfurt)
99 ST

Robert Lewandowski (Bayern Munchen)
97 ST

Timo Werner (RB Leipzig)
95 ST

Erling Håland (Borussia Dortmund)
89 ST

Florian Niederlechner (FC Augsburg)
VIA SBCs & OBJECTIVES
93 CDM

Axel Witsel (Borussia Dortmund)
92 CM
Marcel Sabitzer (RB Leipzig)
92 CAM

Philippe Coutinho (Bayern Munchen)
89 LM
Javairô Dilrosun (Hertha BSC)