A fresh batch of objectives is released every single day as part of the new Season Objectives. In this always updated page, you will be able to discover the FIFA 20 Daily Objectives List and its rewards. Complete dynamic daily Objectives in-game or in the web & companion app to earn XP. From squad management goals to dynamic in-match challenges, the harder the challenge, more XP you'll receive and the higher are your chances to win a better season reward.
FIFA 20 Daily Objectives are an easy way to earn XP in FUT. The Objectives vary in difficulty and are consistently updated. Each day, at 6pm (UK time), at least four new objectives are released. If you don't claim your rewards before the Objectives reset, EA'll automatically add them to your Club and you will be informed by a pop up. Don't forget that by completing a daily group, you will receive extra XP.
Let's find out the list of FIFA 20 daily objectives.
FIFA 20 Daily Objectives
List of all FIFA 20 Daily Objectives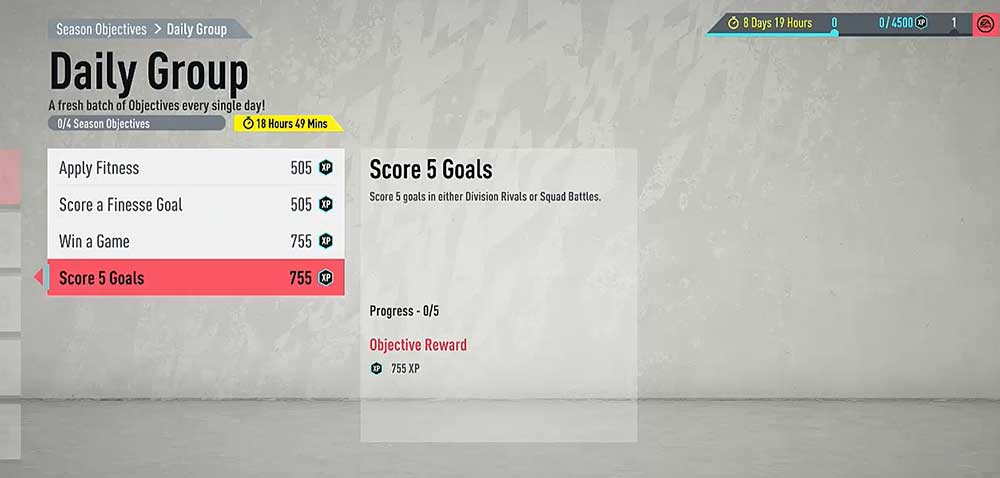 Here is the list of all FIFA 20 Daily Objectives, sorted in alphabetical order (more will be added throughout the year):
FIFA 20 DAILY OBJECTIVES
SMO Squad Management Objectives (can be completed everywhere)
IMO In-Match Objectives (cannot be completed on the Web and Companion Apps)
180

SMO APPLY FITNESS | Apply a Fitness item to any Player
180

SMO BUY A PLAYER | Buy any Player from the Transfer Market using Buy Now
180

SMO LIST A PLAYER | List any Player on the Transfer Market
180

IMO FUT FRIENDLIES | Score a goal in any FUT game mode.
180

IMO PLAY TWO | Play Two matches in any game mode
180

IMO SCORE 5 GOALS | Score 5 goals in either Rivals or Squad Battles
180

IMO SCORE A FINESSE GOAL | Apply a Finesse goal in any game mode
180

IMO SCORE A GOAL IN ONLINE SWAPS | Score a goal in online swaps
180

IMO SCORE A GOAL IN SURVIVAL | Score a goal in Survival
180

IMO SCORE A HEADER | Score a Header with any player, in any game mode
180

IMO WIN A GAME | Win a match in any game mode