EA Access subscribers have the chance to try FIFA 20 first. However, this is not the only advantage. They can play other games for free and get special discounts. Keep reading our FIFA 20 EA Access Guide to know everything about this program, now also available for PlayStation4, including the early access, the free games available, the discounts, the release dates, the prices and how to buy it.
QUICK ACCESS
EA ACCESS | EARLY ACCESS | FREE GAMES | DISCOUNTS | BUY | FAQ


What is EA Access?
Should you subscribe the EA Access program?


EA Access is a subscription paid program exclusively for Xbox One and PlayStation 4 owners. With it, gamers can get exclusive offers for Electronic Arts video games.
The EA Access, released for the first time ever on August 2014, offers to subscribers three main advantages:
1 EARLY ACCESS TO THE FULL GAME
Subscribers can download FIFA 20 earlier and play it up to 10 hours. It is possible to carry forward the progress and achievements.
2 FREE ACCESS TO GAMES
EA Access holders have free access, any time and as long they keep being subscribers of the service, to a selection of games 'The Vault'. At this moment, it includes FIFA 19 and other previous editions.
3 10% DISCOUNT ON EA DIGITAL PURCHASES
EA Access subscribers pay 10% less to buy FUT 20 packs and also get a 10% discount in the full FIFA 20 game, as well in any other EA digital content.
Early Access
How to play FIFA 20 first

• Try new EA games days before official release with EA Access Play First Trials – no purchase necessary.
• Love what you played? Buy the full game and your progress carries over.
• Want to know what the hype is about? Jump into a Play First Trial even after release day.



What is included?
Subscribers can download FIFA 20 full game before the date release. But there is more. EA Access holders also get early access to other EA Sports titles.
What are the early access features?
Through FIFA 20 early access, subscribers may play the full game before the game hits the stores, including on line play and FIFA Ultimate Team features. However, there is a 10 hours total limit of game play. It is possible to play, trade, sell, buy cards and FIFA Points, which can be a huge advantage over the other players without early access. Saved games and achievements/trophies subscribers earn during Early Access, while connected to EA Servers, will unlock once they purchase and log into the EA Servers with the final version of the game.
Which ones are the early access dates?
FIFA 20 EA Access early access starts at September 19, 4pm UK time, which is eight days before the official FIFA 20 release date.
How to get the early access?
After buying this service, subscribers just need to download the game through the service's dashboard.
Free Games
How to play other games for free?

• Play 40+ games as much as you want, whenever you want. More are added over time.
• Explore EA series like Battlefield, FIFA, Dragon Age, Plants vs. Zombies and more.
• More games added over time.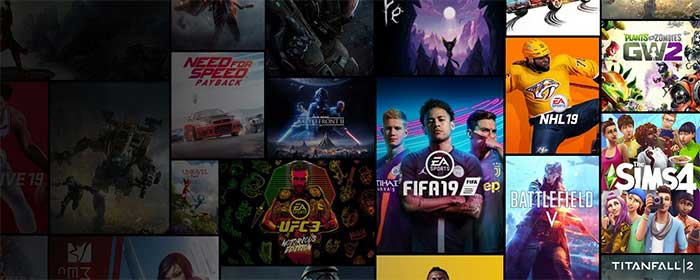 What is the Vault?
The Vault is a growing collection of full EA's best games for the Xbox One and PlayStation 4 that you can download and play with an active EA Access membership. Enjoy unlimited time with great EA games.
Which games can I play for free?
With EA Access, the subscribers get unlimited access to the following Xbox One and PlayStation 4 games (with more titles being added soon):
2019

A Way Out
2019

Alice: Madness Returns
2017

Army Two
2017


Battlefield 1
2018

Battlefield 1943
2017

Battlefield 3
2014


Battlefield 4
2015


Battlefield Hardline
2019


Battlefield V
2017

Battlefield: Bad Company
2017

Battlefield: Bad Company 2
2016

Bejeweled 2 Deluxe
2016

Bejeweled 3
2018

Black
2018


Burnout Paradise
2017

Dante's Inferno
2016

Dead Space
2017

Dead Space 2
2017

Dead Space Ignition
2018

Dead Space™ 3
2017

Dragon Age II
2015


Dragon Age: Inquisition
2017

Dragon Age: Origin
2014


EA Sports UFC
2016


EA Sports UFC 2
2018


EA Sports UFC 3
2018


Fe
2016

Feeding Frenzy
2016

Feeding Frenzy 2
2015

FIFA 15
2016


FIFA 16
2017


FIFA 17
2018


FIFA 18
2019


FIFA 19
2017

Fight Night Champion
2016

Heavy Weapon
2015

Madden NFL 15
2016

Madden NFL 16
2017


Madden NFL 17
2018


Madden NFL 18
2019


Madden NFL 19
2014


Madden NFL 25
2016

Mass Effect 3
2018


Mass Effect: Andromeda
2017

Medal of Honor Airborne
2016

Mirror's Edge
2016


Mirror's Edge Catalyst
2015

NBA Live 15
2016

NBA Live 16
2018


NBA Live 18
2019


NBA Live 19
2016


Need for Speed
2018


Need for Speed Payback
2014


Need for Speed Rivals
2016

NHL 16
2017


NHL 17
2018


NHL 18
2019


NHL 19
2014

Peggle
2014


Peggle 2
2016


Plants vs. Zombies
2014


Plants vs. Zombies: Garden Warfare
2016


Plants vs. Zombies: GW 2
2016

Rory McIlroy PGA Tour
2017

Skate 3
2016

SSX
2016


Star Wars Battlefront
2018


Star Wars Battlefront II
2018


The Sims 4
2015

Titanfall
2017


Titanfall 2
2016


Unravel
2019


Unravel 2
2016

Zuma Deluxe
2017

Zuma's Revenge
Which other games were removed from The Vault?
NHL 15, Mass Effect, Mass Effect 2 and NBA Live 14.
Will FIFA 20 be added to The Vault?
FIFA 20 was added to The Vault on May 12, 2020.
How do I get these games?
The games from 'The Vault' can be downloaded through the EA Access dashboard.
Discounts
How to pay less to play with EA Access?

• Automatically save 10% on EA digital purchases on Xbox One and PlayStation 4.
• Applies to full games, season passes, DLC and Ultimate Team content.*
• The discount lasts as long as you're a member.



Which discount is included in this service?
EA Access subscribers get 10% off on DLC FIFA 20 and on all Ultimate Team packs purchased with real money (FIFA Points). Packs purchased with coins don't get this discount. Additionally, the 10% discount also applies to full games, season passes, DLC and Ultimate Team content. The discount lasts as long as you're a member.
How to get the discount?
Subscribers just need to make the purchase through the EA Access dashboard. The discount is applied automatically.
How much subscribers pay for FIFA Points?
EA Access subscribers pay less every time they buy FIFA Points. Here are the prices, subject to change, that are applied automatically:
Price [£]

Price [€]

FIFA Points
Included Bonus
Normal
EA Access
Normal
EA Access
100
0
0,79
0,71
0,99
0,89
250
0
1,99
1,79
2,49
2,29
500
0
3,99
3,59
4,99
4,49
750
0
5,49
4,99
6,99
6,29
1050
50
7,99
7,19
9,99
8,99
1575
75
11,99
10,79
14,99
13,49
2200
200
23,99
21,59
19,99
17,99
4600
600
31,99
28,79
39,99
35,99
12000
2000
79,99
71,99
99,99
89,99
Note: Prices may vary depending on your region

How to Buy the EA Access
How to subscribe it?



How to signing up for a membership?
Signing up for a membership is easy: Just head on over to the EA Access page to get started. You can also join through the free EA Access Hub app on Xbox One or PlayStation. Here's how:
1 Go to the Store tab on the Xbox One and PlayStation 4 home screen and select Apps. Select Search and search for EA Access. Install and launch the EA Access Hub app.
2 Launch the EA Access Hub app and link it to your Origin Account.
If you do not have an Origin Account, simply follow the on-screen instructions to complete this step.
3 On the next screen, select Sign Up, then choose your membership plan.
4 Once you've finished the payment process, you'll be brought back to the buy screen.
Press circle or 'B' on your controller to back out of this screen, then select Continue to Home.
Is EA Access membership available in my country?
Currently, it is available in 41 countries and territories: Argentina, Australia, Austria, Belgium, Brazil, Canada, Chile, Colombia, Czech Republic, Denmark, Finland, France, Germany, Greece, Hong Kong, Hungary, India, Ireland, Israel, Italy, Japan, Mexico, Netherlands, New Zealand, Norway, Poland, Portugal, Russia, Saudi Arabia, Singapore, Slovakia, South Africa, South Korea, Spain, Switzerland, Sweden, Taiwan, Turkey, United Arab Emirates, United Kingdom, and the United States.
How much does EA Access cost?
Membership for EA Access has been priced at $4.99/£3.99/€ 3,99 per month or $29.99/£19.99/€ 24,99 for a full year. Credit card and PayPal are accepted as payment methods.
Can I subscribe this service for a single month only?
Membership for EA Access can be subscribed for a single month only. Many people do it to pay less for FIFA 20 and also to get the benefits of FIFA 20 early access. Keep in mind that this service is free for a whole week in June.
Can I purchase an EA Access membership at a physical retail store?
Members who live in the U.S. can purchase a membership at their local GameStop retail store.
Is EA Access available for PlayStation 4?
For the first time ever, EA Access is available for PlayStation 4 owners. The service was released for this platform on July 24.
Is there any trick to extend the 10-hours trial?
There is but it wasn't tested for PlayStation 4 and FIFA 20. First of all, you need to subscribe to EA Access on a second account. You can ask for a refund later. Then, start the trial and as soon as the 'hospitality settings' prompt shows up, go to the home menu, close out of FIFA 20 and right after you close it spam "x" to load the game back up. Open the game again and check the bottom right of the screen. If it shows 'FIFA 20' instead of 'EA Access Trial', it's because the 10-hours limit was removed with success.
EA Access Frequently Asked Questions
What else the community wants to know?


Q: When do I need to buy a subscription that works with FIFA 20?
A: At least before the game release, if you want to play in the early access. Discounts' on packs are always valid.
Q: What happens when my subscription ends?
A: In order to keep working after this period, a renew is required. By default, it is made automatically.
Q: How do I cancel my subscription?
A: This can be done via the Xbox and PlayStation website or via console. You need to log into your EA account and locate 'Account and Privacy' or the Subscriptions Column on the console's website.
Q: What happens to DLC I've purchased if I cancel my EA Access membership?
A: You'll keep any games or content you buy with your membership discount. However, you'll lose access to The Vault if you cancel your membership. If you bought DLC specifically for a Vault game, you'll need to either purchase the associated base game separately or renew your membership to access your DLC.
Q: Do I need to have an Xbox Live Gold or PlayStation Plus subscription to join EA Access?
A: Nope, you can join up with a free Xbox Live Silver account. That said, you'll need an Xbox Live Gold / PlayStation Plus account to play any multiplayer games included in EA Access.
Q: Does my EA Access account work on multiple Xbox One / PlayStation 4 consoles?
A: Yes – your membership is attached to your gamertag / PSN ID, so you can use your account on any Xbox One / PlayStation 4 console where you've logged in.
Q: Can everyone in my house use my account?
A: If you've designated your Xbox/PlayStation as your home console, anyone with an account that uses that console can download, install, and play Vault games through your membership. Trials of new EA games and your 10% member discount will only be accessible through your specific Xbox Live / PlayStation account.
Q: Is FIFA 20 EA Access transferable?
A: No.
Q: If I have an EA Access subscription but don't buy the game, how long I will be able to play FIFA 20 with the early access?
A: Usually until the full game release date or until you have played 10 hours, whichever comes sooner.
Q: What are pre-release trials? Will my progress carry over?
A: With an EA Access membership, you can download and play upcoming EA games before they're released for a limited time. Because you're playing the real game, not a demo, any progress you make will carry over, so you can pick up where you left off starting on launch day if you decide to purchase the game.
Q: Are games streamed or downloaded?
A: The games you want are downloaded straight to your system to ensure the best possible performance, and can stay there as long as you have your EA Access membership (or until it's time to clear out your hard drive for more games).
Q: How do the trials of new EA games work?
A: As a part of your membership, you get exclusive access to EA's newest games days before they're released. Your progress even carries over to the full game if you decide to buy, so you can pick up where you left off.
Q: How long does each trial last?
A: Trials typically last up to 10 hours. Burn through all that playtime at once or spread it out over days – the timer only ticks down when the trial is running. The trial timer will continue to count down even when the game is running in the background, so make sure to quit your trial completely when you aren't playing.
Q: What is the difference between the demo and the FIFA 20 EA Access trial?
A: Demos are stand-alone chunks of a game meant to give you a taste of what it offers. But with EA Access trials, you're playing the real game for a limited time before its release date. And if you purchase FIFA 20 once it releases, you can pick up right where you left off – your progress and stats carry over.
Q: Can I buy FUT 20 packs during the early access?
A: Yes. This feature is active in FIFA 20 early access version.
Q: Will FIFA Points be for sale during early access period?
A: Yes. Players who have FIFA 20 EA Access for will be able to purchase FIFA Points during the early access trial.
Q: Can I transfer my FIFA 19 Points to FIFA 20 Points during the early access period?
A: Yes, you can. However, this is only between Xbox One and Xbox One and between PlayStation 4 and PlayStation 4. If players choose to not play the full version of FIFA 20, they will not be able to transfer their FIFA Points back to FIFA 19.
Q: Should I buy the EA Access? What do you think?
A: It depends on your profile. If you play more EA games besides FIFA, it may be a good decision.