The FIFA 20 Headliners event is centred on players who are on an exceptional run of form during the season so far.
Headliners Event was released for the first ever in FIFA 19.
Estimated dates are highlighted in light blue.
All release times are indicated in the UK time zone.
JANUARY 17, 2020 06:00PM – JANUARY 28, 2020 06:00PM
FEBRUARY 01, 2019 06:00PM – FEBRUARY 08, 2019 06:00PM
Headliners Offers from previous years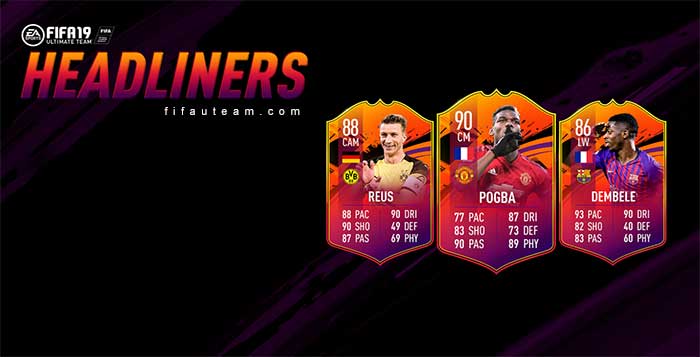 ✅ FUT Pack Offers
Daily promo packs and lightning rounds: 25k, 30k, 45k, 50k, 55k, 100k and 125k packs.
✅ Themed Objectives
Weekly objectives rewarding an untradeable Headliner Item (85 rated).
✅ Themed Squad Building Challenges
Themed Puzzle SBCs rewarding up to 45k packs and two Special SBCs rewarding Headliner Items
✅ Loyalty Offers
Free Offers according to how many times you have logged in: from 15k packs to 125k packs.
✅ Themed Players Items
19 Headliners players, including Marcus Rashford, Timo Werner, Marco Reus and Alex Sandro were available in packs with upgraded ratings as unique items.
This calendar shows you which Headliners offers are new each day
✔️ Promo Packs
✔️ 14 Headliner Items in packs (squad 1)
✔️ Headliner Player Objective
✔️ Headliner Player SBC
✔️ Themed Puzzle SBC
✔️ New Flashback Item

✔️ Promo Packs
✔️ 12 Headliner Items in packs (squad 2)
✔️ Headliner Player SBC
✔️ Headliner Player Objective
✔️ Themed Puzzle SBC