The FIFA 20 La Liga Santander TOTS awards the most inform players playing in Spain. Discover the predictions and the official squad of the La Liga Santander Team of the Season So Far of FIFA 20 Ultimate Team.
FIFA 20 La Liga Santander TOTS
This TOTS joins the players that played better on the La Liga Santander.
This season's most impressive players from the La Liga Santander have been recognized as part of the FIFA 20 La Liga Team of the Season. Upgrade your FUT squad with as many of these player items as possible, as they will only be found in packs for a limited time (one week). Don't forget the items you can get exclusively via weekly objectives and via SBC.
Our Predictions
Predictions made based on the player's performances over the season
95 GK

Marc-Andre ter Stegen (FC Barcelona)
88 GK

Aitor (Levante UD)
95 RB

Carvajal (Real Madrid)
97 CB

Sergio Ramos (Real Madrid)
94 CB

Gerard Piqué (FC Barcelona)
94 CB

Raphaël Varane (Real Madrid)
88 CB

Diego Carlos (Sevilla FC)
90 LB

Sergio Reguilón (Sevilla FC)
94 CDM

Casemiro (Real Madrid)
95 CM

Toni Kroos (Real Madrid)
94 CM

Parejo (Valencia CF)
93 CM

Saúl Ñíguez (Atletico Madrid)
92 CM

Thomas Partey (Atlético de Madrid)
91 CM

Martin Ødegaard (Real Sociedad)
92 CAM

Nabil Fekir (Real Betis Balompié)
91 RM

Gerard Moreno (Villarreal CF)
99 RW

Lionel Messi (FC Barcelona)
88 LM

Lucas Ocampos (Sevilla FC)
91 LW

Oyarzabal (Real Sociedad)
88 CF

Portu (Real Sociedad)
96 ST

Luis Suarez (FC Barcelona)
95 ST

Karim Benzema (Real Madrid)
87 ST

Joselu (Deportivo Alavés)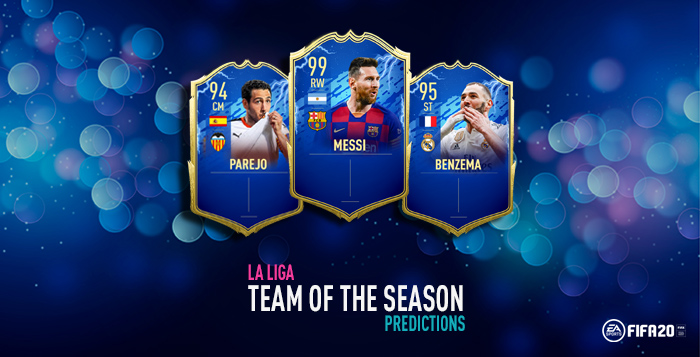 Official Squad
Available in packs from May 08 to Month 15, 2020
96 GK

Jan Oblak (Atlético de Madrid)
95 GK

Marc-Andre ter Stegen (FC Barcelona)
94 RB

Carvajal (Real Madrid)
97 CB

Raphaël Varane (Real Madrid)
96 CB

Sergio Ramos (Real Madrid)
91 CB

Diego Carlos (Sevilla FC)
89 LB

Yuri Berchiche (Athletic Bilbao)
96 CM

Toni Kroos (Real Madrid)
94 CM

Santi Cazorla (Villarreal CF)
94 CM
Frenkie de Jong (FC Barcelona)
93 CM

Parejo (Valencia CF)
92 CM

Martin Ødegaard (Real Sociedad)
96 CAM

Nabil Fekir (Real Betis Balompié)
93 RM

Gerard Moreno (Villarreal CF)
99 RW

Lionel Messi (FC Barcelona)
88 LM

Lucas Ocampos (Sevilla FC)
96 LW

Antoine Griezmann (FC Barcelona)
97 CF

Karim Benzema (Real Madrid)
97 ST

Luis Suarez (FC Barcelona)
88 ST

Lucas Pérez (Deportivo Alavés)
VIA SBCs & OBJECTIVES
92 LB

Reguilón (Sevilla FC)
93 CM

Saúl (Atlético de Madrid)
89 ST

Mariano (Real Madrid)