The FIFA 20 Liga NOS TOTS awards the most inform players from Portugal. Discover the official squad of the Liga NOS Team of the Season So Far of FIFA 20 Ultimate Team.
FIFA 20 Liga NOS TOTS
This TOTS joins the players that played better on the Liga NOS.
This season's most impressive players from the Liga NOS have been recognized as part of the FIFA 20 Portuguese Team of the Season. The 11-man squad can be found as special player items in packs for a limited time. Extra players will be available via squad building challenges and objectives.
Our Predictions
Predictions made based on the player's performances over the season
89 GK

Odisseas Vlachodimos (SL Benfica)
91 RB

Corona (FC Porto)
89 CB

Rúben Dias (SL Benfica)
87 CB

Iván Marcano (FC Porto)
94 LB

Alex Telles (FC Porto)
92 LB

Grimaldo (SL Benfica)
92 RM

Pizzi (SL Benfica)
87 RM

Otávio (FC Porto)
92 LM

Rafa (SL Benfica)
87 ST

Carlos Vinicius (SL Benfica)
87 ST

Paulinho (Braga)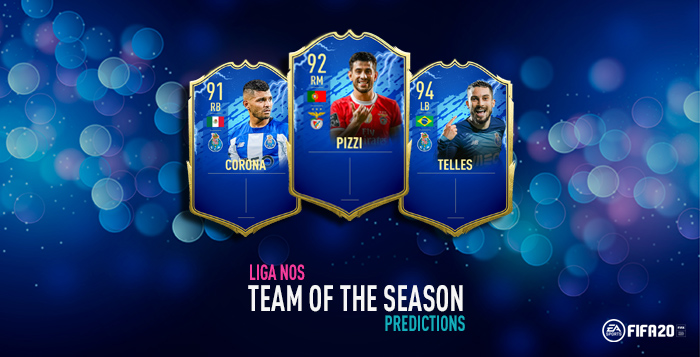 Official Squad
Available in packs from May 18 to May 25, 2020
87 GK

Agustín Marchesín (FC Porto)
89 RB

Corona (FC Porto)
91 CB

Rúben Dias (SL Benfica)
90 CB

Iván Marcano (FC Porto)
94 LB

Alex Telles (FC Porto)
92 CM

Gabriel (SL Benfica)
92 CAM

Adel Taarabt (SL Benfica)
94 RM

Pizzi (SL Benfica)
93 LM

Rafa (SL Benfica)
90 ST

Carlos Vinicius (SL Benfica)
87 ST

Paulinho (Braga)
VIA SBCs & OBJECTIVES
91 CB

Jeremy Mathieu (Sporting CP)
91 LM

Luis Díaz (FC Porto)