The FIFA 20 Premier League TOTS awards the most inform players from the English main division. Discover the predictions and the official squad of the Premier League Team of the Season So Far of FIFA 20 Ultimate Team.
FIFA 20 Premier League TOTS
This TOTS joins the players that played better on the Premier League.
This season's most impressive players from the Premier League have been recognized as part of the FIFA 20 EPL Team of the Season. Upgrade your FUT squad with as many of these player items as possible, as they will only be found in packs for a limited time (one week). Don't forget the items you can get exclusively via weekly objectives and via SBC.
Our Predictions
Predictions made based on the player's performances over the season
91 GK

Nick Pope (Burnley)
88 GK

Dean Henderson (Sheffield United)
95 RB

Trent Alexander-Arnold (Liverpool)
94 RB

Ricardo Pereira (Leicester City)
93 RB

Aaron Wan-Bissaka (Manchester United)
98 CB

Virgil van Dijk (Liverpool)
94 LB

Andrew Robertson (Liverpool)
92 CDM

Wilfred Ndidi (Leicester City)
94 CDM

Jordan Henderson (Liverpool)
98 CAM

Kevin De Bruyne (Manchester City)
98 RW

Mohamed Salah (Liverpool)
95 RW

Riyad Mahrez (Manchester City)
92 RW

Adama Traoré (Wolverhampton Wanderers)
92 LM

Marcus Rashford (Manchester United)
97 LW

Sadio Mane (Liverpool)
92 LW

Jack Grealish (Aston Villa)
98 ST

Sergio Aguero (Manchester City)
97 ST

Pierre-Emerick Aubameyang (Arsenal)
95 ST

Jamie Vardy (Leicester City)
93 ST

Raúl Jiménez (Wolverhampton Wanderers)
92 ST

Danny Ings (Southampton)
92 ST

Tammy Abraham (Chelsea)
92 ST

Richarlison (Everton)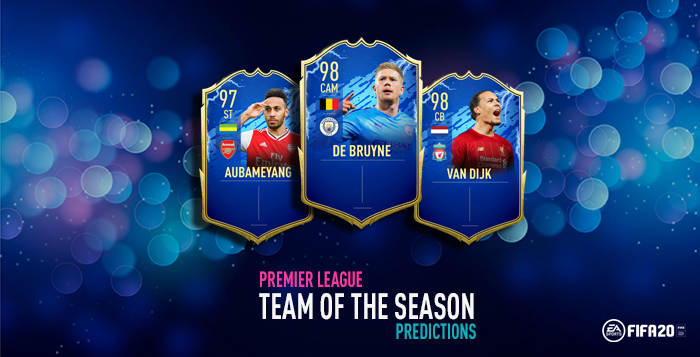 Official Squad
Available in packs from May 01 to May 08, 2020
97 GK

Alisson (Liverpool)
88 GK

Dean Henderson (Sheffield United)
95 RB

Trent Alexander-Arnold (Liverpool)
90 RB

Aaron Wan-Bissaka (Manchester United)
99 CB

Virgil van Dijk (Liverpool)
88 CB

Çağlar Söyüncü (Leixtesr City)
94 LB

Andrew Robertson (Liverpool)
91 CDM

Mateo Kovačić (Chelsea)
94 CM

Jordan Henderson (Liverpool)
99 CAM

Kevin De Bruyne (Manchester City)
97 RW

Mohamed Salah (Liverpool)
95 RW

Riyad Mahrez (Manchester City)
89 RW

Adama Traoré (Wolverhampton Wanderers)
95 LM

Heung Min Son (Tottenham Hotspur)
94 LM

Marcus Rashford (Manchester United)
98 LW

Sadio Mane (Liverpool)
96 ST

Sergio Aguero (Manchester City)
96 ST

Pierre-Emerick Aubameyang (Arsenal)
95 ST

Jamie Vardy (Leicester City)
93 ST

Richarlison (Everton)
VIA SBCs & OBJECTIVES
91 CDM

Wilfred Ndidi (Leicester City)
89 RW

Ayoze Pérez (Leicester City)
91 ST

Raúl Jiménez (Wolverhampton Wanderers)