FIFA 20 SQUAD BUILDING CHALLENGES
FIFA 20 SQUAD BUILDING CHALLENGES - FREQUENTLY ASKED QUESTIONS
We have created this FAQ to make it easier to understand how SBCs work
What are FIFA 20 Squad Building Challenges?
FIFA 20 Squad Building Challenges is a single-player game mode within FUT. Playing it, the players have new opportunities to get creative, submitting squad building challenges and earning decent rewards.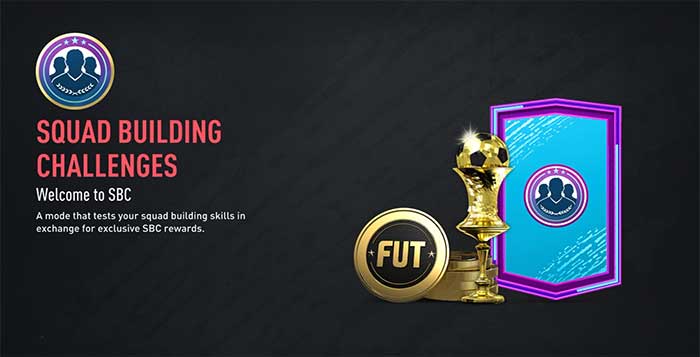 When were SBCs released for the first time?
Squad Building Challenges were released for the first time ever in FIFA 17. Since then they become very popular.
One of the aims of the Squad Building Challenges game mode is to allow players make use of cards they don't need or leave rotting in their clubs, completing challenges and earning rewards for it.
What are the controls I have to use?
Here is a list of controls you have to use to build and submit your squad:
Swap Player – X (PS4) or A (XB1)
Add Player – Square (PS4) or X (XB1)
Change Views – Right Stick
Clear Squad – L2 (PS4) or LT (XB1)
Squad Builder – L2 (PS4) or LT (XB1)
Copy Squad – L2 (PS4) or LT (XB1)
Preview Rewards – L2 (PS4) or LT (XB1)
Which challenges are available?
Users have a wide selection of dynamic scenarios to complete, which are grouped into a few categories, like Basic, Advanced, Upgrades, Live, Leagues, Marquee Matchups, POTM or Flashbacks.
What are Basic Challenges?
Basic Challenges were designed to teach beginners how to submit SBCs. They are always available since the first day,
What are Advanced Challenges?
Advanced Challenges were designed especially for who wants to master SBCs. By completing them, you will discover a few tricks that will help you to submit the most complex challenges.
What are Upgrade Challenges?
Upgrade Challenges were designed to let you reach the next level, submitting the players you don't want and receiving others from higher qualities. They are typically based in quality upgrades (gold, silver and bronze) and league upgrades (Premier League, Bundesliga, LaLiga, Serie A, Ligue 1 and Champions League). The first ones are always available since the first day, while the other ones are only available for a few days at specific times.
What are League Challenges?
League Challenges were designed to complete a challenge for each club of a specific league. They are available at specific times from September to January. Once released, they become available until the end of the game.
What are Marquee Matchups?
Marquee Matchups were designed to highlight the key real-life matches for the coming week. New regular MMs are released every week. Additionally, UEFA challenges are also out at specific times. Typically, there are four Marquee Matchups each week.
What are Live Challenges?
Live Challenges are special time-limited release Challenges Groups which will not have a regular release schedule and will end after a set period of time. These could be tied to campaigns or real world events that are happening in the game during the course of the Season.
What are Icons Challenges?
Icons Challenges were designed to reward your effort with an Icon item. They are released in specific times from October to April, and once released they remain available until the end of the season.
What are Flashback Challenges?
Flashback Challenges are special SBCs that reward your effort with unique items representing players milestone seasons. The Flashback items recognize previous accomplishments of currently active players by featuring increased stats based on a particularly great season that they had. They are available in specific times and remain active only for a few days.
What are POTM Challenges?
POTM Challenges were designed to reward your effort with unique items assigned to the Player of the Month award winners from a selection of popular leagues. They are usually released every month and the challenges remain active only for a few weeks.
There are too many SBCs. How can I find the ones I want to complete?
While on the main Squad Building Challenges screen, you can press triangle (PlayStation 4) or Y (Xbox One) to tag a specific group as your favourite.
What are the most common Requirements?
The SBC requirements are usually a mix of Player Quality, Squad Chemistry and Rating, Nationalities, Leagues and Clubs
Which should be my first challenge?
The first SBCs on your checklist should be those in the Basic category. These challenges are tailor-made to ease you into completing various tasks and provide a welcome range of generous pack rewards that can be sold, used for additional SBCs, or added to your squad. Most of these early challenges require little effort and can often be completed with the players you've already acquired. Should you need to peruse the transfer market, you won't need to spend too many coins to get everything completed.
How do I enter in the Squad Building Challenges mode?
It's easy. On your FUT mode, go to 'Squads' tab, and then select 'Squad Building Challenges'.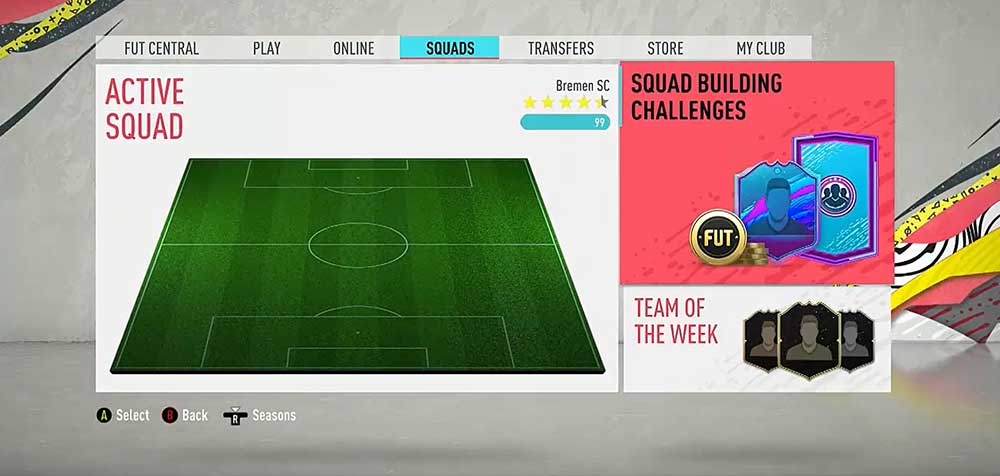 Where can I play this game mode?
You can use your console, PC or the Web/Companion App to complete challenges and earn in-game rewards.
Who can enter FUT SBCs mode?
Everyone who owns a FUT Club is eligible to enter in this game mode.
When do Squad Building Challenges can be played?
This game mode is available every day since the first day, September 19. However, there are two types of challenges: the ones that you can complete at any time, since they are always available; and the ones that have an expiry date. In these cases, you have to finish them before they expire so that you can earn those rewards. If a challenge expires before you complete and submit it, you'll get your Players back.
How many times can I submit a challenge?
It depends. Most of the challenges can only be submitted once. However, a selection of SBCs can be submitted as many times as you want.
The first time you select Squad Building Challenges, a tutorial will appear explaining how to complete your first challenge group. Once this tutorial has been completed, you'll need to select one of the many Challenges available to you to work towards completing.
Can you explain me step by step what I have to do?
Sure. Here are the different steps you need to do to earn those unique rewards in Squad Building Challenges:
Step 1 – Check the Requirements
When starting to build a Squad in SBCs, you will see a list of requirements on the right side of the screen. These are the requirements you need to meet in order for you to earn the rewards.

Step 2 – Create a Squad
The pool of players that you will be choosing from will be cards in your club. If needed, you can also go to the Transfer Market. It is recommended to use unwanted cards in SBCs. Double-check your squad to see if all the requirements are met. Substitutes, reserves and managers are not taken into account.

Step 3 – Submit your Squad and Earn Rewards
When you are sure all of the requirements have been met, you can then submit your squad, and earn your special rewards.


What happens to the items I have used to submit a challenge?
Pay attention because this is particularly important: you will not be able to get back the cards that you use in the Squad Building Challenges. Think wisely about which players you select – you will give up all player items that are part of the challenge once you submit your team.
How can I prevent to submit my best players?
You can add a SBC Protection onto players in your Club, to help ensure that you don't submit a star player into a Squad Building Challenge by accident. If you do try to submit a player with SBC Protection enabled you will receive a prompt asking you to confirm that you are happy to submit this player. There is also a search functionality to exclude Active Squad members from Club search results, making squad building and SBCs easier to do.
Can I change the Formation?
No. Formations are locked for each challenge.
Completing Challenges and Groups give access to several rewards. The individual challenges themselves are rewarded with FUT packs, coins, player items and kits, while completing groups gives access to even bigger rewards like unique player items.
Are the items I receive as reward tradeable?
Depending on the challenge they can be tradeable or not.
When are the rewards delivered?
You receive the rewards as soon as you submit an individual challenge or complete a group of challenges.
Can I receive the same reward more than once?
Some Challenges are repeatable. While you'll have a chance at getting different rewards each time you submit the Squad, there is a possibility of getting a repeat reward.
Some SBCs have multiple challenges with individual rewards and a larger group reward for completing them all. They are part of larger challenges called Groups. Completing an entire Group earns you other in-game rewards so it pays to complete more than one challenge. In other words, completing a set of challenges unlocks additional group rewards.
How can I spend as little as possible when completing a challenge?
There are a few things you can do to save a few coins. Here are a few tips:


Don't Discard
Don't discard your bronze and silver players cards at least until you have finished the first challenges.

Check the Chemistry
If you are unsure about the chemistry of the team you are building, use the concept players, the companion app or an external squad builder website.

Only Do The Minimum Requirement
No need to do more than what is asked. Meeting the minimum requirements will make you eligible to earn the rewards.

Don't Sacrifice Good Cards
Try as much as possible not to use very good cards. You will not be able to get back the cards you use in SBCs unless you find them in packs or the transfer market. Use your unwanted cards to fill out your Squad.

Focus on the Rating
The player's stats are irrelevant for Squad Building Challenges, which means that you can use players with lower pace, worst skills and less popular, spending fewer coins in that way. Try to find out who are the cheapest players for each overall rating.

Use Loyalty to complete Hybrid SBCs
Some SBCs may require a little extra work to complete. In these cases, you'll probably need to dip into the transfer market in the process. However, most of the times, you can make your life easier (and cheaper) taking advantage of the chemistry boost of loyalty.

Don't Copy Squads from other Players
Never ever use FUTBin, FUTWiz or other squad's suggestions. These squads are followed by thousands of players, which means that once they are published, their price rises a lot.

Do your Homework
Before starting a challenge, make sure it's worth it. See how much you will spend and what is the value of the reward you will get.


What is a Squad Building Challenge item?
Squad Building Challenge cards are untradeable unique items that players can get exclusively by completing specific challenges. They can not be found in packs or in the transfer market.