THE BEST FIFA 21 BUNDESLIGA GOALKEEPERS
Goalkeepers are the players that are used least on the field. Because of this, they are also first ignored when building a team. Most players start their purchases with a forward, later they strengthen the midfield, the defence and only later the goal. The truth is a good goalkeeper may be worth a lot of goals. They are a good investment because they are usually the most economically accessible players.
Top 10
Key Attributes
Rating
Reflexes
Diving
Height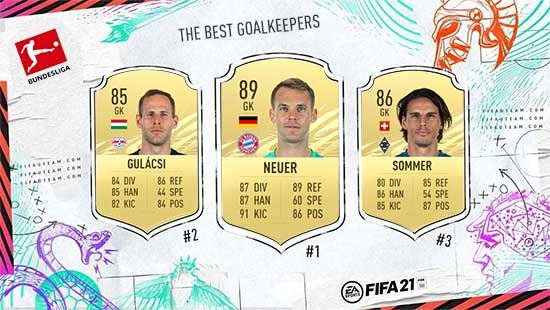 Despite his age,
Neuer
is still by far the best goalkeeper playing on the Bundesliga. No one can be compared to him. He has the highest diving, handling, kicking and reflexes stats. In the other two face stats, he is the second-best.
Péter Gulácsi, Roman Bürki and Yann Sommer are the best alternatives to Neuer. If you want someone cheaper, you can try Koen Casteels or Kevin Trapp. Between these two, our preference goes to the Belgium goalkeeper because he is much taller.