Every single detail about the Companion App.

OVERVIEW
With this app, you can manage the FUT 21 squad you have in your PlayStation, Xbox or PC. Keep the world of FIFA 21 Ultimate Team close at hand with the EA Sports FIFA 21 Companion App. You can manage your Ultimate Team any time, anywhere. Manage your team on-the-go with the FUT Companion App, with features that give you even more control over your squad when you're away from your console.
The EA Sports Football Club Companion App, for iOS and Android devices, lets you access the FUT Transfer Market, manage your FUT squad, submit SBCs and purchase packs from the store anywhere your mobile device has an internet connection, at home or on the go.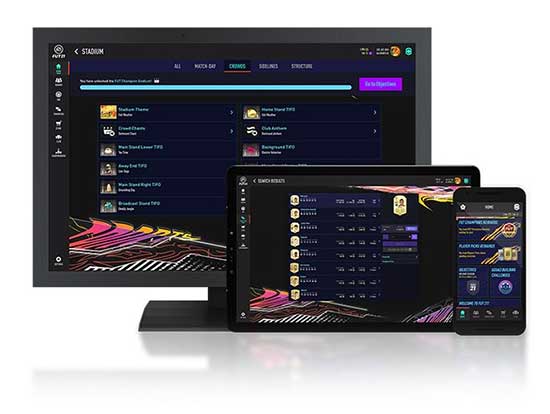 Sign the next star for your FUT Club with access to the Transfer Market, style your FUT Stadium as you curate every aspect of your new home in FUT 21, select a side when you sign up for the latest FUT Event, and more right from your fingertips.
Style Your Stadium
NEW
From walkout music to goal celebrations, pyrotechnics to Tifos, change every aspect of your home ground to your tastes and to flaunt your achievements. Customise your FUT Stadium on the go directly in the Companion App.
Secure the Latest Rewards Through SBCs
Never miss a Squad Building Challenge (SBC) with the Companion App. Exchange spare Players in your Club to unlock new Players, Packs, or Customisation options by completing SBCs, directly from the Companion App.
Select a Side in the Latest Events
NEW
Compete or collaborate in all-new FUT Events to unlock rewards for your Club and the wider FUT Community. Choose a side directly in the Companion App and compete against the FUT Community in new Team Events, or collaborate as a global collective in Community Events and track the community's XP progress on the go.
Stay on Top of your Weekly Competitors
Claim rewards for your progress in Weekend League, Division Rivals, Squad Battles, and FUT Events without having to log into your console. Redeem your FUT Champions Points directly from the App to never miss out on your entry into the Weekend League.
Sign Your Next Star
Make moves in the Transfer Market without the need to be at your console. Buy and sell Players with the global FUT Community in the Transfer Market to help take your team to the next level.
Share Your Squad
Want to show off your dream squad to your mates? Use the share function on mobile and web to impress your friends.
FEATURES
Here is the complete list of features:

Manage your FUT Squads by optimizing Chemistry, Formations and Players;

Extend your Squad Building Challenges experience;

Share your squads with your friends;

Find and bid on players and other items on the Transfer Market;

Search, sell and trade items;

Purchase Packs from the FUT Store;

View TOTW Squad Previews and History;

Plan your squad with the Concept Squads;

Check Objectives;

Consult the Leaderboards;

Redeem rewards from Squad Battles, Division Rivals and FUT Champions;

Create Custom Tactics;

Check your progress in Season Objectives;

Style the Stadium;

Select a side for the latest FUT Event.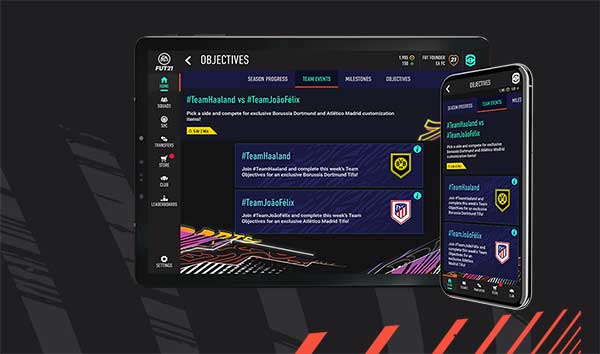 EARLY ACCESS
Returning FUT 20 players whose accounts are in good standing can create their FUT 21 Club, start trading and claim returning user packs. Early access to the Web and Companion Transfer Market ends at 12:00 a.m. BST on October 21. After that, you'll need to log in to FUT 21 on your console or PC at least once to continue using both apps.
Early access on the FIFA 21 companion app is not available to everyone. You need to fulfil these conditions:
– You must have created a FUT Club before August 14, 2020, to get early access to the FUT 21 Web and Companion apps.
– Your FUT 20 account must still exist.
– Your account needs to be in good standing. If you were banned or had other actions taken on your account in FUT 20, you won't get early access.
Rewards are based on your account's good standing in the game, along with your player history and engagement. This is why your rewards may be different from your friend's. Besides that, returning user rewards are tied to your specific console account. So, if you switch platforms or create a new account on the same platform, your rewards won't carry over.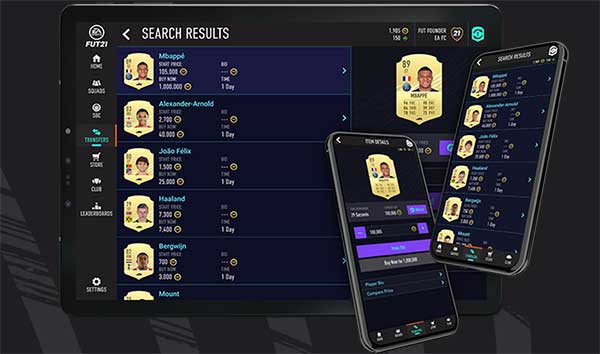 QUICK SELL RECOVERY
If you've quick sold, also known as discarded, a Player Item in FIFA Ultimate Team and want to get it back, you can use Quick Sell Recovery in the Companion App to get it back.

In order to undo a quick sell, you'll need to the same Coin amount on your account that you got from the initial quick sell. That means if you got 500 Coins from quick selling a Player, you'll need to have 500 Coins on your account to be deducted once you get the Player back.

How does it work
1) Log in to the Companion App.
2) Select Club.
3) Select Quick Sell Recovery.
4) Use the calendar icon to find the day you quick sold the Item you want to get back.
5) Select the Player Item you want to recover.
6) Select Recover. The Item you restore will go back to your Unassigned, and we'll deduct the Coins that you had gotten when you quick sold it initially.

What are the Limitations
– Only Player Items are recoverable. All other Items cannot be recovered once they're quick sold.
– You have 7 days from the time you quick sell an Item to recover it.
– Quick Sell Recovery is only available in the Web and Companion Apps, so you can only use it for the current version of FIFA.
– If you delete your Club and create a new one, you cannot recover Player Items from your old Club in Quick Sell Recovery.
– By default, you can undo five quick sells per 31 day period. Check the Companion App to see how many quick sells you have left to recover at any given time.
– You cannot undo quick sells for Loan Player Items.
– If you do not use your five recoveries, they do not roll over to the next 31-day period.

LANGUAGES
To change the app language, you just need to click on the 'Settings' icon and then in 'Select Language'.

English

French

German

Italian

Spanish
Dutch

Danish

Brazilian Portuguese

Arabic

Czech

Japanese

Mexican-Spanish

Korean

Polish

Portuguese

Swedish

Russian

Chinese

Turkish
DOWNLOADS
Please make sure your device meet the requirements and remember that this app requires you to have an Origin account connected to FIFA 21 (Xbox One, PlayStation 4 or PC). To use the FIFA Ultimate Team features in this app, you must have a FIFA Ultimate Team Club within FIFA 21 and must have played a number of games to unlock transfer market functionality via the app. Note that you'll need to start on the web app before you can use the mobile app.
If you used the FIFA Companion App for FUT 20, you probably have realized that the app was offline a couple of days to turn your app into FUT 21. After the update, which is automatic, is no longer possible to use this App to manage your FUT 20 club just like it happens with the Web App.
iOS users
Click
here
and then in '
Download
'. You can also open your Apple App Store and search for 'EA SPORTS™ FIFA 21 Companion'.
Android users
Click
here
and then in '
Install
'. You can also open your Google Play Store and search for 'FIFA 21 Companion'.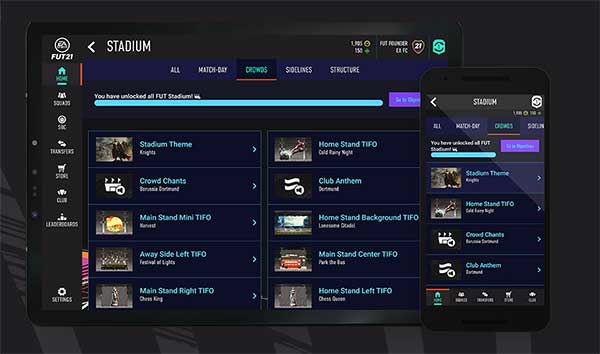 UPDATES
Update 11
(30/06/2021)
Addressed the following issues:

If My Packs contained multiple FUT Packs of the same type, only a single pack of that type would be displayed at a time.

The non-displayed packs were still available, it just required that they be opened one at a time.

A preview Pack, with a refresh timer that was set to expire after the FUT Pack would no longer be available, will now properly display 'No Available' in the refresh timer.
Update 10
(09/06/2021)
Addressed the following issues:

When using the Rare Search Filter on the Transfer Market, the Search Results could display Player Items of various Rarities.

Player Instructions were not able to be saved.

The player could have been unintentionally logged out when attempting to search for a Special Club Item on the Transfer Market.

Some Kit Items did not display correctly.

Tifo Items Shells did not display their respective 2D icons.

Some UI elements did not display correctly when customizing some Badge, Kit and Ball Items.

The Premium Rarity Search Filter was incorrectly available when searching for Badges.

A potential stability issue could occur when resetting a Club Search filter.
Update 9
(21/04/2021)
Addressed the following issues:

Added a Rarity filter to the Transfer Market and Stadium search filters.
Update 8
(26/03/2021)
Addressed the following issues:

Made general maintenances updates.
Update 7
(02/03/2021)
Addressed the following issues:

ICON Moments Player Items displayed incorrect 2D portraits.

Concept Player Items did not display correctly in the Squad view.

The Enable Usage Sharing Setting selection did not save after being adjusted.
Update 6
(18/02/2021)
Made the following changes:

Increased the length of the visual indicator present when pressing Search in Quick Sold Recovery.

In Quick Sell Recovery, added a new message that briefly displays when performing a search on a date during which no players were Quick Sold.
Addressed the following issues:

An incorrect visual asset could appear when browsing through the navigation bar.
Update 5
(02/12/2020)
Addressed the following issues:

When viewing a Player Item's Bio, their Traits were not displaying.
Update 4
(18/11/2020)
Made the following changes:

Added new menu tiles for the upcoming FIFA Playtime tool which will be available at a later date.

FIFA Playtime is a new suite of tools that enable players to have more control and visibility over how they play FIFA 21, and, once opted into to use, can be accessed through the main menu, FUT and VOLTA FOOTBALL.
Addressed the following issues:

When searching for a Player Item in the Club screen, the Special filter did not display any Search Results regardless of whether or not the appropriate Player Items were in the Club.

On the Teams tab in the Objectives screen, some Tifo Items were not displaying properly.

The Werewolves and Vampires Tifo Items had their art incorrectly swapped.
Update 3
(30/10/2020)
Addressed the following issues:

In some cases, a placeholder Item graphic could appear when applying Consumable Items.

When adding Player Items to the Transfer List through the Add Players button, search filters were not always applied correctly.

Improved visibility of some logos on certain Squad Building Challenges.

Some Club Badges were not displaying correctly on the Leaderboards tile.

Player Item Rewards from Squad Building Challenges were sometimes displaying a loan icon, even when the reward was not a Loan Item.

Long Objective descriptions were not formatted correctly.
Update 2
(19/10/2020)
Made the following changes:

Update the background on currently active tiles.
Addressed the following issues:

Filters on the Objectives tab were missing borders.

Sometimes, the TOTW Squad did not display on the TOTW Squad screen.

Locked Milestone Objectives did not display at their intended sizes
Update 1
(02/10/2020)
Made the following changes:

Added a new visual indicator on Objective Groups to note when they are related to Team/Community Events;

Added a a shortcut on the Team/community Event tile to take you to the associated Objective Groups;

Added a Stadium navigation indicator in the left sided navigation when viewing the Companion in landscape mode.
Addressed the following issues:

After performing a search on the Stadium tile and then selecting Modify Search, most search filters would disappear;

The most popular leagues were displaying at the bottom of the Transfer Market League search filter instead of at the top.
FIFA 21 Compnaion App Only:

Addressed instances of Transfer Listed Consumable Items not immediately disappearing from the Club.
OTHER DETAILS
Release Date
October 01, 2020

Size
iOS 120.7 Mb
Android 44Mb

Price
Free

Developer
EA Swiss Sarl / Electronic Arts

Compatibility
iOS 11.4 or later.
Android 4.4 orlater.

FAQ
Q: What do I need to get started?
A: You will need: an EA Account, a copy of FIFA 21 and a FIFA Ultimate Team Club. Use your EA Account email address and password to log in to the Companion app.

Q: This app let me play FIFA?
A: No. With this app you can manage your FIFA 21 squad that you have previously created on the PlayStation, Xbox or PC.

Q: I have multiple FUT Clubs. How do I switch between them?
A: By default, the Companion app uses your last used FIFA Persona. If you'd like to switch to another Persona, tap the 'settings' icon from the Home screen and then tap the 'persona' selector ('change').

Q: How much do I have to pay?
A: It is free. However, opening FUT packs via the app will cost you FIFA points or coins.

Q: Should I use the FUT Web App or the Companion App?
A: The FIFA Web App is available on web browsers while companion app is available on iOS and Android devices. If possible, use both.

Q: It doesn't let me in. What should I do?
A: Note that you'll need to start on the web app before you can use the mobile app. Besides that, you can't log in to your console or PC and use the Companion app at the same time. On your console or PC, log out of FUT by backing out to the main FIFA menu. Then, you can use the Companion app.

Q: It is not working. What should I do?
A: You can try to uninstall the previous version and install a fresh copy of the new one.

Q: Why I cannot access the transfer market?
A: If you're new to FUT 21, you'll need to play a few FUT games on the console before unlocking access to the Transfer Market on the Companion app.

Q: Can I still access FIFA 20 on the Companion Apps after FIFA 21 launches?
A: For the Companion App, there will be a forced update to the FIFA 21 version on Android and iOS after October 24, 2020. That means you won't be able to access FIFA 20 on the Companion App after October 24.