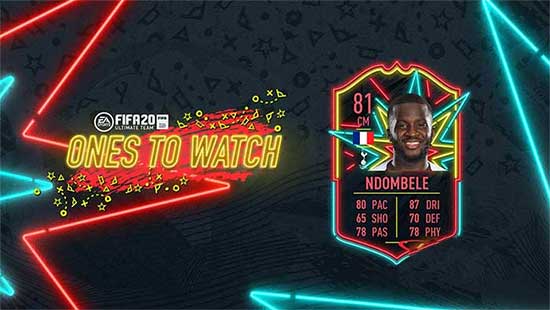 FUT Pack Offers
12.5k, 15k, 25k packs
Squad Building Challenges
SBC rewards include OTW Promes, OTW Sanchez/Mkhitaryan and the 24th item voted by the community, as well as Premium Gold Packs, Small Rare Gold Players Packs, Gold Packs, Prime Electrum Players Packs and Two Rare Gold Players Packs.
Dynamic Objectives
An exclusive objective group rewarding an untradeable OTW player (Ndombele).
Themed Kit
Who completed the 'Ones to Watch' objective, was rewarded with an OTW kit
Themed Players Items
23 Ones to Watch items available via FUT packs, including Eden Hazard, Coutinho, João Félix, Antoine Griezmann, Mauro Icardi, Romelu Lukaku and Ben Yedder. Five other players were available via SBCs and objecives.