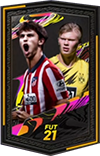 SMALL RARE ELECTRUM PLAYERS PACK
Half a dozen players to build out your ultimate squads!
Includes 6 players, 3 Gold, 3 Silver, all Rare.
The first time this pack was released.
The last time this pack was released.
DISCARD VALUE:

2,484
The coins someone receives when discards a full pack.
MIN SELLING PRICE:

2,850
Minimum pack worth. The average coins someone receives, after tax, when sells a full pack in the transfer market instead of discarding it.