THE BEST FIFA 21 PREMIER LEAGUE FORWARDS
The forwards are the players on which fall the most responsibility of scoring goals.
Top 10
Key Attributes
Rating
Shooting
Physical
Pace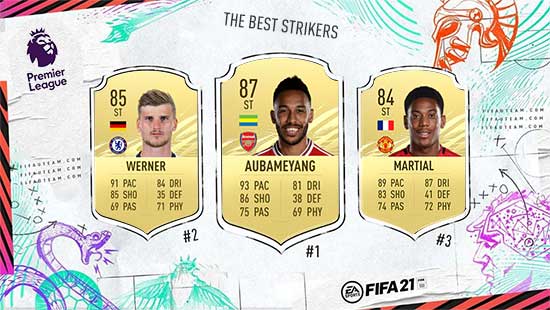 This is by far the position in which it is more difficult to make decisions. It's for sure the most controversial top 10 of our guides. That's because there are many different types of players and only you can choose the ones more suitable for your play style.
For many cases, Aubameyang will be the best choice. He's the fourth-fastest striker from the entire game and he has everything a player needs to score loads of goals with his feet. After him, our favourites are Timo Werner and Anthony Martial. They are not much different from each other but the medium attacking work rate of the United's striker is a negative aspect we can't ignore.
If you play with two men on the front, probably you won't need pacey players like the ones we suggested. Someone like Aguero or even Kane may be better partners for Aubameyang. They are the best finishers of this league but not everyone wants players fixed on the box as they are (especially Kane).
There is also the case of
Firmino
, who is the only native centre forward playing on the Premier League. He has unique characteristics (5-star skills, best passing, dribbling and defensive stats) that can turn him or not in a very useful player for your team, depending on your needs. Opposite to him, you have Vardy who is basically a fast striker with good shooting stat but not as good in everything else.
There are so many quality strikers on this league that not all fit on this list, like is the case of Jiménez.