THE BEST FIFA 21 SERIE A FORWARDS
The forwards are the players on which fall the most responsibility of scoring goals.
Top 10
Key Attributes
Rating
Shooting
Physical
Pace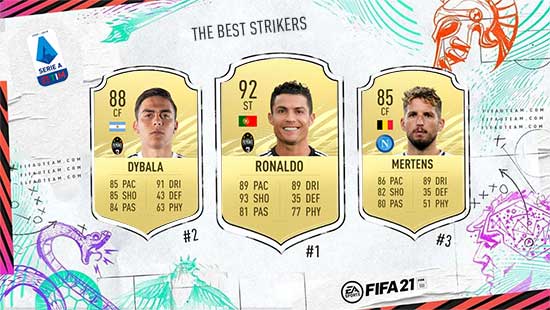 Cristiano Ronaldo is the best striker in the entire game and, for that reason, his item is the most expensive one. Only a few can pay that price. Hopefully, there are other good forwards and strikers in Italy. Our favourites are Dybala and Mertens. They are perfect to support the main striker but both play better as centre forwards.

If you want a native ST, you probably should try Immobile (only Ronaldo shoots better than him), Lautaro Martínez (82+ in four face stats) or Lukaku (the strongest).

For low-budget squads, we recommend Rebic. He's only 79 rated but plays better and is much cheaper than many other popular players.