THE BEST FIFA 21 SERIE A GOALKEEPERS
Goalkeepers are the players that are used least on the field. Because of this, they are also first ignored when building a team. Most players start their purchases with a forward, later they strengthen the midfield, the defence and only later the goal. The truth is a good goalkeeper may be worth a lot of goals. They are a good investment because they are usually the most economically accessible players.
Top 10
Key Attributes
Rating
Reflexes
Diving
Height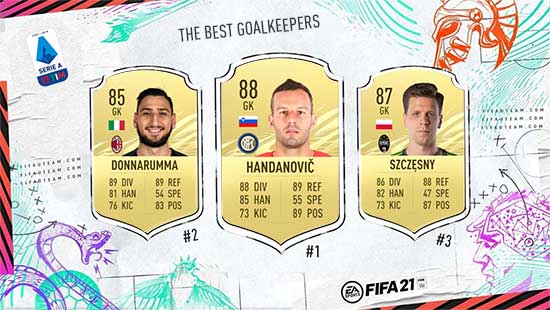 Once again, Handanovic is the best Serie A goalkeeper. He is better than any other one. He is one of the tallest, has the best reflexes and one of the best diving and handling stats, the three most important attributes.

In our opinion, Donnarumma is slightly better than Szczęsny. He has amazing reflexes and good diving stats but the Juventus's player is also a high-quality keeper with more balanced stats.

We also noticed that in the particular case of goalkeepers, they are chosen according to their ratings. As we already said several times, that is a mistake. Strakosha, for example, is lower rated than Sirigu but plays better.

Perin and Pau López are also interesting choices for low-budget squads.