The FIFA 22 adidas 99 NumbersUp event is a brand new promo that features themed NumberUp player items which are gradually boosted until they reach 99 in one of the stats.
The adidas 99 event is being released for the first ever in FIFA 22.
Release dates for FIFA 22 are official.
All release times are indicated in the
UK time zone
.
FIFA 22 Rulebreakers player items are available in packs in the following dates:

Team 1 – November 12 to November 19, 2021
Team 2 – November 19 to November 24, 2021
FIFA 22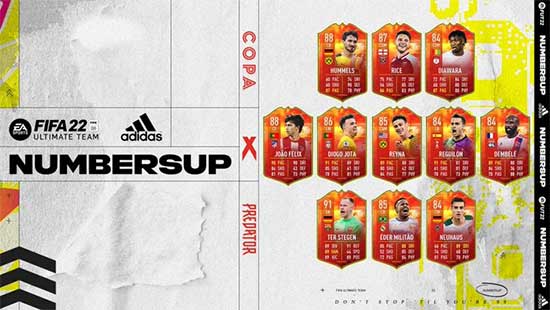 Predictions
1
Q: What are adidas 99 items?
A: adidas 99 items are special cards introduced for the first time ever in FIFA 22, in which one of the six face stats of selected players are boosted of up to 99.
2
3
4
5
6
7
8
9
10
11