THE BEST FIFA 22 BUNDESLIGA FORWARDS
The forwards are the players on which fall the most responsibility of scoring goals.
Top 10
Key Attributes
Rating
Shooting
Physical
Pace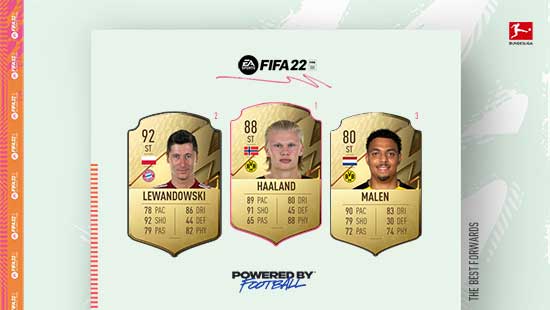 This league without Lewandowski or Håland wouldn't be the same. We would probably be forced to create a new formation without strikers or look into IF items. They are the best striker and for that reason the most expensive ones. As football fans, it's not easy to accept that the best players in real life are not always the best in FIFA. It's the case of Rúben Dias and… Lewandowski. He has better WF and skills, plays more for the team, but pace and strenght of Håland can be game changers. Statistically, he scores most often than Lewandowski.

As we said, there are no good alternatives to these two. You will have to choose between the pace of Malen or the finishing skills of André Silva.