FUT Heroes are new items introduced in FIFA 22 to celebrate some of football's most memorable players and unforgettable moments that turned them into fan favourites. FUT Heroes are not replacing Icons. They have unique league-specific chemistry which is tied to their specific hero moment, providing a green Club link to any player within the same league as well as the usual nation link, giving you new ways to build your dream squad and recreate some of football's most famous moments in FUT 22.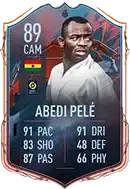 Ligue 1

ABEDI PELÉ
Ghana's finest-ever player was given the nickname "Pele" after the Brazilian icon. Playing for OM in the 90's, he was known as one of the best playmakers of his generation. He would prove this in the 1993 UEFA Champions League final, where he assisted in the winning goal, immortalising himself in Marseille – and in football history.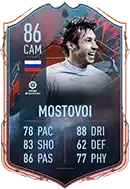 LaLiga

ALEKSANDR MOSTOVOI
Aleksandr Mostovoi was nicknamed ''El Zar'' (The Tzar) by his enchanted fans at Celta Vigo where he made a name for himself across Europe as one of the continent's premier playmaking talents. Driving Celta to an Intertoto Cup win and a Copa Del Rey final, Mostovoi's exploits hit a peak in 2003 where two goals against Real Sociedad took Celta Vigo into the Champions League.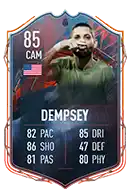 MLS

CLINT DEMPSEY
Whether in MLS, the Premier League, or on the international stage, Dempsey left it all on the pitch – and very often in the goal too. The joint top scorer in USMNT history, Dempsey's return to North American football in Seattle saw him bag an impressive 47 league goals in 115 games – including a memorable hat trick in 2014.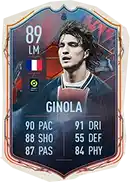 Ligue 1

DAVID GINOLA
An entertainer and a competitor, David Ginola made a name playing for some of Europe's biggest sides in the 90's. Part of a flair-packed, gifted Paris Saint-Germain side, Ginola experienced many high points under the lights of the Parc des Princes. But his thunderbolt strike against Real Madrid in the 1993 UEFA Champions League put him on the map of the global game.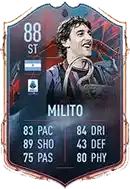 Serie A

DIEGO MILITO
The Argentine marksman flew under the radar for years despite scoring over 50 goals in just over 100 appearances in LaLiga. After joining Inter, though, the world woke up to his goalscoring talents. His two goals in the UEFA Champions League final of 2010 is viewed as a classic striker's performance. In an era where "pure" strikers are hard to come by, Milito's two-goal salvo is fondly remembered as a masterclass of a changing art. Diego Milito is more than deserving of his FUT Hero badge.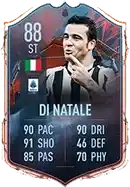 Serie A
DI NATALE
Antonio Di Natale, in his pomp, was known all over Europe for a fearsome blend of speed, trickery and sharp finishing. 2010 might've been the moment it all came together for Di Natale. That year, he scored a fantastic hat-trick against Lecce leaving Udinese fans buzzing. Then, he followed up that feat with another hat-trick – this time against Napoli. Di Natale was the leader of a Udinese side who dared to dream.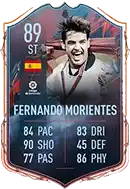 LaLiga

FERNANDO MORIENTES
A true target man, Morientes certainly knew where the back of the net was. A regular on the scoresheet for both club and country, among his 100 goals for Real Madrid was the opener in the 2000 UEFA Champions League final – a trademark back post header that sent Los Blancos on their way to their eighth European title. The stuff heroes are made of.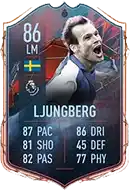 Premier League

FREDRIK LJUNGBERG
Freddie Ljungberg was a key part of the only team in Premier League history to go undefeated. His skill and technical play on the wing saw him spellbind fans in the Premier League. The FA Cup final of 2002 saw Ljungberg add his standout piece in a long highlights reel. Running at the Chelsea defence, he jinked past his opponents before slotting the ball in the top corner. Man on fire.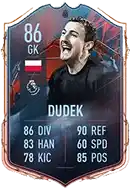 Premier League

JERZY DUDEK
Jerzy Dudek was one of many heroes in Liverpool's legendary 2005 UEFA Champions League triumph. If not the biggest of heroes. After conceding three goals in the first half, it'd be easy to give up. But, inspired by the performance of his teammates, once Liverpool had drawn level – Dudek knew he'd have to do his part. And that he did. An against-all-odds double save late in extra time from Andriy Shevchenko fed into the feeling that it was going to be Liverpool's night. Then, his penalty save against Shevchenko (again) – solidified it. Jerzy Dudek was the difference between hope and glory.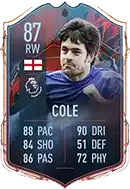 Premier League

JOE COLE
Joe Cole is undoubtedly one of the most gifted players of his generation. A classic number 10, his trickery, vision and balance had defenders in England and in European football running scared. Part of a legendary Chelsea side, he was the creative fulcrum, scoring the winning goal to land Chelsea the Premier League title in 2006.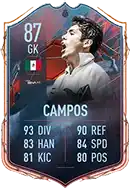 Liga MX

JORGE CAMPOS
The 90s saw a string of top-class, hugely personable goalkeepers hailing from South America. Few are as memorable as Jorge Campos was. He played a high-risk game as a sweeper-keeper, regularly found outside his box, in colourful kits of his own making, and never caught off-guard. He held a clean sheet in the 2nd leg of his team's title-winning match in 1991. Just one of the moments that make Campos one of our FUT Heroes.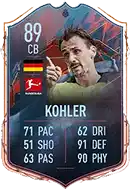 Bundesliga

JURGEN KHOLER
Jürgen Kohler is regarded as one of the best defenders of his generation. With domestic titles in Germany and Italy playing for some of the biggest clubs, it was the 1997 UEFA Champions League final triumph with Borussia Dortmund that etched his name into history. His semi-final performance was one of towering bravery and leadership. It gave his team the belief they needed to go forward and win the Big Ears trophy.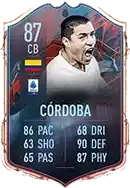 Serie A
IVÁN CÓRDOBA
The decorated Colombian Iván Córdoba led several domestic and European challenges for Inter with his diligent defensive work. A leader, warrior-type centre back, his style of play typified the robustness of Inter's legendary treble-winning 2010 side. In 2008, against Reggina, in a hard-fought match which looked destined for a draw, it was Córdoba's last minute winner that placed him in Nerazzurri folklore.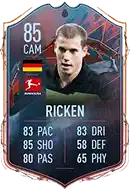 Bundesliga

LARS RICKEN
A key cog in the all-conquering Borussia Dortmund side of the 90's, Ricken's goal in the 96-97 UEFA Champions League final came just after 16 seconds of being on the pitch. It remains the fastest goal scored by a substitute in UCL history. And arguably, Ricken's most important contribution to Borussia Dortmund.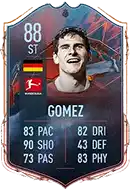 Bundesliga

MARIO GOMEZ
With over 200 goals in the Bundesliga for some of its biggest clubs, the fearsome striking of Mario Gomez at his peak was known all over the world. But he was always remembered most fondly at home. Particularly setting up the legendary goal that would bring VfB Stuttgart their third Bundesliga title, certifying his status as a club and FUT Hero.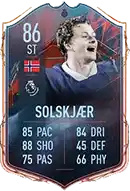 Premier League

OLE GUNNAR SOLSKJAER
The baby-faced assassin and the scorer of a goal that would create history. Ole Gunnar Solskjaer for much of his (playing) career was known as a dangerous super-sub striker. The kind of player who was always ready to apply the finishing blows to a fading opponent. His goal in the legendary UEFA Champions League final of 1999 is the greatest example of his poaching prowess.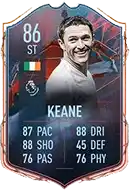 Premier League

ROBBIE KEANE
Robbie Keane scored over 120 Premier League goals for some of England's biggest teams. A striker who could cause trouble for any defence, teams prepared to play against him. His defining moment came as his constant harrying and haring drove Spurs to their last League Cup win in 2008.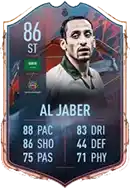 MBS Pro League

SAMI AL-JABER
Sami Al-Jaber scored over 200 goals in a glittering career, and played for Saudi Arabia in four FIFA World Cups – in 1994, 1998, 2002 and finally in 2006. In 2006, his goal against Tunisia made him one of the only players to score in three FIFA World Cup tournaments. He is a national hero, and now, a FUT Hero.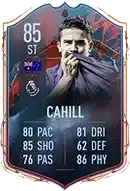 Premier League

TIM CAHILL
Tim Cahill was known all over the Premier League for his all-round chaos potential in the box. Especially dangerous with his heading technique, but Cahill had a wide range of finishes in his locker. Like the sublime overhead kick he scored in 2007. It's what FUT Heroes are made of.