THE BEST FIFA 22 LA LIGA GOALKEEPERS
Goalkeepers are the players that are used least on the field. Because of this, they are also first ignored when building a team. Most players start their purchases with a forward, later they strengthen the midfield, the defence and only later the goal. The truth is a good goalkeeper may be worth a lot of goals. They are a good investment because they are usually the most economically accessible players.
Top 10
Key Attributes
Rating
Reflexes
Diving
Height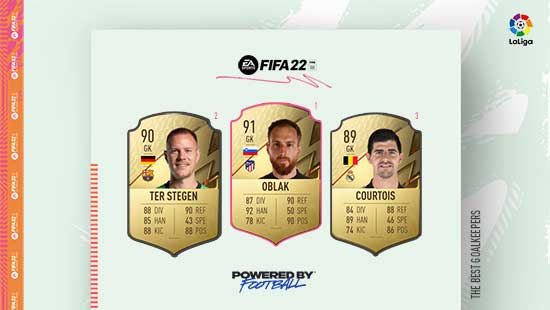 Once again, it's Jan Oblak who leads the top 10 of the best LaLiga goalkeepers. He is the highest-rated GK in the game. In fact, no one is as good as he is with the hands or has better reflexes.

Marc-André ter Stegen and Courtois are good alternatives. The Belgian goalkeeper is our favourite (he is 12 cm taller), but if you need someone good playing with the feet, Courtois is an interesting option.

For low-budget squads, Asenjo and Neto are decent choice.