THE BEST FIFA 22 PREMIER LEAGUE FORWARDS
The forwards are the players on which fall the most responsibility of scoring goals.
Top 10
Key Attributes
Rating
Shooting
Physical
Pace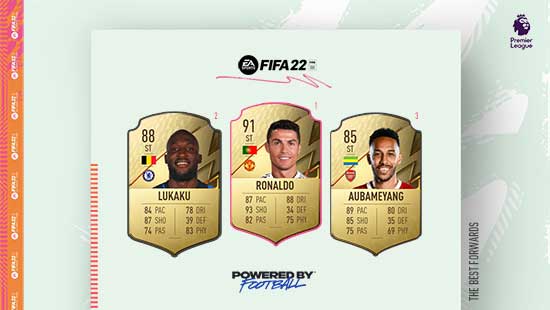 Ronaldo is by far the best striker playing in England and, for that reason, the most expensive one. Not counting with him, this is one of the positions where choices are more difficult to take. That's because there are many different types of players and only you can choose the ones more suitable for your play style.
For many cases, Lukaku will be the best alternative to Ronaldo. He has everything a striker should have but if your preference goes for pace instead of strenght, you may consider Aubameyang and Werner. If you play with two men on the front, probably you won't need two pacey players like the ones we suggested. This is where Harry Kane can makes all the difference. He has the best combination of shooting and physicality of the entire league, and also the best passing and one of the best dribbling oamong all EPL strikers. If it wasn't his pace, he would have chances to be as good as Ronaldo.
There is also the case of
Firmino
, who is one of the two native centre forward playing on the Premier League. He has unique characteristics, including 5-star skills, that can turn him or not in a very useful player for your team, depending on your needs.
For low-budget squads we recommend to try Richarlison and Daka (what a nice surprise). There are so many quality strikers on this league that not all fit on this list, like is the case of Antonio. There are also the cases of Martial and Cavani who were left out of this list because of their work rates and pace, respectively.