THE BEST FIFA 22 SERIE A GOALKEEPERS
Goalkeepers are the players that are used least on the field. Because of this, they are also first ignored when building a team. Most players start their purchases with a forward, later they strengthen the midfield, the defence and only later the goal. The truth is a good goalkeeper may be worth a lot of goals. They are a good investment because they are usually the most economically accessible players.
Top 10
Key Attributes
Rating
Reflexes
Diving
Height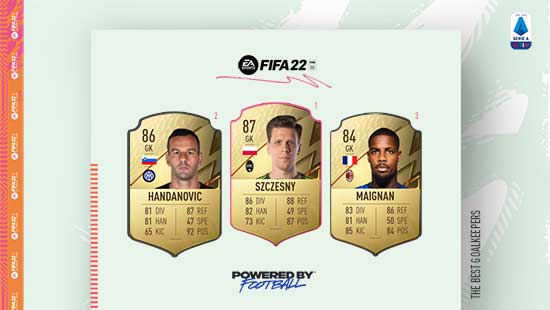 Szczęsny is our favourite goalkeeper and it is easy to understand why. He has the best diving, handling and reflexes attributes, the three most important stats, and only one goalkeeper is taller than him.

It isn't as easy to choose who is the best replacement. Basically you have two options: pick Handanovic if you usually do not pass the ball to your GK, or the other one if you do.

If you want to try other alternatives, Rui Patrício and Consigli, for this order, are also decent choices.