This page shows you a selection of the best FIFA 23 Badges.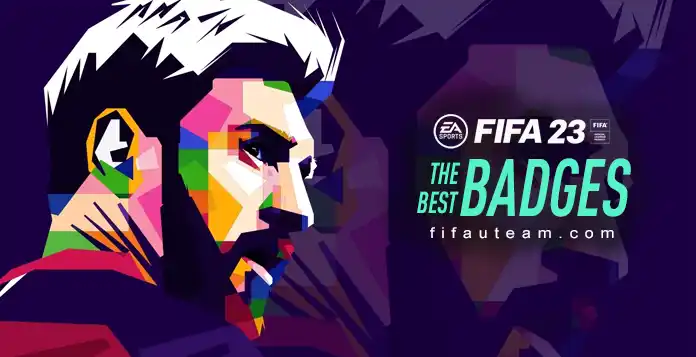 FIFA 23 Badges
No other thing is so representative of the club identity as its crest. The significance of a logo is a key asset when sports entities strive to build strong relationships with their fans.
Every crest should have a focus, one element that will act as a talisman to fans. It can be anything that has historical, geographical or even mythological relevance to the area. Without this cultural anchor, a crest bears little weight or significance and will simply not be doing its job.
In FUT 23, every club must have an active badge. It is the one that is shown on the starting animation of every match, every pause and all menus of this game mode. They only have an aesthetic function. Many players choose to use the badge of their club preference in real life, but the most wanted badges in the game are not the ones from the most popular clubs but those with a more modern and original design.
If you like a specific badge, go to the transfer market and filter by the respective club. If you need help picking a badge, follow our suggestions. We are sharing with you which ones are, in our opinion, the best FIFA 23 badges to use in Ultimate Team.
As you probably know, there are no new leagues this year. We also lost four of our favourite badges (#2 and #4 last year) since the clubs were relegated or the leagues removed. Hopefully, we found several other badges we are sure you will love.

PRO LEAGUE
20
RC GENK
Genk badge
is an excellent example of how every FUT crest should look: clean, minimalist, don't use more than three colours and almost has no text. This is a case study for any badge lover.

SCOTTISH PREMIERSHIP
17
HEART OF MIDLOTHIAN FC
Here is another new badge on our top. Instead of the dangerous animals or strong men fighting for the territory you will find in the other suggestions, we thought you would love (that's the word!) something different. This badge will make you play with more passion based on a mosaic found on Edinburgh's Royal Mile.

PRO LEAGUE
15
KAA GENT
You probably are asking what Belgium have to do with Native Americans, but there is an explanation. In the early-1900s, Buffalo Bill was the ringleader of a "Wild West" circus that toured Europe, giving them a taste of the new frontier that was the wild west. His successful circus made its way to Ghent at some point, and it just so happened that a new athletic club had formed and had just added a football team.

PREMIER LEAGUE
11
NOTHINGAM FOREST
A Sherwood tree emerges from wavy lines, representing the river Trent. That's how it looks like the Nottingham Forest badge. Oh…wait. There's more. The two stars remind the younger ones how big this club already was. This is probably the best badge for your club if you love nature.

MAJOR LEAGUE SOCCER
07
ORLANDO CITY
The Orlando City crest is simple, elegant and instantly recognisable on the global stage. It merges the lion, who never shies away from an opponent, with the sun, representing Florida, the sunshine state. However, it's not easy to find a badge with such a unique colour: purple.

MAJOR LEAGUE SOCCER
04
LOS ANGELES FC
We already know you love this crest (how you wouldn't?), but if you ask yourself why there is a wing on it, we will try to clarify this. It seeks to unite the team and fans under a recognizable and relatable symbol with ties to the diverse culture of Los Angeles.

CHINESE SUPER LEAGUE
03
GUANGZHOU EVERGRANDE
The addition of the Chinese League a few years ago also brought a great badge. It isn't exactly 'The Best forever', but it is close… It shows the club's desire to dominate football with extreme ferocity. The club motto at the top reads, 'Be The Best Forever'. The whole artwork has been nicely finished with red and yellow, the national colours.

ALJ LEAGUE
01
AL WEHDA
U.N.A.M., our favourite badge, is no longer available in FUT. Hopefully, Al Wehda got promoted so we have a good replacement. This dragon looks amazing: make us remember 'Game of Thrones'. The badge is on fire. If you want it, be fast. This item will be extincted in the market shortly after the released.