FIFA 23 Career Mode is the most advanced version of this game mode ever made. It includes real managers, playable highlights, a new main menu, dynamic moments, transfer analyst, player personality, and off-pitch activities.
New FIFA 23 Career Mode Features
From real managers to player personality, enjoy a more true-to-life football experience with new FIFA 23 Career Mode features.
Playable Highlights
In Playable Highlights, you take control of critical moments in matches to define their outcomes, specifically handling close calls that impact the scoresheet while leaving the match engine's rest of the game to be simulated.
Main Menu Experience
Electronic Arts have redesigned the Career Mode main menu so that you can access your areas of interest faster. They've also brought more contextual information forward, such as your squad depth, the players whose contracts are about to expire, or the most promising players in your Youth Academy. This information is more prominently in FIFA 23, meaning that you don't have to access as many layers of menus to find the information you're looking for.
Dynamic Moments
Dynamic Moments is a collection of cinematics that will accompany your progression throughout the Career Mode experience in both Manager and Player Career, intending to make your journey more immersive and memorable.
Pre-Season Tournament Format
The structure of pre-season competitions was updated to a more authentic format. Eight teams will play three matches each to get their campaign off to a good start. Only the tournament winner can claim the prize money award that will help boost their transfer budget.
Save File Changes
You can now use a shared pool of the save file space, allowing you to mix and match between Career Mode and Tournament saves. This enables you to create up to 17 Career Mode save files. Additionally, FIFA 23 surfaces more information about a save file, so ahead of loading a save file, you will be able to identify the team you were playing with and the upcoming opponent to better differentiate between saves.
Play as a Real Manager
FIFA 23 Career Mode enables you to play as one of the 350+ authentic football managers, of which 30+ have star heads. Upon selecting the manager of your choice, you can customize their outfit and decide on the club they'll be in charge of. You can continue to build a legacy at an authentic manager's current club, pick a different club to start at, or even create a new club for the manager to lead to glory.
Transfer Analyst
This new feature helps you improve your negotiation skills and hone your managerial instincts. The Transfer Analyst will assess your transfer business's financial and squad impact. There are five different ratings that the Transfer Analyst can provide for the financial aspect of your transfers, ranging from A (for high-quality business deals) to F (for deals that financially don't make too much sense).
Create your Club Improvements
You will now have the ability to customize your club's third kit as well as your goalkeepers' kit. You can also edit player names, height and weight, body appearance, preferred positions, playing Attributes, and even some of their animations.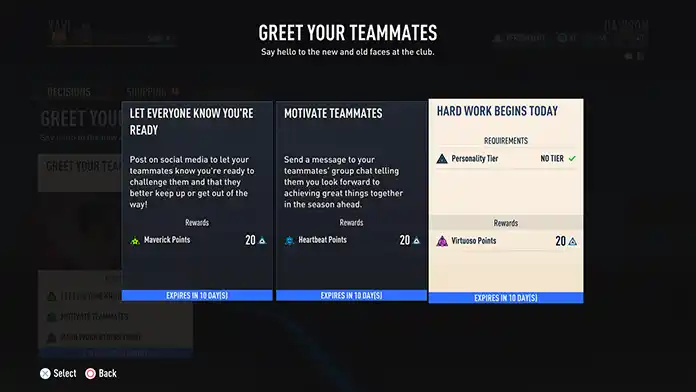 Budget Breakdown
Financial control is a significant aspect of managing a club. Will the wage bill put your club into bankruptcy? Are you making a profit on the transfer market with the players you sell? How much did you earn from prize money this season? You can now see this information broken down to help you plan your finances and ensure you have enough money in the bank to pursue your targets.
Player Personality
This new FIFA 23 Career Mode feature allows you to shape your virtual personality. By performing specific actions on and off of the pitch, you will gain Personality Points that will accumulate and expand your character, giving you access to benefits. These decisions contribute to three distinct personality types that impact your Attributes: Maverick, Virtuoso, and Heartbeat.
Off-Pitch Activities
Off-Pitch Activities allow you to further shape your Player Personality outside of matches and training. Sometimes you'll have to decide how you behave in specific situations, and each choice can lead to different outcomes. There are three types of Off-Pitch Activities: Decisions, Investments, and Shopping.