FIFA 23 FUT Heroes celebrate some of football's most memorable players and the unforgettable moments that turned them into fan favourites.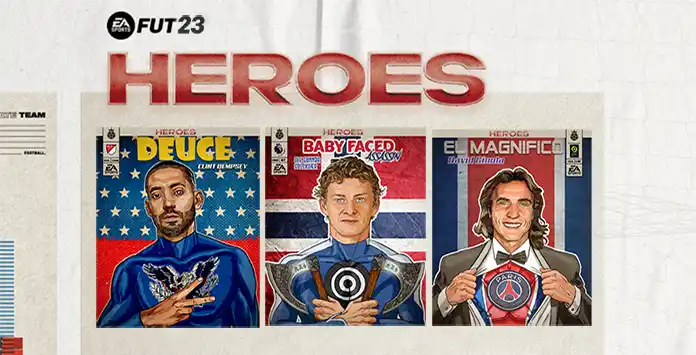 Hero Items
FUT Heroes is a special item released for the first time in FUT 22, assigned to a selection of retired players who made a significant impact at their
clubs and international level
.
In FIFA 23, twenty-one new Heroes are joining the previous selection, giving you more quality options for your squad. They are players who didn't make it to the Icons rank but have made a major impact in their clubs or leagues or are associated with one specific event.
This year, there are two FUT Heroes cards:
Base version
Available from the game launch. Recognizes memorable moments from their club careers
World Cup version
Available from November 11. Celebrates a key contribution on the international stage.
World Cup versions have improved ratings compared to their base items and the image of the player is replaced by a Marvel art.
If you pre-order FIFA 23 Ultimate Edition before August 21, you will receive a random Hero Player item on November 11, that you can use freely in your team.
Frequently Asked Questions
FUT 23 Heroes List
There are fourty Heroes in FUT 23, including twenty-one new items.
Player
Base
WC
Diego Forlán

N

88
91

On an ordinary day, any ordinary hero will do. But when you're facing the biggest challenges, on the biggest stages, you need the kind of hero who will step up and save the day. When the lights are brightest and everyone else is overwhelmed, the hero you need is Diego Forlán. 2010 alone showed that the fearless Forlán would always rise to the occasion.

He had a brace and Man of The Match display in the UEFA Europa League Final for Atlético de Madrid, then he followed it up in the FIFA World Cup™, ending as joint top scorer, owner of the Golden Ball as the tournament's best player, and instigator of the goal of the tournament – a volcanic volley from the edge of the box in the third-place play-off. Diego Forlán has proved he is no ordinary hero, which is why he is now a FUT Hero.
Rudi Völler

N

89
91

When defenders looked up to see the The Flying German's instantly recognisable flowing golden hair flying past them, they knew it was already too late. Völler was a clinical striker with the record to match, picking up the Bundesliga top goalscorer and Footballer of the Year award in 1982/83. His impressive 47 goals in 90 caps for his nation included him lifting the FIFA World Cup™ trophy in 1990, with three goals in the tournament and a place in the starting XI for the final.

Always a scoring threat, defenders have to be glad there is only one Rudi Völler, a one-of-a-kind FUT Hero.
Lúcio

N

89
90

Some defenders sit and wait. Some guess and scheme. Then there was Lúcio, who brought the lightning. Fast, physical, and known for his thundering runs, he terrified foes with his tough-tackling style and endless energy. He heroically played every minute of Brazil's 2002 FIFA World Cup™ championship run to help his nation become the first country to win the tournament five times. Beyond his 105 caps for his country, Lúcio brought his relentless storm to some of Europe's biggest teams.

He helped Inter win a historic treble that included a long-awaited UEFA Champions League title that added even more weight to an already stacked trophy cabinet. Wherever he struck, fear entered into his opponents and success came to his team. Wherever he struck, fear entered into his opponents and success came to his team. As sure as thunder follows lightning, Lúcio is a FUT Hero.
JP Papin

N

89
90

Ordinary strikers see a pass as too off target, a deflection as too far away, or a cross as too high. Jean-Pierre Papin saw every ball in the box, or sometimes even near the box, as an opportunity for the spectacular. He converted ordinary opportunities like the most ruthless of strikers, but was a specialist in the impossible. The harder the ball was to reach, the more he effortlessly twisted and turned his body like an acrobat to not only meet it but then somehow drive it powerfully into the back of the net.

Two goals on the biggest stage at the FIFA World Cup™ helped his nation vault to third place, but it was his hat trick with Olympique Marseille in the 1989 Coupe de France final where he clinched his super status. The Ballon d'Or that followed later just went to prove that he is perfectly positioned as a FUT Hero.
Tomas Brolin

N

87
89

Some heroes have unnatural powers. Tomas Brolin was a powerful force of nature. A heroic head turner, he hit the pitch like a tornado leaving destroyed defenders in his wake. Brolin's speed and agility made him like a whirlwind with the ball at his feet, helping him to score the decisive goal in Parma's 1-0 victory in the 1991/1992 Coppa Italia semi-final on their way to the club's first ever trophy.

Perhaps his most famous goal came in the 1994 FIFA World Cup™ Quarter Final, when a clever free kick routine ended in Brolin blowing past defenders to blast the ball into the net as Sweden went on to finish an impressive third place in the tournament. Almost as iconic as the goal was Brolin's signature celebration. He'd raise his right fist into the air and do a full 360 pirouette letting friend, fan, and foe alike know the Swedish storm had struck. His dizzying displays, gorgeous goals, and creative celebration make him a natural FUT Hero.
Abedi Pelé
89

Ghana's finest-ever player was given the nickname "Pele" after the Brazilian icon. Playing for OM in the 90's, he was known as one of the best playmakers of his generation. He would prove this in the 1993 UEFA Champions League final, where he assisted in the winning goal, immortalising himself in Marseille – and in football history.
David Ginola
89

An entertainer and a competitor, David Ginola made a name playing for some of Europe's biggest sides in the 90's. Part of a flair-packed, gifted Paris Saint-Germain side, Ginola experienced many high points under the lights of the Parc des Princes. But his thunderbolt strike against Real Madrid in the 1993 UEFA Champions League put him on the map of the global game.
Jurgen Kohler
89
90

Jürgen Kohler is regarded as one of the best defenders of his generation. With domestic titles in Germany and Italy playing for some of the biggest clubs, it was the 1997 UEFA Champions League final triumph with Borussia Dortmund that etched his name into history. His semi-final performance was one of towering bravery and leadership. It gave his team the belief they needed to go forward and win the Big Ears trophy.
J Mascherano

N

88
89

You can't always measure a hero by their size or stature. Javier Mascherano is living proof of that. Foolish strikers might have looked across the pitch at the tiny Argentine and dreamed of easy goals. Soon they'd discover that his boundless energy, tenacious commitment, and tough tackling make him an attacker's nightmare. He played like a man with extra feet, shutting down every attack and regaining each possession to start a crushing counter.

He stood tall as a leader, captaining his country to the Quarter Final of the FIFA World Cup™ 2010. Mascherano also showed his amazing adaptability by taking on a new role in the heart of the defence and winning his first UEFA Champions League. Even when he didn't have the armband, Mascherano led by example on the pitch with his style of play. After a giant career of 147 caps and countless trophies, Mascherano stands tall as a FUT Hero.
F Morientes
89
90

A true target man, Morientes certainly knew where the back of the net was. A regular on the scoresheet for both club and country, among his 100 goals for Real Madrid was the opener in the 2000 UEFA Champions League final – a trademark back post header that sent Los Blancos on their way to their eighth European title. The stuff heroes are made of.
JJ Okocha

N

88
89

Being a hero isn't easy. But watch Jay-Jay Okocha play, and he might just fool you. One of African football's best-ever players, he was a true entertainer on the pitch. Of course, maybe the secret to playing with such style and cool nonchalance is knowing that you've always got another trick or five-star skill hidden up your sleeve. The most expensive African footballer ever when he joined Paris Saint-Germain in 1998, Okocha was mesmerising in Nigeria's impressive opening win against Spain in the 1998 FIFA World Cup™ when he grabbed the spotlight of the world's biggest stage and revealed his incredible talent to the world.

Like any good trickster, he suddenly appeared where he was least expected in Bolton, only to put on a spectacular show in the Premier League. His wonder goal in a crucial six-pointer against relegation rivals West Ham United cemented his hero status. Still, it's the way he always had you watching carefully for his next fantastic trick that makes him a show-stopping FUT Hero.
Rafa Márquez

N

88
89

Not every hero is a leader. Most leaders aren't heroes. Rafael Márquez has mastered being both. His heroics for his country over the course of over 20 years make him a beacon of Mexican football, where the elegant defender played in a fantastic five FIFA World Cup™ tournaments. Even at a young age, his legendary leadership was clear, being named national team captain at just 23 – and going on to wear the armband in a record five separate FIFA World Cup™ tournaments.

Always a star, Márquez could also share the spotlight, teaming up with fellow defender Carles Puyol to form a powerful partnership that in 2006 saw him become the first Mexican player to win the UEFA Champions League. His incredible play and inspiring leadership earned him the title El Kaiser of Michoacan, and also earned him his status as a FUT Hero.
R Carvalho

N

88
89

By the time an attacking player decided how they would try to attack Ricardo Carvalho, they had already lost. They just didn't know it yet. The Portuguese's amazing sense of anticipation allowed him to thwart even the most impressive offensive attack. He knew what his opponents were going to do before they did, and he never gave them a chance.

At Porto, he went from a lowly loanee to the league's best player, leading Porto to a 3-0 demolition of As Monaco- the perfect finish to one of the most iconic UEFA Champions League runs of all time. He would go on to another legendary run at Chelsea. Still, anyone who witnessed that unforgettable European night could see it coming. Ricardo Carvalho was a FUT Hero; it just hadn't happened yet.
Yaya Touré

N

87
89

Like the legendary Colossus of Rhodes, Yaya Touré only had to stand on the pitch to inspire fear and awe in all who saw the size of the mighty midfield mountain. In 2011/12 he helped Manchester City hoist their first Premier League title in 44 long years. That season may be remembered for a certain Argentine striker's historic last minute goal to win the league, but the influential Ivorian scored both goals in the game prior to keep their title hopes alive.

Combine a dominant club career with over 100 caps and appearances at three FIFA World Cup™ tournaments for Côte d'Ivoire, and Touré proved that when his teams needed him most he could summon the strength to put them on his back and keep their hopes alive. Yaya Toure may not yet have a statue, but FUT Heroes don't come any bigger.
S Al-Owairan

N

85
88

Don't let the smile fool you. Just because Saeed Al Owairan is smiling doesn't mean he isn't just waiting for an opportunity to suddenly strike. Like an eagle, he heroically swooped in against Belgium in 1994 to score one of the greatest ever FIFA World Cup™ goals. Spotting his target while still inside his own half, he flew past five defenders and smashed the ball past the keeper.

Al Owairan's soaring speed and his eagle eye for goal helped the Saudi striker add another fantastic feather to his 75 national caps when he scored in the 1993 Crown Prince Cup final to lead the club he stood by his whole career, Al-Shabab, to yet another trophy during his loyal tenure. It's possible Saeed Al Owairan would still sport his signature smile even if his career wasn't full of heroic accomplishments, but the fact that we'll never know is what makes him a FUT Hero, giving just one more thing to smile about.
J Capdevila

N

86
88

Where's a hero when you really need them? That's not a question anyone ever asked when Joan Capdevilla was on the pitch. The marauding fullback charged down attackers and bounded forward to support his teammates because nothing was going to keep this hero from being wherever he might be needed. And nothing better demonstrates his commitment to not only being where he was needed but heroically being there whenever he was needed more than the 2010 FIFA World Cup™ where he played every single minute on Spain's road to international glory.

His brace against Getafe CF in 2009 will long live in the memories of Villarreal fans everywhere, the epitome of the same tireless drive to push forward – and push his side up the table – he showed every time he stepped on the pitch. For Capdevilla, being the kind of hero you could always count on is what makes him a FUT Hero.
Diego Milito
88

The Argentine marksman flew under the radar for years despite scoring over 50 goals in just over 100 appearances in LaLiga. After joining Inter, though, the world woke up to his goalscoring talents. His two goals in the UEFA Champions League final of 2010 is viewed as a classic striker's performance. In an era where "pure" strikers are hard to come by, Milito's two-goal salvo is fondly remembered as a masterclass of a changing art. Diego Milito is more than deserving of his FUT Hero badge.
L Donovan

N

86
88

Some heroes start young and fade away. Others only make their mark later on. Landon Donovan took the reins at his very first FIFA World Cup™ and never looked back. There the young American, just 20 years old, stood tall against his team's arch enemy and headed in the goal to defeat Mexico and launch the US into the semi-finals.

Eight years later, with time about to run out against Algeria, it was Donovan who stepped up and scored to give the US their first top-of-the-group finish since 1930. Then a decade after his early heroics, following a career of unwavering bravery, unstoppable goal scoring, and stalwart leadership, Donovan did it again, slotting home a late penalty to win his fifth MLS Cup with the LA Galaxy. His legacy lives on through the MLS MVP award, named in honour of the most natural leader the league has ever seen. Donovan was a hero from start to finish—his uncanny ability to bravely answer the call with time running out making him a truly timeless FUT Hero.
A Di Natale
88

Antonio Di Natale, in his pomp, was known all over Europe for a fearsome blend of speed, trickery and sharp finishing. 2010 might've been the moment it all came together for Di Natale. That year, he scored a fantastic hat-trick against Lecce leaving Udinese fans buzzing. Then, he followed up that feat with another hat-trick – this time against Napoli. Di Natale was the leader of a Udinese side who dared to dream.
Harry Kewell

N

87
88

Most young heroes begin as sidekicks, taking their time to grow and learn before becoming full fledged heroes. Nobody was going to make Harry Kewell wait. He was a wunderkind whose magic was undeniable from the moment Leeds offered him a trial at just fifteen. A magic man with the ball at his feet, his perfectly precise ball control mystified defenders right from the start. In 2000 he earned the PFA Young Player of the Year award, followed by mesmerising displays in 2000/01 that helped his club reach the semi-final of the UEFA Champions League.

The Wizard of Aus also brought his mystical powers to his national team, conjuring a vital goal in the 2006 FIFA World Cup that took Australia to the round of 16 for the first ever time. One of his nation's best-ever players, Kewell made us believe that magic was real, and that makes him a real FUT Hero.
Dirk Kuyt

N

86
88

It's when things look darkest, hope is fading, and people are ready to give up that we most need heroes. The darker, more hopeless, and more depressing the situation, the more Dirk Kuyt is the hero you need. He will light up the room, fill you with hope, and empower you with his eclectic enthusiasm. Ask fans of any team Dirk Kuyt has ever played for, and they'll speak of him in glowing terms. He played football with a full-throttle commitment, channelling a seemingly infinite amount of energy and excitement that energised teammates and fans alike.

His crucial assists in the Quarter and the Semi Final played a key role in the Netherlands' route to the 2010 FIFA World Cup final. He was more than just a provider for his teammates, though. His second spell at Feyenoord saw him bag a final-day hat trick to clinch the 2016/2017 Eredivisie title before announcing his retirement from football three days later. What better way for a FUT Hero to bow out from the game?
C Marchisio

N

87
88

Any hero can amaze us with physical gifts that make them better than everyone else. The greatest heroes inspire us to be better ourselves. There is no more perfect example than Claudio Marchisio. As a midfielder, his ability to coolly adapt to any situation combined with the skill and will to turn any possession into an opportunity to run, shoot, and score gave Juventus a legendary midfield.

Marchisio lifted the bianconeri back to their perch atop Serie A, winning the first of nine consecutive scudetti in 2011/12. He wasn't called Principino merely for his heroic deeds, but for the way he always accomplished them with perfect poise and dignity, like the stunner he scored on the biggest stage for Italy at the FIFA World Cup 2014™ to send the Azzurri fans into raptures. His incredible skill, impeccable class, and connection to his hometown team make him the perfect example of a FUT Hero.
H Nakata

N

87
88

Hidetoshi Nakata looks every bit the hero. But it's the moment when you realise you aren't looking at him, when he has somehow slipped away, that he's at his most dangerous. Like a stealthy super spy, the attacking midfielder would somehow secretly sneak away from his defenders. Then he'd suddenly surface to either take the shot himself or slip a perfect pass to set up a teammate. His stylish talent convinced Parma to make him the most expensive Asian footballer ever, then the agile agent showed he was more than worth it in the first leg of the Coppa Italia when he snuck into the box against Juventus to score a vital scissor kick.

The same summer the FIFA World Cup™ came to Japan, with Nakata netting on home turf in a 2-0 win against Tunisia to confirm his team's place in the knockout stages and his own hero status. A hero that demanded your attention and then could somehow disappear until he was wherever the mission required, it is no secret why he's a FUT Hero.
Ebi Smolarek

N

86
88

Foes who faced Włodzimierz Smolarek found only frustration. The Polish hero brought a feisty, never give up attitude that drove opponents crazy. They would think they had him lined up, and he'd be gone. They'd try to press him, and he'd have shifted by them like they weren't even there. They'd believe they'd finally trapped him in the corner, only for him to shift things around and reveal that he had them right where he wanted them.

His ability to play like defenders simply could not touch him was key in Eintracht Frankfurt's 1988 DFP-Pokal title. The sometimes seemingly insubstantial super star made substantial contributions to Poland's 1982 FIFA World Cup™ run as they achieved an unforgettable third place finish, and he made an untouchable argument that he is a FUT Hero.
Joe Cole
87
88

Joe Cole is undoubtedly one of the most gifted players of his generation. A classic number 10, his trickery, vision and balance had defenders in England and in European football running scared. Part of a legendary Chelsea side, he was the creative fulcrum, scoring the winning goal to land Chelsea the Premier League title in 2006.
Jorge Campos
87
88

The 90s saw a string of top-class, hugely personable goalkeepers hailing from South America. Few are as memorable as Jorge Campos was. He played a high-risk game as a sweeper-keeper, regularly found outside his box, in colourful kits of his own making, and never caught off-guard. He held a clean sheet in the 2nd leg of his team's title-winning match in 1991. Just one of the moments that make Campos one of our FUT Heroes.
Iván Córdoba
87

The decorated Colombian Iván Córdoba led several domestic and European challenges for Inter with his diligent defensive work. A leader, warrior-type centre back, his style of play typified the robustness of Inter's legendary treble-winning 2010 side. In 2008, against Reggina, in a hard-fought match which looked destined for a draw, it was Córdoba's last minute winner that placed him in Nerazzurri folklore.
S Govou

N

86
87

Sidney Govou is the kind of hero who is synonymous with their home city. Lyon has seven Ligue 1 titles to their name. So does Sidney Govou. The lionhearted winger led OL to every league triumph in their history, winning seven straight to catapult his childhood club to the upper echelons of French football. He roared onto the European stage in 2001 with two ferocious strikes in the UEFA Champions League, then again on the world stage with a spark of inspiration in the 2006 FIFA World Cup™ knockouts against Spain.

A hero of skill, style, and loyalty, Govou's dazzling decade at OL cemented his legacy as a hero dedicated to his city—the lion of Lyon.
Park Ji-Sung

N

86
87

Foes who fail to foil his relentless attacks or avoid his persistent pressing claim he has three lungs. Those who fail to escape his merciless marking insist he has two hearts. But the truth of Park Ji-Sung is far more heroic. Inside him beats the heart of a tiger. He not only has the ceaseless stamina to go all out all game, but he also has the tiger's instinct for the perfect time to strike. Often that moment comes late when an opponent is exhausted, worn out, and has nothing left.

But Park Ji-Sung knows that a tiger does not have to wait. His stunning assist just 36 seconds into a legendary title-deciding match against Chelsea made him a Premier League champion, while his goal for South Korea in the 2010 FIFA World Cup™ made him the first Asian player to score in three consecutive tournaments. The Tiger Heart is an undeniable FUT Hero.
Peter Crouch

N

85
86

Some heroes scale skyscrapers. Peter Crouch was one. "A good touch for a big man" was the observation that followed the 2-metre-tall striker throughout a career that took him all over English football. Crouch had the size and skill that made it seem like he was the result of a heroic effort to construct the perfect footballer in a lab. He was a menace to defenders with both his feet – which had a knack for the spectacular, and his head – which holds the Premier League record for headed goals.

His critical contributions in Liverpool's 2006 FA Cup Final comeback win, including a vital assist for Steven Gerrard, combined with a crucial header in the 2006 FIFA World Cup™ for England against Trinidad and Tobago were emblematic of his ability as a true target man. Still, it was the legendary robot celebration that became his signature. A true fan favourite, Crouch's joy and heart make him maybe the most huma FUT Hero of them all.
Jerzy Dudek
86

Jerzy Dudek was one of many heroes in Liverpool's legendary 2005 UEFA Champions League triumph. If not the biggest of heroes. After conceding three goals in the first half, it'd be easy to give up. But, inspired by the performance of his teammates, once Liverpool had drawn level – Dudek knew he'd have to do his part. And that he did. An against-all-odds double save late in extra time from Andriy Shevchenko fed into the feeling that it was going to be Liverpool's night. Then, his penalty save against Shevchenko (again) – solidified it. Jerzy Dudek was the difference between hope and glory.
Sami Al-Jaber
86
87

Sami Al-Jaber scored over 200 goals in a glittering career, and played for Saudi Arabia in four FIFA World Cups – in 1994, 1998, 2002 and finally in 2006. In 2006, his goal against Tunisia made him one of the only players to score in three FIFA World Cup tournaments. He is a national hero, and now, a FUT Hero.
Robbie Keane
86
88

Robbie Keane scored over 120 Premier League goals for some of England's biggest teams. A striker who could cause trouble for any defence, teams prepared to play against him. His defining moment came as his constant harrying and haring drove Spurs to their last League Cup win in 2008.
F Ljungberg
86
88

Freddie Ljungberg was a key part of the only team in Premier League history to go undefeated. His skill and technical play on the wing saw him spellbind fans in the Premier League. The FA Cup final of 2002 saw Ljungberg add his standout piece in a long highlights reel. Running at the Chelsea defence, he jinked past his opponents before slotting the ball in the top corner. Man on fire.
A Mostovoi
86

Aleksandr Mostovoi was nicknamed ''El Zar'' (The Tzar) by his enchanted fans at Celta Vigo where he made a name for himself across Europe as one of the continent's premier playmaking talents. Driving Celta to an Intertoto Cup win and a Copa Del Rey final, Mostovoi's exploits hit a peak in 2003 where two goals against Real Sociedad took Celta Vigo into the Champions League.
Ole Solskjaer
86

The baby-faced assassin and the scorer of a goal that would create history. Ole Gunnar Solskjaer for much of his (playing) career was known as a dangerous super-sub striker. The kind of player who was always ready to apply the finishing blows to a fading opponent. His goal in the legendary UEFA Champions League final of 1999 is the greatest example of his poaching prowess.
Tim Cahill
85
88

Tim Cahill was known all over the Premier League for his all-round chaos potential in the box. Especially dangerous with his heading technique, but Cahill had a wide range of finishes in his locker. Like the sublime overhead kick he scored in 2007. It's what FUT Heroes are made of.
Clint Dempsey
85
86

Whether in MLS, the Premier League, or on the international stage, Dempsey left it all on the pitch – and very often in the goal too. The joint top scorer in USMNT history, Dempsey's return to North American football in Seattle saw him bag an impressive 47 league goals in 115 games – including a memorable hat trick in 2014.
Mario Gomez
85

With over 200 goals in the Bundesliga for some of its biggest clubs, the fearsome striking of Mario Gomez at his peak was known all over the world. But he was always remembered most fondly at home. Particularly setting up the legendary goal that would bring VfB Stuttgart their third Bundesliga title, certifying his status as a club and FUT Hero.
Lars Ricken
85

A key cog in the all-conquering Borussia Dortmund side of the 90's, Ricken's goal in the 96-97 UEFA Champions League final came just after 16 seconds of being on the pitch. It remains the fastest goal scored by a substitute in UCL history. And arguably, Ricken's most important contribution to Borussia Dortmund.
Click or tap in the player to see his item