The FIFA 23 Level Up event is known for its special items featuring premium chemistry and improved versions.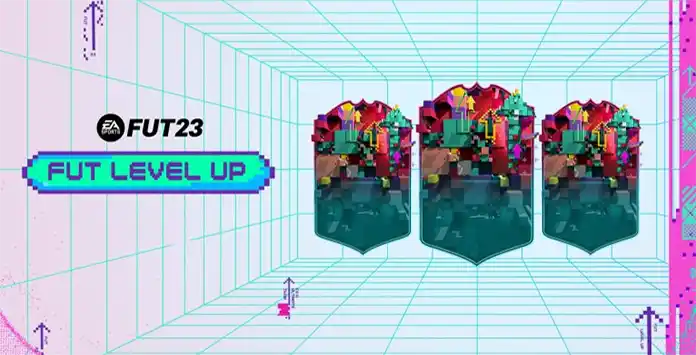 Level Up
The Level Up promo is the last new promo of the FIFA franchise. It is released after Shapeshifters and before FUTTIES.
Each special item comes with an upgraded version you can unlock by
completing Objectives
using their base version. These upgrades could come in the form of ratings boosts, skill move or weak foot improvements, and even Premium Chemistry—plus unique action shots to help them stand out in your squad.
Release Dates
The Level Up event was released for the first time in FIFA 23.
Release dates for FIFA 23 are official.
All release times are indicated in the
UK time zone
.
Offers
The Level Up event features several offers, including special items in packs, SBCs and objectives. To know which promo packs are available, go to our
dedicated page
.
| | |
| --- | --- |
| 15/07 18:00 13d | ● M Terrier 91 LUP U |
| 15/07 18:00 7d | ● 90+ BFN Icon R U |
| 14/07 18:00 7d | ● Level Up T2 |
| 14/07 18:00 14d | ● Ferran Torres 92 LUP U |
| 14/07 18:00 14d | ● R Jiménez 92 LUP U |
| 14/07 18:00 12d | ● Level Up Cup |
| 14/07 18:00 6d | ● Level Up III |
| 14/07 18:00 14d | ● LUP Your Game II |
| 13/07 18:00 14d | ● Tim Ream 93 FLA U |
| 12/07 18:00 14d | ● Mac Allister 94 PM U |
| 12/07 18:00 28d | ● Patrick Vieira 93 ICO U |
| 12/07 18:00 7d | ● 93+ TOTS/SHA PP R U |
| 11/07 18:00 28d | ● Aubameyang 94 FLA U |
| 11/07 18:00 7d | ● FC Bonus IV |
| 10/07 18:00 4d | ● 81+ Player Pick PP U |
| 10/07 18:00 4d | ● 83+ x25 Upgrade R U |
| 09/07 18:00 12d | ● Savanier 94 LUP U |
| 09/07 18:00 12d | ● Savanier 92 LUP U |
| 09/07 18:00 12d | ● Soaring Silver Up R U |
| 09/07 18:00 12d | ● Level Up Crafting R U |
| 08/07 18:00 13d | ● Sildillia 91 LUP U |
| 08/07 18:00 7d | ● 90+ Icon PP R U |
| 07/07 18:00 7d | ● Level Up T1 |
| 07/07 18:00 14d | ● Sterling 92 LUP U |
| 07/07 18:00 14d | ● LUP Daily Login R U |
| 07/07 18:00 14d | ● Çalhanoglu 94 LUP U |
| 07/07 18:00 12d | ● Level Up |
| 07/07 18:00 12d | ● Level Up II |
| 07/07 18:00 14d | ● LUP Your Game I |
| 07/07 18:00 14d | ● LUP Daily Login |
| Release Date | Content |
Frequently Asked Questions
Level Up Items

During the event, two teams of themed players and two mini-releases are released on the following dates:

Team 1
Available in Packs: 07/07 to 14/07

Team 2
Available in Packs: 14/07 to 21/07