Prime Gaming Members have access to free monthly offers for their FIFA 23 Ultimate Team.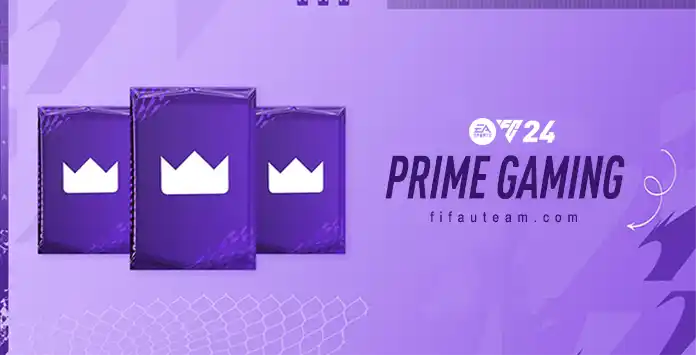 Linking Accounts
New FUT offers are available
every month
for Amazon Prime members. You must link your Amazon Prime and EA Sports accounts to get them.
You can only link your EA Account to one Amazon Prime account. You are only allowed to unlink your accounts one time within six months. So, be sure the Prime Gaming account you link is the one you will have access to for the lifetime of your EA Account. Otherwise, you may lose access to rewards on your linked account.
How to Link your EA Account to Amazon Prime
Go to the Prime Gaming website;
Click [Claim Now] in the active FUT 23 offer;
Link your EA Account by clicking [Go to Electronic Arts];
Click [Allow] when asked if you want to allow Electronic Arts to access your Amazon account;
Confirm your EA Account. If it's not your account, click [Not your account?] to switch to the right one;
Click [Continue]. If you have Login Verification turned on, you'll be asked to verify your identity;
Click [Link Accounts];
Click [Return to Amazon];
Click [Complete Claim].
Claiming Amazon Prime Rewards
If you've successfully linked your Amazon Prime and EA account, your offers will be available next time you log in to FIFA 23.
How to Claim FIFA 23 Prime Gaming Rewards
Go to the Prime Gaming website;
Click [Claim Now] in the active FIFA 23 offer;
From the main FIFA 23 Ultimate Team screen, navigate to [Store];
Go to [My Packs];
Your Prime Gaming rewards will be there waiting for you and featuring a custom pack art.
Content will be available only on the first platform you log into with your linked EA account. Therefore, if you play FIFA 23 on multiple platforms, you will have to choose which one you want to receive your offers.

October 2022
Release Date: 17/10/2022 18:00 UK

November 2022
Release Date: 21/11/2022 18:00 UK

December 2022
Release Date: 19/12/2022 18:00 UK

January 2023
Release Date: 23/01/2023 18:00 UK

February 2023
Release Date: 20/02/2023 18:00 UK

March 2023
Release Date: 20/03/2023 18:00 UK

April 2023
Release Date: 17/04/2023 18:00 UK

May 2023
Release Date: 22/05/2023 18:00 UK
Frequently Asked Questions