FIFA 23 Squad Battles is a single player game mode where you take on other squads from the FUT community.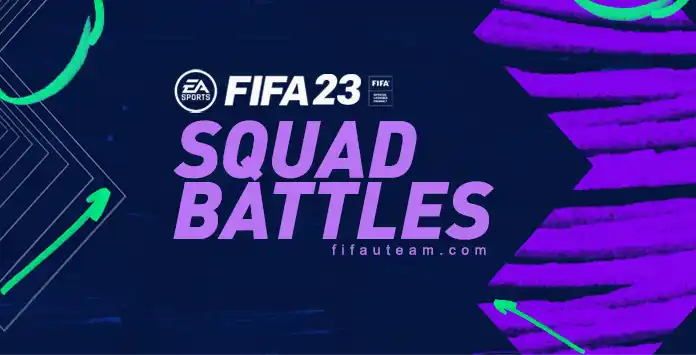 Squad Battles Explained
Squad Battles is a single-player (or co-op) mode within FIFA 23 Ultimate Team that allows you to challenge CPU AI-controlled squads owned by genuine players around the world.
Each week in FIFA 23 Squad Battles is an entirely different competition. On each campaign, you play up to 42 matches against
AI opponents
, including a pair of special squads: one based on football players, pro FIFA players, and celebrities picks; another based on the current Team of the Week.
During the weekly campaign, you are presented with new lists of four opponents. You can refresh the lists up to ten times. After that, your matches are unranked, and no rewards are given for those matches.
By playing Squad Battles matches, you earn FUT Coins and Battles Points. These points are used to determine your Rank in the weekly competition. The criteria for each Rank are based on all the player's results who are taking part in a Squad Battles event. Each Rank can only hold a
certain percentage
of the players competing during the current week.
You reach a specific rank and get the correspondent rewards based on how many points you earnes compared to the other players. They are usually coins, packs, and cosmetic items, distributed every Sunday morning.
You can set the difficulty for each opposing squad before you play, and the harder the difficulty, the more points you earn. To get the highest Rank, you need to earn more Battle Points than all other players in the weekly competition.
Frequently Asked Questions
FIFA 23 Squad Battles is a single player game mode where you take on other squads from the FUT community to earn rewards and move up the leaderboards.
How do I qualify for Squad Battles?
You don't need it. Everyone is invited. You just need to enter and play. As simple as that.
Should I play Squad Battles or Rivals?
FUT Rivals has much better rewards, but Squad Battles is also a good option for those who don't like to play against real opponents or don't have a good connection.
How do Squad Battles menus work?
Squad Battles has three windows:
Opponet Select
It's where you set the difficulty level and pick the opponent you will play. You can see his squad, formation, tactics, kits, stadium, and nation. You will see the light blue tick if you have already played against him. In each round, there are four new teams to play against. You can also play unlimited times against the featured squad and the TOTW, which are refreshed weekly.


Your Rank
Also known as Leaderboards, this is where you can see how well you are going and which rewards you can get. Tiers that go from Bronze 3 to Elite 1 and also TOP 200. Remember that the event only ends on Sunday morning, so your current ranking is not the final one.


TOP 200
This is where you can see who are the best Squad Battles players at that moment.
Can Squad Battles players play against my squad?
Yes, it may happen if you have played at least one match on Squad Battles, Draft (online and single player), FUT Champions, or Division Rivals.
Battle Points are earned at the end of each Squad Battles match. They are used to determine your Rank in the weekly Squad Battles competition.
How are determined how many Battle Points I get?
You can see the Battle Points formula clicking
here
.
How does Ranking in Squad Battles work?
In Squad Battles, the Battle Points you earn during the week determine your Rank in the weekly competition. Each Rank can only hold a certain percentage of the players competing in Squad Battles during the current weekly competition. The average score among all competitors determines ranks. To get the highest Rank, you will need to earn more Battle Points than all other players in the weekly competition. The percentage breakdown of each Rank can be seen in-game.

If you are one of the Top 200 players in a weekly Squad Battles competition, you'll earn rewards based on your position in the Top 200.
Can Ranks change even if I haven't played?
Yes, you can. If you start playing Squad Battles matches early in the week and earn many Battle Points, you might initially be in a top Rank. But if you don't continue playing matches throughout the rest of the week or earn fewer Battle Points, other players could still be playing and earning Battle Points. That means your Rank could drop if they out-earn you and move up.

On the flip side, you could also move up a Rank if players don't out-earn you.
What if two players have the same battle points?
If two or more players have the same points, the player with fewer games played gets the higher position.
How often do Leaderboards update?
The leaderboard updates roughly every five minutes.
Can Squad Battles be used for Rivals placements?
Not anymore. In FIFA 23, everyone starts Rivals in division 10, so there are no placement matches.
In FIFA 23 Squad Battles, you can play against three types of opponents:
other squads from the FUT Community;
featured squads;
TOTW squad.
Where do my Squad Battles opponents come from?
Your AI-controlled opponents in Squad Battles come from the real Squads used by other players in FIFA Ultimate Team (FUT). Specifically, Squads were used by players when playing Squad Battles, Draft (Online and Offline), FUT Champions, and Division Rivals.
Does everyone get the same opponents?
No. It only happens for the featured squads.

Four new teams are added in each round. Because this mode changes from minute to minute, you and your friends may get different squads.
How do I choose the opponents?
When a set of opponents is provided, either at the start of a new Squad Battles competition or when you perform an Opponent Update, the game always provides one Squad from each of the three Squad difficulty buckets: Easy, Medium, and Hard.

Then it selects the fourth Squad from the Easy or Medium buckets, with a 50% chance of the Squad coming from either bucket.
How are the Squads' difficulties determined?
Each Squad in FUT has a Team Rating value and a Chemistry value. When those values are added together, you end up with an Overall Squad Rating. Each of our difficulty buckets in Squad Battles contains a range of Overall Squad Ratings:
Easy = 0-140
Medium = 141-182
Hard = 183+
What are Featured Squads?
Featured Squad Battles are special matches where you can play against:
squads created by members of the FIFA and football community, such as real footballers, celebrities, or FIFA pro players;
the TOTW.
Not every weekly competition in Squad Battles will have a Featured Squad Battle.
Is Co-Op available in Squad Battles?
Yes, it is. Both players will use one of their weekly matches when opting to play Co-Op in Squad Battles. Based on the game's result, each participant will earn their score and coins for the match using the regular in-game calculations. If one player has run out of games that count for their weekly score, neither of you will continue to earn a weekly score.

That being said, both of you can still play the match to earn Coins & Skill ratings and make progress towards Objectives. You will know before starting the match if this applies, as both players will receive a message warning if they are out of matches.
When does a new Squad Battles campaign start?
The competition refreshes every Sunday at 09:00 am (UTC+0). You can see the complete calendar of FIFA 23 Squad Battles clicking
here
.
How many games can I play each week?
You can play unlimited matches, but only 42 will count for your ranking: the first 40 against other squads from the FUT community and the last match against the featured squad and the TOTW.
When can I play Squad Battles?
This game mode has been available since day 1. It can be played at any time, seven days a week. You can refresh four new squads whenever you want until you hit your maximum of 10 refreshes for the weekly competition (up 40 games per week).

While those first ten refreshes are the only squads that will count towards your weekly competition standings, you can continue to refresh and get new opponent squads to work on completing objectives or just for some fresh opponents to play.
How does the opponent update work?
The Opponent Update is how you refresh your list of available Opponent Squads. After playing all the available Opponent Squads, you'll have to refresh the list. To maximize your battle points, use all your Opponent Updates during the event. If you miss using an Opponent Update, you won't get the maximum battle points for the event.
What if I press the 'Opponent Update' by mistake?
Be sure you don't press the 'Opponent Update' button before playing against all opponents available. As soon as you press R1/RB, the opponent's list is refreshed, and you will no longer be able to play those matches.
How do Squad Battles rewards work?
Each weekly competition will have a set of rewards available, with different rewards available for each tier. Once the weekly competition ends and assuming you had a score for that week, you will have earned a reward.
How do I get better rewards?
The more wins you get, the better rewards you get. However, there are a few things you can do to improve them even more: play in the highest difficulty levels; play as many matches as possible, including against the featured squad; play against the best opponents; and fight for as many skill bonus as possible (goals scored, shots on target, corners, clean sheets, etc.).
When are the weekly rewards delivered?
You'll get your rewards shortly after the event ends (usually, it takes 5 minutes).
How do I get my rewards in FIFA 23 Squad Battles?
You can claim your rewards shortly after the competition ends, either in-game or on FUT Web and the Companion App.
How good are the rewards?
Generally, they are much worse than FUT Champions and FUT Rivals rewards.
It can be different types of tradeable packs or tradeable packs, and FUT coins. Check the complete
list of rewards
for FIFA 23 Squad Battles.
What if I can't play in a certain week?
You will not receive any reward for that week.
What if I don't claim my rewards?
Rewards don't expire. They will be waiting for you in your Ultimate Team.
Can I save my packs to be opened later?
Sure. You can save your rewards to be opened when the best special items are available in packs.