The FIFA 23 Team of the Year event features the most desired themed items assigned to the best eleven of the civil year.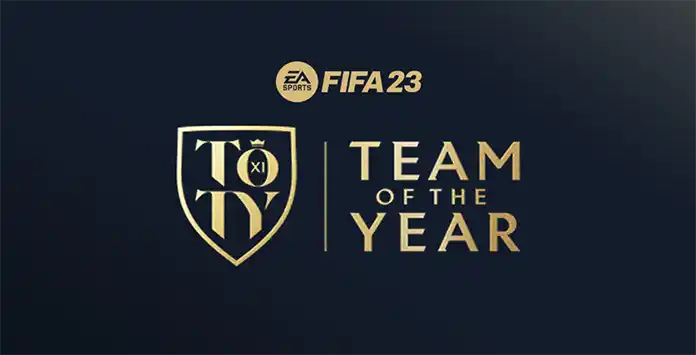 Team of the Year
The Team of the Year promo is the oldest and most important event of the FUT cycle. It is also the most profitable for Electronic Arts.
Commonly abbreviated to
TOTY
, it celebrates the best eleven players based on their real performance on the previous civil year. The selection of these players is determined by a combination of EA and community
votes
, from a shortlist of 70 players.
The eleven special cards feature significant upgrades and are released exclusively in packs for two weeks, as long as other exciting offers.
Release Dates

The Team of the Year event was released for the first time in FIFA 12. Release dates for FIFA 23 are estimated.
FIFA 23
| | |
| --- | --- |
| Start | 20/01/2023 18:00 Fri |
| End | 03/02/2023 18:00 Fri |
22
21
20
19
18
17
16
15
14
13
Offers
The FIFA 23 Team of the Year event features several offers, including special items in packs, SBCs and objectives. To know which promo packs are available, go to our
dedicated page
.
| | |
| --- | --- |
| 26/01 18:00 8d | ● Fan Favourite |
| 26/01 18:00 8d | ● TOTY XI |
| 24/01 18:00 2d | ● TOTY Defenders |
| 22/01 18:00 2d | ● TOTY Midfielders |
| 20/01 18:00 2d | ● TOTY Forwards |
| Release Date | Content |
Previous Offers

You can get a good idea about which offers will be available by looking to the past years offers.
FIFA 22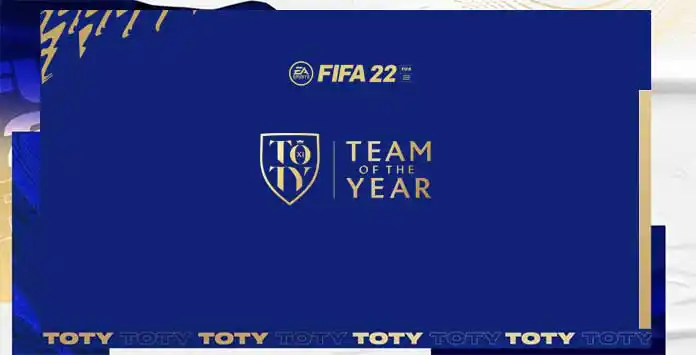 FUT Pack Offers
25k, 30k, 45k, 50k, 70k, 80k, 100k and 125k promo packs.
Themed Squad Building Challenges
Eight daily challenges rewarding up to a Rare Players pack, twelve Flash SBCs rewarding up to Prime Gold Players pack, and exclusive challenges rewarding TOTY kits.
Regular and Premium League Upgrade SBCs
10 League SBCs rewarding up to League Premium Players Packs.
Upgrade SBCs
Several SBCs: 81+ Defender, 81+ Midfielders, 81+ Attackers, 81+ Double, 81-87, 84+ PP, Hero PP, Mid/Prime Icon, Mid Icon.
Other Special Items SBCs
Two Honourable Metion Untradeable items (Lautaro and Olmo), one Flashback Untradeable Item (Varane) and four Player Moments Untradeable Items (Giroud, Dest, Lucas Paquetá and Kjær).
More SBCs
Three Icon SBCs.
Dynamic Objectives
Exclusive objective groups rewarding two untradeable Honourable Mention item (Ronaldo and Shaw), a random Rulebreakers item, two Player Moments items (Verde and Gibbs-White), TOTY Messi, Lewandowski and Mbappé Loan items and a cosmetic items.
Themed Players Items
11 TOTY players, including Cancelo, Rúben Dias, Marquinhos, Kanté, Messi, Lewandowski and Mbappé, plus a 12th player as voted by the community (Cristiano Ronaldo), available exclusively in packs with upgraded ratings as unique items. Eighteen other players were also released in packs, SBCs or objectves as Honourable Mention items.
21
20
19
18
17
16
15
14
13
Frequently Asked Questions
TOTY Items

During the event, a team of themed players is released in packs on the following dates:

Only Attackers: 20/01 to 22/01
Only Midfielders: 22/01 to 24/01
Only Defenders: 24/01 to 26/01
TOTY XI: 26/01 to 03/02
Fan Favourite: 27/01 to 03/02
Honourable Mentions: 27/01 to 03/02

FIFA 23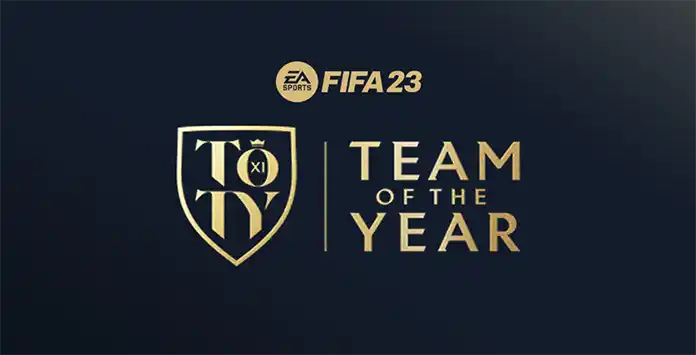 12th Man (Fan Favourite)
POS
Player Name
00
Click or tap in the player to see his item.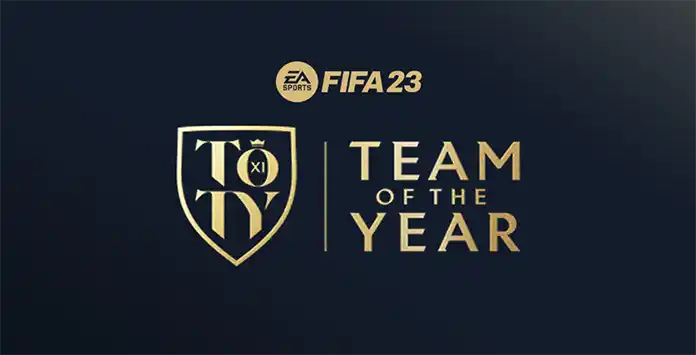 Pred
Nom
22
21
20
19
18
17
16
15
14
13
12