Before start playing FUT, there are a few things you need to do first.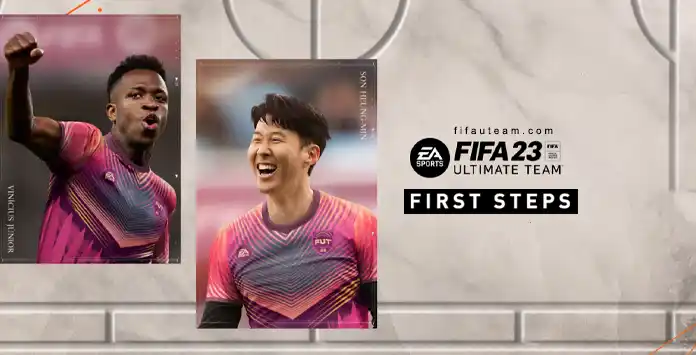 First Steps
Yes, we know you want to start the new FIFA cycle as soon as possible. However, it will be easier for you if you decide to think twice before skipping every screen you see.
We are here to help you in your FIFA 23 Ultimate Team First Steps, especially if this is one of your first FUT seasons. Take two minutes to read our Walkthrough Guide, and you will be ready to build your dream team.
There are a few steps that allow you to
customize your team
a bit more before you start playing:
Choose your Starter Pack;
Choose your Kit;
Choose your Crest.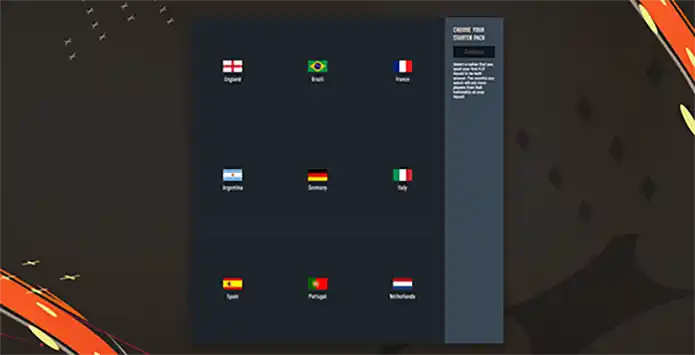 The Starter Pack
The first thing you will be asked is to choose your
starter pack
. All you have to do is to select a nation from nine available: England, Brazil, France, Argentina, Germany, Italy, Spain, Portugal, and the Netherlands. The country you select will put more players from that nationality on your starting squad, including your best-rated player.
If you already have a plan for the team you want to build, you may consider it when making your choice. As soon as you pick the desired nation, you will see an animation showing your most-rated player and your squad for the first time ever.
Don't expect a strong squad. The good news is that you've already hit rock bottom, so now you can only go up. The game will ask you to add a high-rated loan player to your squad, which will be the first chance to improve your team. Remember that Loan Players are limited-use items that can boost the overall performance of your team. You need to select which player you want to be replaced and one of the five loan players available.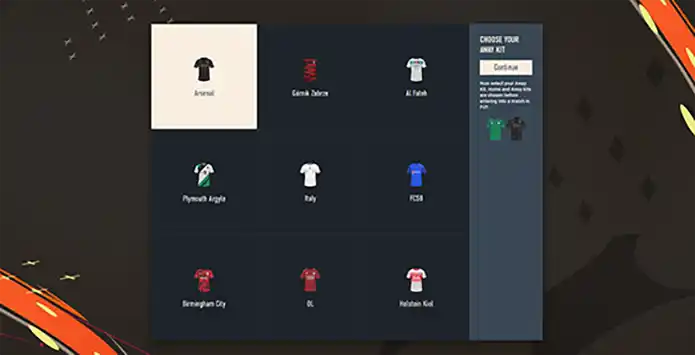 Your First Kit
Now that you have chosen your players, they will need something to dress. It's time to customize your club, selecting the home and away
kits
you want to use. You have nine random options for each one to choose from. You will be able to change this later on.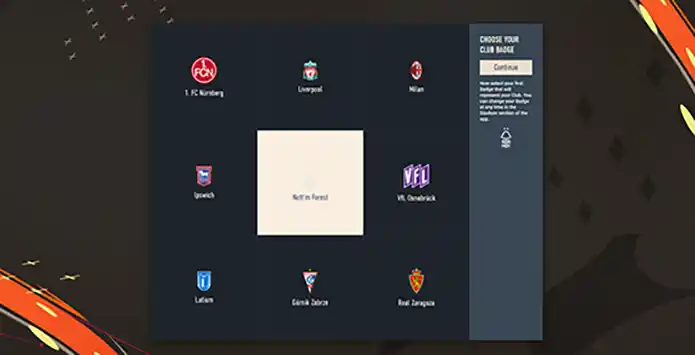 Your First Crest
If you are creating your own club, then it will need to have its own badge. That's what you need to do here. Select the real-club badge you want to use, from the nine random options to choose from. Once again, you will be able to change this once your club is ready.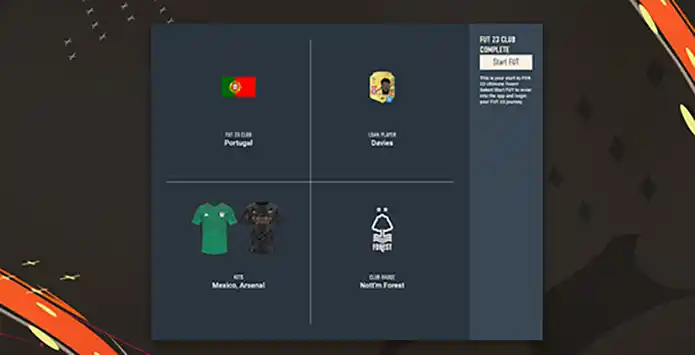 Club Summary
Now that you have chosen your players, kits and badge, you will see a club summary screen with your choices. It is not possible to go back to make any change but you can confirm and start playing. Your FUT Club is now ready!
Loan Players List
You can only pick one position where you want to replace your starter player by a popular player on loan. We have listed the five options available for each position, so you can take the best decision possible.
GK
Thibaut Courtois
3
G Donnarumma
3
Mike Maignan
6
Kevin Trapp
7
Péter Gulácsi
5
RB
Alexander-Arnold
4
Achraf Hakimi
5
Jesús Navas
6
Benjamin Pavard
9
Lazzari
7
LB
Alphonso Davies
7
Ferland Mendy
6
Lucas Digne
6
Alex Grimaldo
7
Alex Sandro
6
CB
David Alaba
6
Sérgio Ramos
4
JM Giménez
6
Simon Kjær
6
Edmond Tapsoba
7
CM
Marco Verratti
4
Nicolò Barella
4
Paul Pogba
4
F Valverde
6
Emre Can
7
RM
Serge Gnabry
6
Otávio
7
Edin Višća
7
A Candreva
8
Leon Bailey
7
LM
Kingsley Coman
5
Ivan Perišić
7
Puado
9
Jonathan Bamba
8
Paulinho
7
ST
Kevin Volland
6
Raúl Jiménez
4
André Silva
6
Morata
6
Anthony Martial
7