FIFA 23 WEEKLY OBJECTIVES
FIFA 23 Weekly Objectives are simple tasks released weekly and contribute XP to your Season Rewards.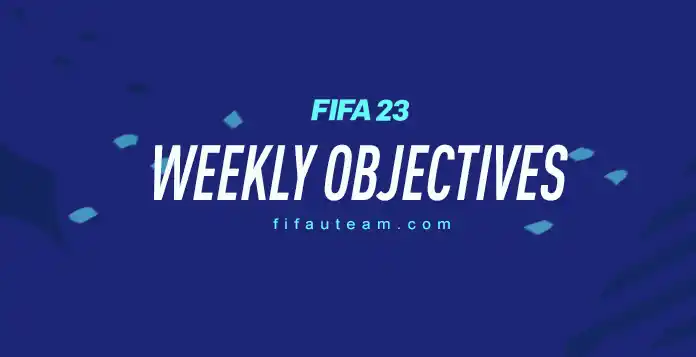 Weekly Tasks
Three
groups
of objectives are released every week, as part of the Season Objectives. Each round of objectives – there are six in each season – stays live for two weeks, except the last week's objectives: they expire when the season does.
You can complete them in-game or in the web/companion app, depending on what is requested. From squad management goals to dynamic in-match challenges, the harder the objective, the more XP you'll receive, and the higher your chances to win a better season reward.
The Bronze objectives are the easiest ones, followed by Silver and finally the Gold objectives. However, you cannot complete objectives from a more advanced group if you haven't completed the previous group. When you do, you receive an XP bonus.
If you don't claim rewards before the Objectives reset, EA'll automatically add them to your Club, and a pop-up will inform you.
How to Access the Weekly Objectives
From the FUT main screen, navigate to [Objectives];
If you are not on the upper [Objectives] tab, press R1/RB and L1/LB to select it;
Scroll down to the respective objective.
Frequently Asked Questions
What are Weekly Objectives?
FIFA 23 Weekly Objectives are in-game or squad-management tasks refreshed every week.
When do weekly objectives refresh?
FIFA 23 weekly objectives are refreshed every Friday at 6 pm (
UK time
), except for the first round of the season, which starts Thursday morning.
Can I complete weekly objectives on the web app?
If the weekly objective is squad-management related, you can complete it in the
FUT web
or companion app.
How many weekly objectives are released?
Usually, there are fourteen new objectives each week: four bronze, five silver, and five gold. Each season features six rounds of objectives, corresponding to six different weeks.
Do I earn XP by completing the group?
Yes, you earn extra XP every time you complete all objectives from a group. The bonus is higher for Gold objectives and lower for Bronze objectives.
Can I do silver objectives if haven't done bronze?
No. You can only do objectives from a specific group if you have completed all objectives from the previous group.
What if I don't claim the rewards?
If you complete an objective or a group and don't claim the respective rewards, Electronic Arts will automatically add them to your club, and a pop-up will inform you.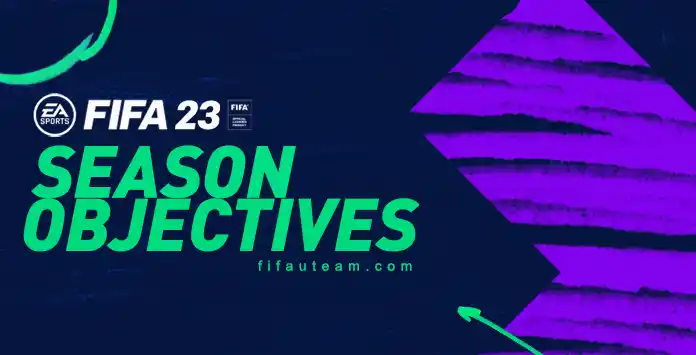 Bronze, Silver and Gold Objectives
Date/Dur
Objective
02/02 08:00 14d
Gold Weekly S4R1
Group Reward 570
All Rounders 1020
Forward Finisher 770
Talent Blend 770
On the Deck 1020
Rivals Trio 1530

02/02 08:00 14d
Silver Weekly S4R1
Group Reward 430
Play 4 890
Goal Scorer 890
Battle Support 1340
Winning Difference 1340

02/02 08:00 14d
Bronze Weekly S4R1
Group Reward 350
Transfer Window 480
Play 3 800
Forward Thinking960
Battle Finisher 960

27/01 18:00 14d
Gold Weekly S3R6
Group Reward 570
Help Wanted 1020
Midfield Brace 760
Cheeky Chips 760
Slow and Steady 1020
Rivals Crusher 1520

27/01 18:00 14d
Silver Weekly S3R6
Group Reward 430
Kick Around 890
F is for Fitness 1110
Clinchers 1110
Friendly Fan 1330

27/01 18:00 14d
Bronze Weekly S3R6
Group Reward 350
New Signing 480
Backline Build Up 950
Winning Trio790
5 in the Bank 950

20/01 18:00 14d
Gold Weekly S3R5
Group Reward 570
Cross to Glory 1020
Nice Touch 760
Frontline Support 760
Middle Man 1020
Rivals Crusher 1520

20/01 18:00 14d
Silver Weekly S3R5
Group Reward 430
Left Wing Wizardry 890
Thread the Needle 1110
Score in 5 1110
Squad v squad 1330

20/01 18:00 14d
Bronze Weekly S3R5
Group Reward 350
Play 3 480
Fun With Friends 950
Do It All 790
Listed 950

13/01 18:00 14d
Gold Weekly S3R4
Group Reward 570
Help Wanted 760
Shooting with Style 760
Starting Strong 1020
Mifield March 1020
Rivals Crusher 1520

13/01 18:00 14d
Silver Weekly S3R4
Group Reward 430
FUT Fun 1110
Battle Onward 1110
Volley Up 890
Crosses Away 1330

13/01 18:00 14d
Bronze Weekly S3R4
Group Reward 350
Rivals or Run 950
Center Support 790
Market Price 480
3 Piece Set 950

06/01 18:00 14d
Gold Weekly S3R3
Group Reward 570
Midfield Assist 770
Forward Assist 770
Cross Support 1020
Head In 1020
Rivals Crusher 1530

06/01 18:00 14d
Silver Weekly S3R3
Group Reward 430
Score in 4 1120
Right Wing Wizardry 1120
Assistance Needed 890
Winning Battle 1340

06/01 18:00 14d
Bronze Weekly S3R3
Group Reward 350
Assist in 3 960
Left Wing Wizardry 800
Friendly Fun 480
Battle Ready 960

30/12 18:00 14d
Gold Weekly S3R2
Group Reward 570
Midfield Brace 770
Fine Touch 770
Attack Minded 1020
Engine Room 1020
Rivals Crusher 1530

30/12 18:00 14d
Silver Weekly S3R2
Group Reward 430
Midfield Menace 1120
Assistance Needed 1120
V for Volley 890
Clinchers 1340

30/12 18:00 14d
Bronze Weekly S3R2
Group Reward 350
Hot Market 480
Play 3 960
Score and Assist 800
Battle Finisher 960

23/12 18:00 14d
Gold Weekly S3R1
Group Reward 570
Assist 4-Ward 1020
Cross Support 770
Forward for the Win 770
Forward Finishers 1020
2 Goals Difference 1530

23/12 18:00 14d
Silver Weekly S3R1
Group Reward 430
Play 4 890
Score and Assist 1120
Passing Through 1120
Winning Battle 1340

23/12 18:00 14d
Bronze Weekly S3R1
Group Reward 350
Transfer Listing 480
Score in 3 960
Forward Thinking 800
Winning Difference 960

09/12 18:00 14d
Gold Weekly S2R6
Group Reward 570
Blue Brace 1020
International Support 770
Split the Defense 770
From Distance 1020
Rivals 3 1530

09/12 18:00 14d
Silver Weekly S2R6
Group Reward 430
Play 3 890
Smooth Finish 890
French Delight 1340
Up by 2 1340

09/12 18:00 14d
Bronze Weekly S2R6
Group Reward 350
Score in 2 480
Midfield Assist 800
Well Struck 960
SB Assist 960

18/11 18:00 14d
Bronze Weekly S2R2
Group Reward 350
Hot Listing 480
Score in 3 800
Pure Confidence 960
Quick Assist 960

11/11 18:00 14d
Bronze Weekly S2R1
Group Reward 350
Transfer Window 480
Play 3 800
Forward Thinking 960
Battle Finisher 960

04/11 18:00 6d
Bronze Weekly S1R6
Group Reward 350
Score in 3 640
Forward Assist 800
Friendly Fun 960
Battle Scorer 800

28/10 18:00 14d
Gold Weekly S1R5
Group Reward 570
Goal Counter 1020
All-Rounders 770
Assist Through 1020
Winning Formula 770
2 Goals Difference 1530

28/10 18:00 14d
Silver Weekly S1R5
Group Reward 430
Play 5 890
Score in 4 1120
Cross Support 1340
Midfield Finisher 1120

28/10 18:00 14d
Bronze Weekly S1R5
Group Reward 350
Transfer Listing 480
Play 3 960
Score in 2 960
Midfield Support 800

21/10 18:00 14d
Gold Weekly S1R4
Group Reward 570
LaLiga Goal 770
Forward Connection 1280
Attackers Mindset 770
Superb Finesse 1280
Rivals Trio 1530

21/10 18:00 14d
Silver Weekly S1R4
Group Reward 430
Complete Package 1340
World Class Vision 890
Double Trouble 1340
Live FUT Friendlies 890

21/10 18:00 14d
Bronze Weekly S1R4
Group Reward 350
Assist in 2 800
Play 3 320
Automatic Scorer 960
Clutch Win 1120

14/10 18:00 14d
Gold Weekly S1R3
Group Reward 570
Ligue 1 770
Fancy Footwork 1280
Eagle Vision 770
Smooth Passing 1280
Win 2 1530

14/10 18:00 14d
Silver Weekly S1R3
Group Reward 430
Midfield Presence 1340
Picture Perfect 890
Efficient Distribution 1340
Win with ease 890

14/10 18:00 14d
Bronze Weekly S1R3
Group Reward 350
Play 3 800
Field Awareness 960
Goal Machine 640
Winning Mindset 960

07/10 18:00 14d
Gold Weekly S1R2
Group Reward 570
EPL Goal 770
Team Effort 770
Flashy Moves 1020
From Distance 1020
Rivals Wins 1530

07/10 18:00 14d
Silver Weekly S1R2
Group Reward 430
Consistent Scorer 450
Friendly Match Up 1120
Forwards Touch 1340
3 in 1 0

07/10 18:00 14d
Bronze Weekly S1R2
Group Reward 350
Score in 2 640
Transfer Listing 960
Midfield Scorer 640
Through Perfection 960

23/09 18:00 20d
Gold Weekly S1R1
Group Reward 570
Squad Battles Assist 0
Success in Rivals 0
Perfect Cross 0
Strikers Glory 0
Winning Mentality 0

23/09 18:00 20d
Silver Weekly S1R1
Group Reward 430
Playmaker 0
Expert Finesse 0
Through Magic 0
Rivals Goal 0

23/09 18:00 20d
Bronze Weekly S1R1
Group Reward 350
Hot Market 640
Play 3 640
Score 5 960
Winning Mindset 960