From November 9, you can download for free and play the FIFA 23 World Cup Expansion. This DLC doesn't include Ultimate Team mode, but you have plenty of choices from where to choose:
FIFA World Cup Kick Off;
FIFA World Cup Tournaments;
Online Tournaments;
FIFA World Cup Live.
Kick Off Mode
FIFA World Cup Kick-Off gives you the chance to play against friends locally or against the CPU AI. You'll be able to play in any stage of the competition and choose a side from any of the 32 qualified teams, or from any other national team available in FIFA 23.
Play a kickoff match against friends locally, or against the AI. Select from Group Stage or a Knockout Round match, choose qualified or select available unqualified teams, and play a one-off local FIFA World Cup match.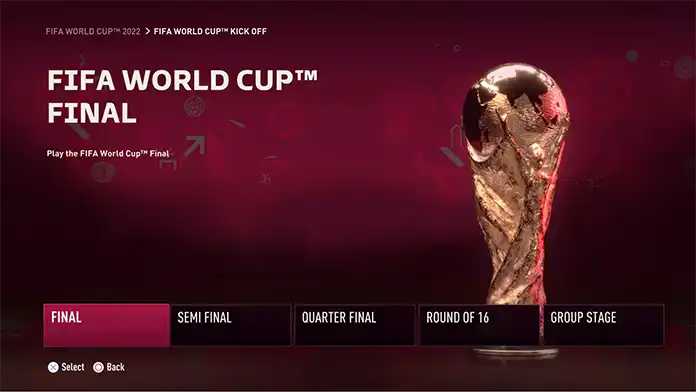 Tournaments Mode
In Tournaments, you can take your team through the whole FIFA World Cup journey, from the first group stage match all the way to the final, potentially lifting the trophy at Lusail Stadium.
You'll be able to customize your FIFA World Cup journey as the national teams featured in FIFA 23 that did not qualify for the FIFA World Cup 2022 can be swapped into a Custom FIFA World Cup Tournament. Be it winning a semi-final at Al Bayt or lifting the trophy at the Lusail, the atmosphere will be electric in the two authentically-recreated official stadiums in the FIFA World Cup modes.
Play as one of the 32 qualified nations in an authentic single-player recreation of the full FIFA World Cup 2022™ from the opening match onwards, or customize your tournament experience by changing groups and substituting in select teams that didn't make it to the FIFA World Cup Finals in a Custom Tournament.
Online Tournament Mode
In Online Tournaments you can compete against other FIFA World Cup players. Pick any international team available in FIFA 23 and try to win against four online opponents in the FIFA World Cup knockout stages to claim the famous trophy.
In Online Tournament Mode, make your way through the Knockout Stages as any of the 32 qualified nations as you aim for FIFA World Cup glory against other players from around the world. Online Tournament cross-play will be available for players on the same platform generation.
Live Mode
As results start coming in after the opening match on November 20, the FIFA World Cup Live mode will be updated during the Group and Knockout Stage. Starting November 21, you'll be able to monitor the progress of your favorite team inside the tournament and play through their fixtures in three different ways:
Featured Quickplay
Choose a past or current matchday and play an authentic single-player fixture with real-life line-ups against the CPU or a friend locally.
Online Quickplay
In Online Quickplay, you can choose the fixture you want to play against a friend online. If you or your friend's supported nation didn't qualify for the FIFA World Cup 2022 you can still face each other by choosing All National Teams and selecting any playable national team in FIFA 23. Online Quickplay supports cross-play as well, between friends on the same platform generation
Your FIFA WC
Choose a nation, select a live starting point from past or current matchdays, and play an authentic single-player tournament inheriting all the real-world progress made to date – including the line-ups, match stats, and standings from the tournament so far – and take control of your chosen Nation's FIFA World Cup fate.
Get an immersive FIFA World Cup 2022 experience with all 32 qualified teams and squads, along with authentic stadium dressings, match ball, additional player head scans, the iconic trophy, and two stadiums including the venue for the Final. Plus enjoy new FIFA World Cup commentary alongside visuals and cinematics that get you closer to the atmosphere of the biggest tournament in world football. The FIFA 23 World Cup Expansion will be available from November 9 at no additional cost.