FIFA Gamers Pub is a website that gives you the updated FIFA 17 player prices for Ultimate Team, therefore a valid alternative to the popular FUTBin. If you wish to know all about FIFA Gamers Pub, be sure to read our independent review, the only one you'll find.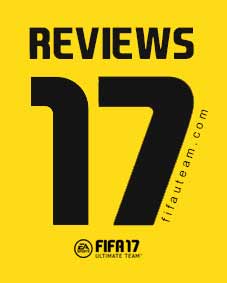 ✍ More Reviews
FIFA 17 Millionaire
FIFA Rosters
FIFA Gamers Pub
FIFA 17 Reviews is a new space that we're proud to present in our website.
Although we do already undoubtedly provide the best FIFA Ultimate Team content around the internet, the truth is that part of the community will only reach out to the best gaming experience once they use some other tools as a complement to our website. Our main objective here is exactly to serve you, the community, and for that reason we're starting these monthly reviews which will show you the newest products and services alongside unknown potential of the ones you already know.
Our team has been working daily for almost five years with subjects that are in some way related to this game. With the exception of databases, we're the website players come across the most when they want to know something about FIFA. It's about time we transmitted some of this accumulated knowledge to the community, analysing books, apps, websites and multiple services. All of that in order for your FIFA 17 game experience not to end here and be even more gratifying. We'll here publish completely independent reviews, advising or admonishing determined products and services according to their profile. We don't limit ourselves to just giving our opinion. We analyse everything and for everyone.





FIFA Gamers Pub Review

What is FIFA Gamers Pub
We discovered the FGP project shortly after its birth, on the second semester of 2016. From Japan and to the rest of the world, this website's exponential growth makes us predict that in a few months it will come to be one of the most consulted websites by the FIFA players. Available in English, FIFA Gamers Pub is worth mainly for its updated FIFA 17 Ultimate Team player prices, although it's a bit harsh to describe the website like this.
Like the concurrence, FGP offers a series of other services, such as card databases, squad builders and a very interesting market analysis.
FIFA 17 Player Prices
If you play FUT 17, you know how important it is to know the prices practiced for a determined card on the market. That's the reason why popular websites like FUTHead are in the path to become outdated, giving in space for FUTBin and… FIFA Gamers Pub. Sooner or later, the one who offers what the community really wants will be the winner of this race, and in the world we live in nothing is more important than information.
Every trader knows that one of the best ways to make coins in FIFA 17 is to buy a card which price is below its lowest BIN and then sell it for more than that. That's certain profit. That may sound easy but it only is if you're not constantly looking for the minimum value a card is being sold for. This website allows you to find out immediately which were the lowest prices of the cards of one player that were last sold. This value can also be used as reference for many other things, like calculating the budget for a squad or knowing whether the price range is about to be updated or not.
Database
Websites like FUTHead, FUTWiz or FUTWe became what they are today due to their player databases. Databases are useful because they allow us to see, in a clear and organised way, a series of information about a determined player which otherwise we wouldn't have access to. FIFA Gamers Pub has got a search bar that will help you find any player card, plus it gives you direct access to the TOTW, TOTY, the news or any other card that might be relevant to you. It is also possible to compare up to four players at the same time with distinct chemistry, something you will not find in any other website.
Squad Builder
Just like any website of this genre, FIFA Gamers Pub also includes a squad building tool, which also has a price prediction section. Although you can't view the squad as if you were using the Web App, or player suggestions for good chemistry, the truth is that it has most of the tools you'll need, including automatic position corrections and the loyalty bonus.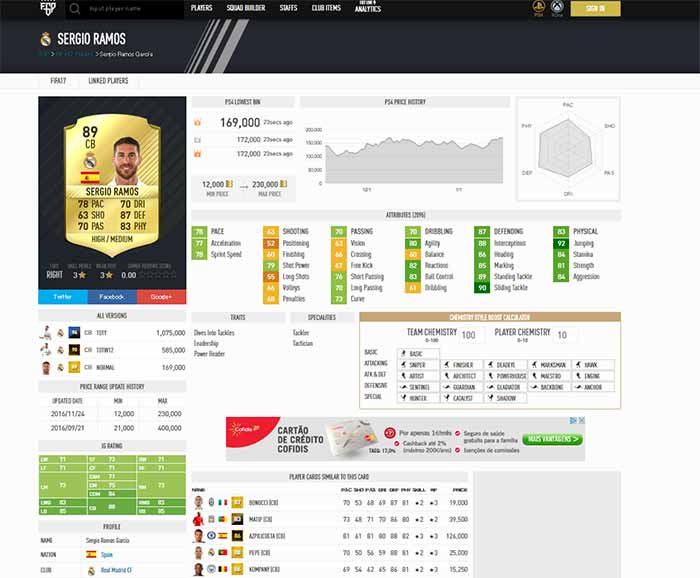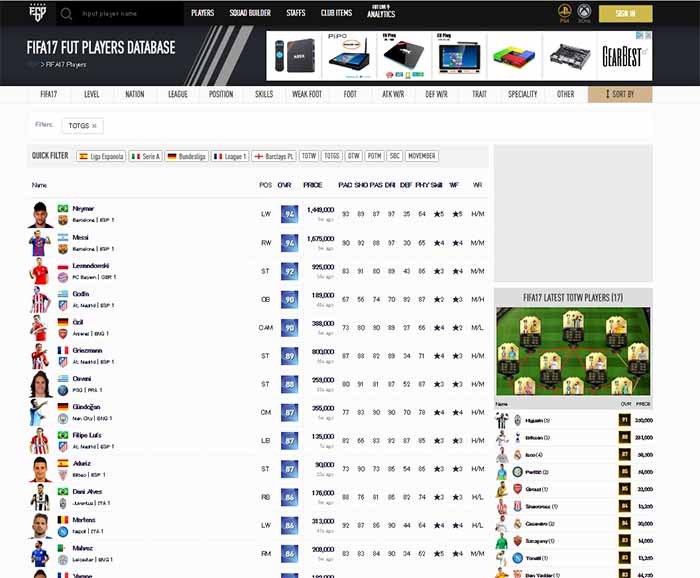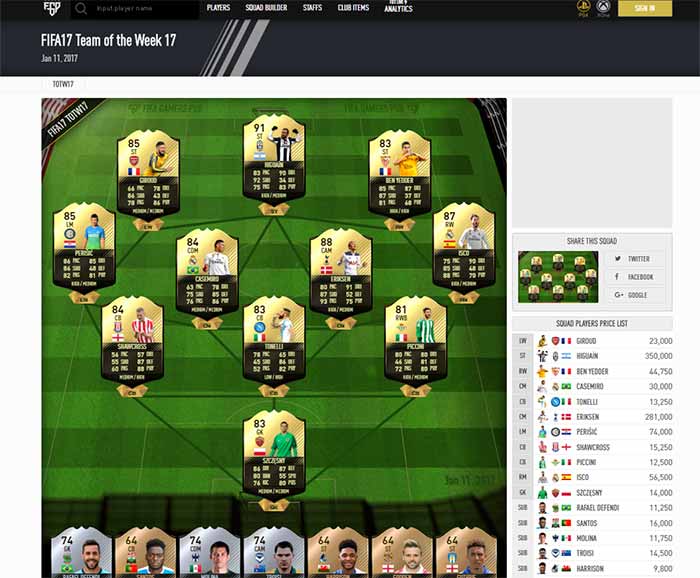 FIFA Gamers Pub – Strong Points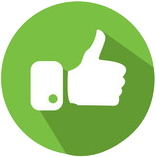 LAYOUT
FIFA Gamers Pub presents a bold, modern layout. The small letter sizes fit a website that wants to show as much information as possible in the smallest space possible. It has a nice logo, very clean and minimalistic page aspects and the information is well delimited by some well defined blocks. The player displays, where you can see a small image of them alongside his country and the club's badge, are perfect. You might not like the grey background on player pages but do you remember how FUTHead and FUTBin used to look like when they started? Just terrible. We do agree that although we've been glamourising the website's layout, there's still a lot to improve but you can't deny that the course they're taking requires someone who really knows what they're doing.
INFORMATION
People using this kind of website are looking for as much information as they can get. And that's what they'll find in FIFA Gamers Pub. It isn't the best price checking service ever, but they try to include in the same website a consistent database, a squad builder and even several exclusive lists, such as staff cards and club items.
The first few times you enter the site you'll probably feel a bit lost in the middle of such a great amount of information, but you'll be just fine once you're able to filter the view for what you're looking for. But of course if the author decided to create a few more superior spacers on the player pages it would make the job easier. For a website that's still in the process of getting big, price range history is a really interesting feature. Although we do find it pitiful that they insist on publishing IG ratings according to positions, whilst it's been proved that these do not apply to Ultimate Team, but Career Mode.
The effort to offer the most information possible, which ends up turning a database into a communitarian website, shows well on the list of anniversaries or event calendar presented by FGP.
PRECISE PRICES
It's impossible to analyse this website without comparing it to FUTBin. They're currently the only two you can rely on whilst checking on the price of a player. Neither of them are infallible, since they analyse only a sample of the cards, but both show very reliable results. According to our tests, FIFA Gamers Pub is as precise as FUTBin when it comes to verifying the prices practiced by the most popular cards. Unfortunately it's only possible to view the last three lowest selling prices and there's no indication of price range percentage (PRP). Also, prices aren't available for old-gen consoles and there still isn't any alternative for PC players out there.
FUT LIVE ANALYTICS
Information is power and in FIFA Gamers Pub you have access to information regarding the market that you won't find anywhere else. A true trader might feel limited with what FUTBin provides. Wouldn't it be great to know the variation of bronze IF cards' prices at all times? Wouldn't it be useful to know which leagues or nationalities have the most players facing big devaluations? Wouldn't you wish to know which silver TOTW player cards' prices rose in the last hour? That's all possible thanks to 'FUT Live Analytics', a section of this website reserved to professional traders.
FIFA Gamers Pub – Weak Points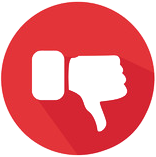 PRICE HISTORY
Do you know how much Messi and Ronaldo used to cost in the first week of the game? If you were thinking about using the website to search for that kind of information, forget it. The graph that indicates the evolution of prices doesn't include the whole game, it won't allow you to define a specific interval, it won't even show you an hourly price evolution. This might sound unnecessary for some people, but this is actually crucial information and its absence may make people migrate to another website of this genre that does provide that information (yes, once again we're talking about FUTBin, it's inevitable).
Another huge asset would be if the website showed the prices of all cards in the game, and not just players'. Staff cards and club items are included in the FIFA Gamers Pub database but their prices aren't.
FILTERS
If you have used this website, you may be wondering how is it possible that we see filters as one of its weak points. Yes, it's true that there are several filters, more than usual, including some rare ones such as the Real Face Players filter, but it's also true that some useful ones aren't there. A very common filter is one that allows us to search for players by specific positions. For example, if you want to filter the CAM's and CM's in a determined league, you'll have to choose the CDM/CAM/CM filter or search for one at a time instead.
The way the filters are presented is also arguable. It's innovative, and especially courageous, to list leagues and nationalities sorted by rankings made by them, but whoever has at least a little bit of experience would know that, for example, you can't tell someone from England that the Liga do Brasil is better than the Premier League, and then have a search with that filter return absolutely no results. Unfortunately, it's still not in FGP that goalkeepers' attributes stop being shown as outfield players' attributes, and although that's an occurring database limitation it can be fixed with some determination. The website still loses against the concurrent for it's slower and limited by the databases of just FIFA 16 and FIFA 17.
COMMUNITY
FIFA Gamers Pub calls itself the community of the FIFA game. However, so far it's been the complete opposite: there are no reviews, no one has analysed the players, comments haven't been enabled, there's no sharing of content and its presence on social media is almost null (we haven't even been able to find links for their pages on the website). A website presenting itself as something it definitely isn't does sound ridiculous. The lack of visibility is effectively FIFA Gamers Pub's biggest obstacle towards success (which we're sure they'll find). Not anymore though, since we're here giving them a hand so that more and more people can start using the website. Our objective is to keep improving your FIFA Ultimate Team experience and with this review we believe we're contributing to that. No matter how good a product is, if no one knows about it, it won't reach success.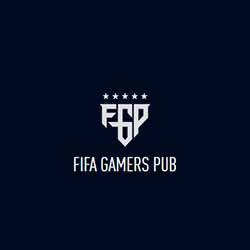 TECHNICAL INFORMATION
Name
FIFA Gamers Pub
Official Website
fifa-gamers-pub.com
Price
You can register if you want but the website is completely free
Release Date
September 2016
Included Tools
Database
Player Prices
Squad Builder
Staff and Club Items Lists
Market Analysis

Final Analysis
FIFA Gamers Pub is an extremely ambitious project that tries to gather everything a common player would like to see in a website of this genre: databases, updated prices, squad builders and other features that are yet to be launched, like Squad Building Challenges. It is a good alternative to FUTBin although it stays behind mainly due to a limited player price history tool.
If well promoted, FGP has everything it takes to become one of the best FIFA websites in the next years. However, its 'unfinished' environment gives in numerous improvement possibilities. By trying to gather such a great amount of information at once, it leaves the idea that none of the areas actually stand against the concurrence, except maybe for the market analysis. In a strive against time, FIFA Gamers Pub will have to reinforce in order to update all that needs to be updated so they can at least catch up with the concurrence.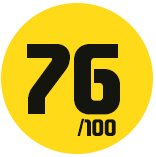 –