FIFA Mobile is played by millions of players around the world. Find out in this updated guide every single detail of the new FIFA Mobile New Season 2018/19 for iOS and Android devices.

FIFA MOBILE NEW SEASON
DESCRIPTION
NEW FEATURES
ULTIMATE TEAM BASCIS
CARRYOVER PROGRAM
CONTROL OPTIONS
DOWNLOAD & DETAILS
SCREENSHOTS
FAQ



FIFA Mobile New Season Description
How FIFA Mobile is shown to the world


FIFA Mobile New Season 2018-19 is the new game update of the FIFA franchise for mobile devices.
Welcome to a new season of FIFA Mobile. With an upgraded game engine we're delivering all-new gameplay, graphics, AI, team Chemistry and more. The soccer game that you love, taken to a whole new level for mobile. Build your Ultimate Team and take on the world as you train any player to superstar status, attack opponents, and engage in fresh daily content all season long. Plus, get into the game on the go with a download size of under 100 MB.
1 Battle Head with Real Time PVP
Authentic 11v11 soccer will have you playing head to head with competitors from around the globe in real time. One of the most requested modes by our players is here. In Amateur and Pro Divisions we may match you up against an AI Trainer to help you improve your skills on the pitch. This mode has its own minimum specifications requirement.
2 Build your Ultimate Team with Chemistry
Start building your Ultimate Team using all-new Chemistry and apply player boosts when having players of the same club, league or nation in your starting XI. Add depth to your roster as you choose players from over 550 real teams and manage your lineup on the fly, and quickly tweak tactics before every match. Make the right calls and watch your club become the Ultimate Team.
3 Attack to Win
Take on thrilling matches that drop you into your offensive possessions with VS Attack mode. This innovative level of competition kicks your game into high gear while you strive to dominate 90-second matches, climb the leaderboards, and earn seasonal rewards year-round.
4 Quickly Join a League, Conquer the World
A truly social experience that allows you to join forces and strive for glory with friends and gamers around the globe. Test your skills in inter-league championships or take on the best gamers worldwide in League vs. League Tournaments to climb the leaderboards and prove your talent on the pitch.
New Features of the FIFA Mobile New Season
What's New on FIFA Mobile New Season


Welcome to a new season of FIFA Mobile. With an upgraded game engine we're delivering all-new gameplay, graphics, AI, team Chemistry and more. The soccer game that you love, taken to a whole new level for mobile.
This season kicks off with an engine new to FIFA Mobile bringing all-new graphics, gameplay and excitement. Here's what else you need to know:
☑️ NEW ENGINE
A new engine means all-new gameplay, grapchis, AI, player likeness and custom run styles and celebrations.
☑️ CHEMISTRY
EA've added Chemistry to how you build your Ultimate Team; apply player boosts when players from the same team, league or nation are in your starting XI
☑️ VIP PROGRAM
New VIP Program with special perks and privileges
Ultimate Team Basics
What you need to know to manage your squad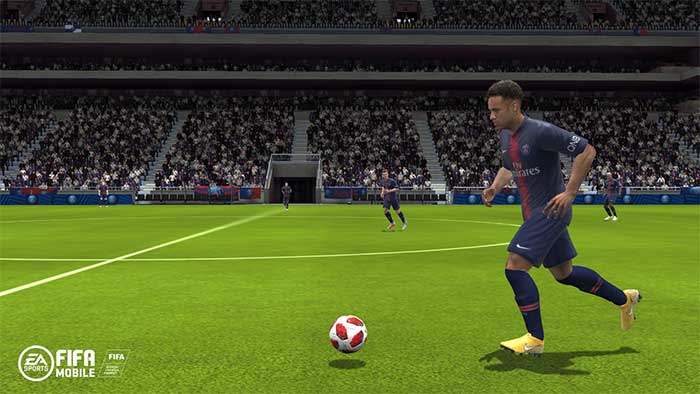 Here it is what you should know about how to manage your FUT squad.
PLAYER'S CARDS
Building your Squad in FIFA Mobile requires players and there are a few ways of obtaining the necessary pieces. The first is opening Packs. FIFA Mobile offers multiple pack options to help build your squad. Additionally, fresh player items will be introduced all year-long based on the events of the real world. If a player has an incredible performance, the game will celebrate that with a new item. FIFA Mobile features four different base-player items. The first three: Gold, Silver, and Bronze, are well-known in Ultimate Team™. The newest coloured item is the Red-item types, which we call Elite items. Red coloured items are high-rated player items and certain special items, such as those obtained when completing specific Plans. When looking for the best player items in FIFA Mobile, know that the red-coloured items are the ones to watch for.
FUT MARKET
There are different ways to get player items to improve your squad. The first is by opening Packs either by using the coins you've earned or by purchasing them with FIFA Points. Another way to build a solid team is by completing Live Events or Plans. Some of the best items may only be obtained by completing specific Plans, so consider this option when deciding how your team should look like. You can also get players by using the Market. In the Market, you'll find players and items of all kinds. Try to find low-priced items and sell them for a profit. Keep in mind that the game acts as an intermediary on all transactions. This ensures a level playing field and creates a fairer and fun marketplace for everyone.
SQUAD BUILDING
FIFA Mobile features 16 different formations to choose from. Once you've picked the formation you want to use, the game will automatically take the 11 players necessary for it and that is the squad you'll play with. This allows you to quickly get into a game without the need to manually adjust your lineup to suit that formation. This also eliminates the need for contracts and other training items. It also means that you aren't penalized as chemistry based on player linking no longer applies. However, certain player items may feature boosts that may give other players on your team an advantage if they share the same traits (eg. play on the same club). There may also be players that grant bonuses to coins or experienced earned. Take that into consideration when deciding which players to keep versus the ones you use in completing Plans or sell on the Market. Although players cannot play outside of the position assigned to their item, throughout the year, EA may release special positional change player items. Be on the lookout for players playing in different positions as they could be vital to the success of your club.
FIFA Mobile New Season Carryover program
What will and not will be reset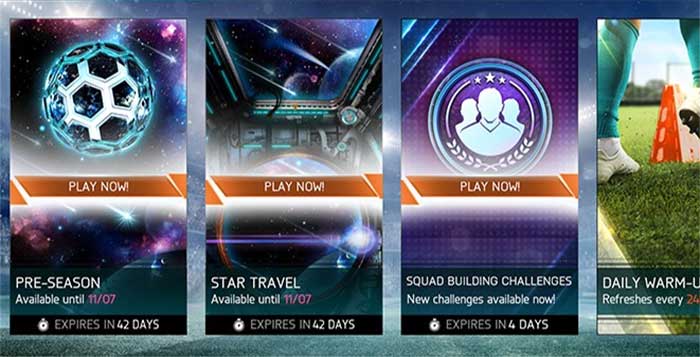 It is important to note that when the new season of FIFA Mobile is launched, EA will update the entire Player database with the current squads from the world of football and there will be a number of changes to your account:
❌ WHAT WILL BE RESET
Player Level
Roster
Coins (this includes all engagement-based and Program currencies)
Boost Progression
VS Attack Progression
Achievements
Trophy Room
League Record
✅ WHAT WILL NOT BE RESET
FIFA Point Balance
Now and Later Packs
User Logos
Control Options
Different ways to play FIFA Mobile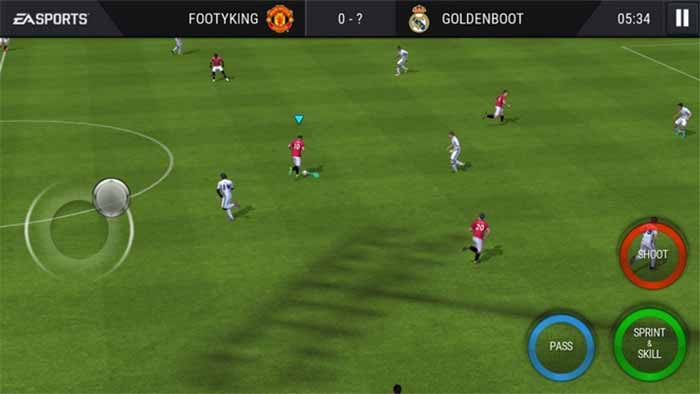 The key to making FIFA Mobile accessible to all on mobile is offering multiple control options. It doesn't matter if you're a hardcore mobile gamer or jumping into a game for the first time, the variable control schemes caters to everyone. FIFA Mobile allows players to seamlessly transition from these three control schemes without having to stop a match. Use the virtual sticks to move your players around the pitch, then use gesture controls to make that curving shot or lobbed pass. Mix it up to find the control scheme that fits your preferred play style.
AUTO PLAY
Build your team the way you want then let them go at it on their own with auto play. Your players will intelligently move, pass and/or shoot on their own. Best for those who want to manage their squad but not have to control them on the pitch.
CONTROLS
Tap on teammates or open space to start passes, then swipe towards the goal to make them shoot. The faster you swipe, the more powerful your shot will be. And, you can try applying curl to the shot by swiping a curved line for even more control. The gesture controls take auto play one step further by giving you more control on the pitch.
VIRTUAL STICK
But if you want complete control, then the virtual stick gives you that by simply touching the screen in-game to activate. You decide where your players go on the pitch and how much power goes into each pass or shot.
FIFA Mobile Additional Information
App Information


iOS version
Released: 07 November 2018
Version: 1
Size: 167 Mb
Languages: English, Chinese (Hong Kong), Danish, Dutch, French, German, Indonesian, Italian, Japanese, Korean, Norwegian, Portuguese, Russian, Simplified Chinese, Spanish, Swedish, Turkish
Developer: Electronic Arts
Price: Free
Compatibility: Requires iOS 10.0 or later. Compatible with iPhone 5, 5c+, iPod Touch (6th Gen), iPad 4th Gen and later or iPad Mini 2 and later.
Download
Method A
1 Click here;
2 Click in 'Download'.

Method B
1 Open your iTunes in your iOS device;
2 Search by 'FIFA Mobile' and download it.
_________________
Android version
Released: 07 November 2018
Version: 12.0.01
Size: 60 Mb
Languages: English, French, Italian, German, Spanish, Danish, Dutch, Norwegian, Swedish, Turkish, Russian, Mexican Spanish, Portuguese, Brazilian Portuguese, Indonesian, Traditional Chinese, Simplified Chinese, Korean & Japanese.
Developer: Electronic Arts
Price: Free
Compatibility: Requires Android 4.1+ and at least 1Gb Ram; arm based, Quad Core (with a clock speed of 1GHz).
Download
Method A
1 Click here ;
2 Click in 'Install'.

Method B
1 Open your Google Play in your Android device;
2 Search by 'FIFA Mobile' and download it.

Beta
1 Click here (starting at Oct 11);
2 Click in 'Install' (once reached the limit, new players will not be able to access it).
FIFA Mobile Screenshots
Official screenshots of the FIFA Mobile New Season

Here are the official screenshots: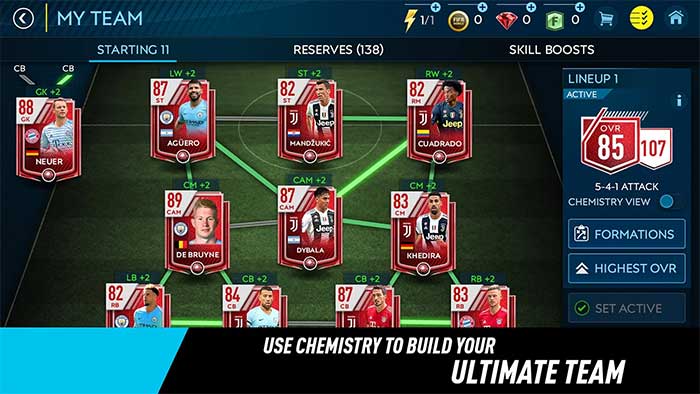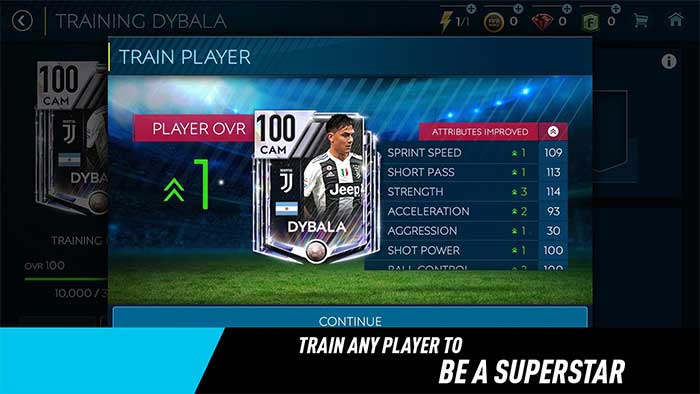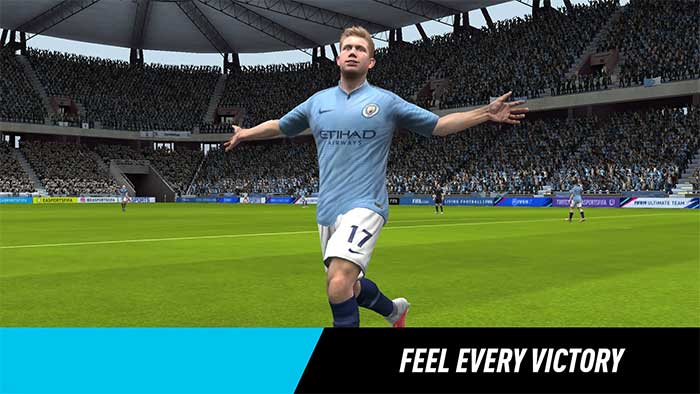 FIFA Mobile FAQ
The most common questions about the FIFA Mobile
Q: In which devices FIFA mobile works?
A: iOS and Android devices.
Q: Can I manage my FUT squad for consoles with FIFA Mobile?
A: No. You need to use the FIFA 19 Companion App.
Q: How can I buy FIFA points and packs for FIFA Mobile?
A: You can purchase points and packs by opening your Main Menu and tapping the 'Store' button. From there you can tap either the 'Points' or the 'Packs' button depending on what you would like to purchase. Tapping these buttons will then take you to their corresponding purchase menus.
– Purchasing Packs
In the Packs menu, you will be given the option to browse and select the type of pack you would like to purchase. You can also view information related to what the pack you currently have selected includes. Once you have decided on the pack you would like to purchase, tap the 'Buy' button.
– Purchasing Points
In the Points menu, you will be able to view and purchase varying amounts of FIFA Points along with their purchase price. Once you have decided on your purchase, tap the corresponding button.
Q: It is possible to avoid my kids buying FIFA Points?
A: Yes. You may disable in-app purchasing using your device settings.
Q: Do I have to purchase FIFA points to buy packs?
A: FIFA points are not your only option when making a purchase in the store; you can also use the coins that you earn through playing the game. Once you have decided on your purchase and tapped the 'buy' button, you will be prompted to choose coins or FIFA points as a method of purchase. Please note that if you do not have sufficient coins to make the purchase, you will only be able to select the FIFA points purchase option.
Q: What is going to be reset in November?
A: When the new season launches, your team and players (except for the Now & Later Masters where an exclusive version will carry over), coin balance and token inventory, VS Attack, Achievements, Plans and all other progressions will be reset.
Q: What will happen to my FIFA Points?
A: You will not lose your FIFA Points. Your FIFA Points will all transition across to the new season of FIFA Mobile.
Q: What about my League?
A: Your League record, including wins, losses, and ties will reset, but your League and its members will carry over. You won't have to search to find each other, or set up your league again.
Q: Will my current team count for anything in the new season?
A: You'll get a reward based on your final team OVR at the end of the current FIFA Mobile season. The higher OVR you finish with, the better reward you'll get. Remember, the max team OVR is 200.
Q: What should I be doing in Pre-Season?
A: Play the space-themed Pre-Season Program to earn progress toward the new season. Earn Now and Later Packs and Player Items so you can hit the ground running! Certain milestones award Super Star Players that can be used in your lineup this season and grant you an Elite Player in the new season.
Q: What should I do with my current Players and Tokens?
A: Keep levelling up your players. Increase your Team OVR so you can get more rewards once the new season starts. Make sure to spend any Program currencies in Active Events before the season ends. All unspent Program currencies will be lost when the new season starts.