If you want to know how the FIFA Points work, you are in the right place. Welcome to the FIFA Points Guide for FIFA 14 Ultimate Team.
If you want to know about FIFA Points to FIFA 15, click here

UPDATES
September 30th, 2013
To buy on XBox is now made with local currency
Added three new questions/answers to the FAQ
January, 16th 2014
Updated the FIFA Points Prices with a new pack and a new currency (Euro)
Added a new image of the store with FIFA Points prices
Introduction to the FIFA Points

What are FIFA Points
The FIFA Points are the FIFA currency. They are used to buy packs.
FIFA Points were introduced for PC users in Ultimate Team 12 and added to Playstation and XBox in FUT 13, causing all the platforms use the same payment system.
How to Buy and Spend FIFA Points
FIFA Points are sold in bundles. They can be purchased in console's Ultimate Team store. It is not possible to buy FIFA Points through the FUT 14 Web App, except for PC users. In order to buy FIFA Points, you will need to have Microsoft or Playstation currencies. Pay attention Microsoft Points are being retired, and transactions on Xbox are taking place using your local currency instead of Microsoft Point. You can learn more about it HERE.
After buying FIFA Points on the console with the respective currency, they will be available to spend in all Ultimate Team ecosystem, which includes the console, the FUT 14 Web App and companion app (for iOS and Android devices). If you are a Season Ticket subscriber, your 20% discount is automatically applied to the price of FIFA Point bundles.
FIFA Points have another advantage: Bulk Discounts. Purchasing larger FIFA Point bundles gives you a bigger discount and more bonus points. This offers great value to users who buy several packs in Ultimate Team. For example: buying a 2,000 FIFA Point bundle will give you 200 bonus FIFA Points, which is enough to buy two extra Gold packs.
FIFA Points Prices
Here are the list of FIFA Points prices:
Price [£]
Price [€]
FIFA Points
Included Bonus
Normal
Season Ticket
Normal
Season Ticket
100
0
0,79
0,65
0,99
0,89
250
0
1,99
1,59
2,49
2,09
500
0
3,99
3,19
4,99
4,19
750
0
5,49
4,79
6,99
5,89
1050
50
7,99
6,49
9,99
8,39
1575
75
11,99
9,69
14,99
12,49
2200
200
23,99
15,99
19,99
16,69
4600
600
31,99
23,99
39,99
33,39
12000
2000
79,99
63,99
99,99
83,39

Note: Prices may varies depending of the region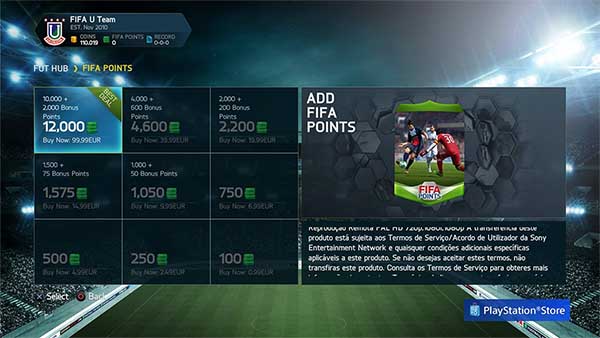 Clique on the image to maximize it
FIFA Points Common Issues
If you receive an error message in FIFA 14 while purchasing FIFA Points, you should not proceed through the Xbox Live or PSN menus. Make sure to exit the purchase process completely by going back to the FUT Main Menu and restart it to receive your FIFA Points.
If you did proceed through the Xbox Live or PSN menus and have not received a FIFA Points purchase on XBox or Playstation, please contact the EA Support Center to ask for a refund and provide them the following information:
Gamertag/PSN ID;
Origin ID;
Console;
Photo / Screenshot of proof of purchase (must have Gamertag or PSN ID clearly on the screen);
Approximate time of the purchase.
FIFA Points Carry Over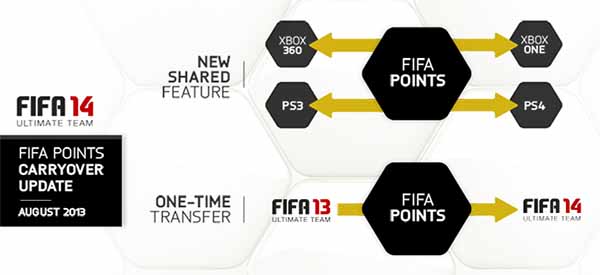 FIFA Points may be transferred between PS3-PS4 and between XBox 360-XBox One as many times you want. It works like coins and cards in which you can transfer in the two ways. However, it is not possible to share FIFA Points between different platforms.
You are allowed to transfer your FIFA Points from FUT 13 to FUT 14. But you can only do it once. The one-time transfer will take place in the early access or in the release date.
FIFA Points Frequently Asked Questions (FAQ)
Q: When FIFA Points will be available ?
A: FIFA Points will be available for you to purchase as soon as you play FIFA 14 from a retail disc. If you are a PC gamer, FIFA Points are available since the FUT 14 Web App release ('get more' in the top right corner).
Q: Where can I see how many FIFA Points I have ?
A: On the top right corner of your FUT dashboard, next to your coins.
Q: Is there any other way to buy FP besides do it through the console ?
A: Except for PC users that can do it in the FUT 14 Web App, there is no other way.
Q: Why is there a difference between the FUT menu showing MS Points and the Xbox Live transaction is in real currency ?
A: The FIFA 14 Ultimate Team store menus were finalized before Microsoft changed from Microsoft Points to real currency in their stores. That is why FIFA fans will see Microsoft Points instead of real currency in the FUT menu. The final price listed in the Xbox Live Marketplace during check-out is accurate and the Microsoft Point totals in the FIFA Ultimate Team menus will be changed to reflect those prices.
Q: When it will be possible to transfer FIFA Points from FUT 13 to FUT 14 ?
A: In the early access or in the release date. Don't forget that it is a one-time transfer.
Q: Why are my FIFA Points not transferring to FIFA 14 ?
A: While a message appears about being able to transfer points from FIFA 13 to FIFA 14, this message is a one-time only transfer offer. If you've gone back into FIFA 13 to purchase FIFA Points after seeing this message, your points will not transfer over to FIFA 14.
Q: It is possible to buy FIFA Points in the Early Access version ?
A: No, it is not. But it is possible to use the one-time transfer FUT13-FUT14 in the early access.
Q: Which advantage Season Ticket gives me when I buy FIFA Points ?
A: 20% discount.
Q: Where can I find the FP prices ?
A: FIFA Point prices in your region will be available to view in the FUT 14 Store on your game retail. You can also view them above.
Q: How much FIFA Points should I buy ?
A: It depends on the number of packs you want to buy. For comparison, 1 FIFA Point corresponds to 50 coins when buying packs.
Q: There is any other way to buy packs besides using FIFA Points ?
A: Sure. Coins are accepted as a payment method to buy packs.
Q: I have bought 2,200 coins but I didn't get the bonus. Why ?
A: You did. What you actually have bought was 2,000 FIFA Points. The other 200 were the bonus.
Q: There is any advantage to buy bigger bundles ?
A: Yes. The bigger the bundle, the higher is your bonus. You have to buy, at least, 1,000 FIFA Points to be rewarded with a bonus.
Q: It is possible to use FIFA Points to buy coins ?
A: No. FIFA Points can only be used to buy packs in FUT 14 store.
Q: How can I see the FIFA Points purchases history ?
A: Follow this path: PSN – Accounts Management – Transactions Managements – Transaction History.
Q: Is there any trouble if I buy FIFA Points using a different PSN region ?
A: Depends. The FIFA 14 copy region should match with your PSN region in order to work.
Q: How do I view and purchase my FIFA Packs using Points and Coins in the EASFC Companion App? ?
A: To purchase your FIFA Packs using your Points and Coins in the EASFC Companion App, you will need to purchase FIFA Points on your console. FIFA Points will only be visible on the Android and not on iOS. Additionally, iOS players are restricted to Coins and will not be able to see their current balance in the app.