One of the methods to get FIFA Ultimate Team Coins is buying them with real money. But how much does it cost?
It was to answer this question that FIFA U Team has produced a study that researched the price of FIFA Ultimate Team Coins in dozens of sellers. We bring to you the average values​​, so that you can know if you are doing good business. But not only. We show you the trends over time, price changes across different platforms, the average discounts applied in larger quantities and also indicate where you can find the cheapest FIFA Ultimate Team Coins.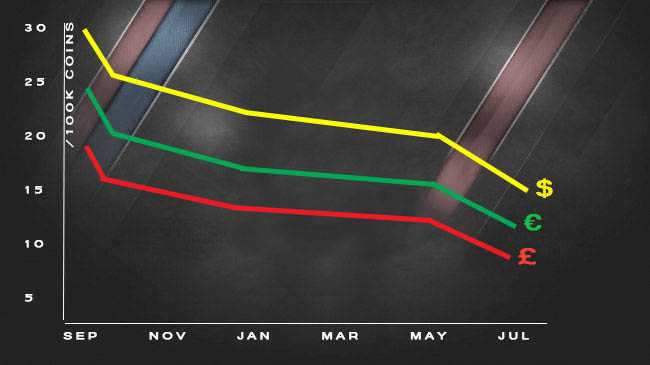 FIFA Ultimate Team Coins' Prices over the Year
The coins price depends on several factors: the platform, the month of purchase, the quantity of FIFA Ultimate Team Coins, the payment method, the seller, etc …
One of the most important is the time of purchase. With the release of the game to take place in late September, it is normal that prices are greatly inflated this time of year. There is a large excitement for some FIFA UltimateTeam Coins in order to begin immediately to build clubs. In contrast, in late summer, the quantity of circulating coins is much higher. Players are already hungry for a new version, and consequently prices are at their minimum.
As can be seen from the graph above, 100,000 FIFA Ultimate Team Coins can cost more than U.S. $ 30 at the launch of the game. This value starts to drop very fast, gaining stability at the beginning of the year and returning to plummet in late summer. By this time, the average value of 100,000 FIFA Ultimate Team Coins is less than 15 U.S. $.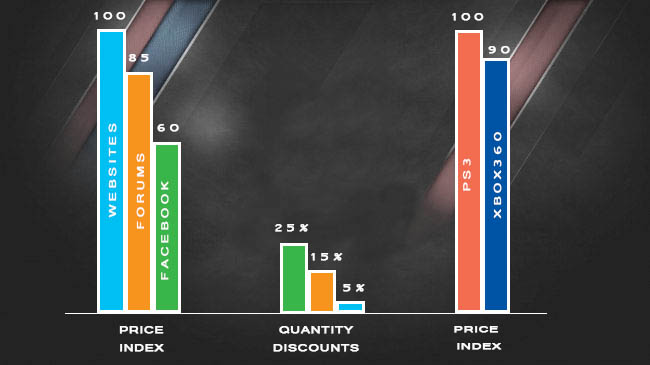 Price Variation by Seller
At the same time of year and on the same platform, there are sellers that practice prices that can differ by more than 50%. So it is recommended to search well before buying coins.
There are several websites built from scratch to sell FIFA Ultimate Team Coins. A simple search in search engines returns dozens of results. These sites buy coins at a low price and sell them later with a significant profit. Are those with the highest prices and that most reject negotiations. Additionally, price fluctuations throughout the year is very low.
Agree to buy FIFA Ultimate Team Coins in Forums is also an option. It has the advantage of being able to save around 15% over the website and getting a seller's feedback with more reliability.
The best choice, according to the FIFA U Team's study, is searching for Facebook pages created for that purpose. You can save up to 40% and the procedure is normally faster thanks to chat tools.
Price Variation by Platform
For this study, it was merely considered PS3 and XBox FIFA Ultimate Team Coins. If you play in any of these platforms, know that the PS3 coins cost about 10% more. Furthermore, prices of Ultimate Team virtual market are also generally higher for PS3 compared to XBox. It means that if you're a PS3 player, then you are doubly penalized: to build your dream team, you will have to spend more money and more FIFA Ultimate Team Coins.
Price Variation by Quantity Purchases
According to this study, when buying larger quantities of FIFA Ultimate Team Coins, you may benefit from a lower price per unit. These discounts range from 25%, on purchases made through Facebook pages, and 5%, on purchases made on websites. This means that a million FIFA Ultimate Team Coins will cost you about U.S. $ 100 if bought by Facebook, or twice, if bought directly in a website.
In this study it was possible to identify some sellers who, instead of applying a discount for bulk purchases, the price per unit become more expensive. Pay attention to this aspect. Among the sites analyzed, the quantities pre-defined of sale range between 5 million and 5,000 FIFA Ultimate Team Coins.
How the Study was Conducted
The aim of this study is to determine the FIFA Ultimate Team Coins prices. We analyzed the transactions' prices in FIFA 11 and FIFA 12 Ultimate Team versions between January 2011 and June 2012. Research has widened to about 30 different sellers, including websites, Facebook pages and forums. Because it is against the eBay's rules, the information collected at these auctions were not considered for this study. For lack of data, were also left out of this study all the platforms beyond the PS3 and XBox.