FIFA vs PES: which one is the best football simulator? Instead of answering this question, which is very subjective, we will describe the battle for supremacy between FIFA and the rival Pro Evolution Soccer along the years.
FIFA vs PES History
FIFA's big match: the battle for supremacy with rival Pro Evolution Soccer

With a huge, global presence, FIFA's marketing arm is almost machine-like, as it pumps out region-relevant information, earning publicity everywhere the game goes. Recognised pretty much universally, the FIFA video game is a phenomenon – managing to shrug off even certain PR 'failures' at the organisation from whom EA license the game. Few other companies would be able to do that.
That's testament to EA Sports' forward-thinking commercial department and marketing minds – which was true from the birth of the series, with the actual idea for a soccer title coming from their marketing team.
Chip Lange, who would go on to oversee marketing for that series, reflected: "I was part of the whole decision to create FIFA. I was the product manager on the marketing side, and back then our company was kinda split into two camps. There were the people making the game, and those guys tended to be treated like royalty, they were the rock stars of the industry. Then there were the marketing people, generally people who, once the game was done, stuck it in a pretty box and sold it to Walmart or Game. But our little marketing team made some headlines when we started something called EA Sports, which germinated out of the marketing arm of the organisation. All of a sudden, people started seeing that games could be sold, not just because of how great the game was, but because there was a bigger cultural thing going on with EA Sports, and that gave us some credibility. This is going to sound crazy, but we made these branded clothing lines, in limited runs, and started wearing them around the country. We made them really hard to get, and all of a sudden the EA Sports thing started taking off right around when we launched FIFA."
If the idea that arguably EA's biggest risk – and subsequent success – came from their marketing team is a bit of a surprise, then the role-model they adopted for the original was less so. Lange explains: "FIFA was, in my opinion, a derivative of our NHL game, which was a runaway phenomenon on the Sega Genesis because of how well the system worked – with crisp passing of the pucks and the one-timer. FIFA really tried to leverage that great gameplay and then capitalise on it on a global stage, with a much bigger sport. We had these great engines that were driving the technology on the Genesis back then, and then all of a sudden we had the momentum of this great brand, EA Sports. The guys up in Canada – it was a small team – were just obsessed with the sport of soccer. The whole team would go out and play at lunch – they had a field there. From that little corner office of Bruce McMillan's, they created this huge game. Bruce was so obsessed with the feel of the product that he would just sit in his office for hours on end, late at night, with the game constantly on. You didn't have all the distractions back then, of the graphics and the opening animation and all that stuff. Those games back then were about getting the feel of the buttons right, working with very rudimentary technology to get the players to react in a relatively realistic manner. Because the second they did something that didn't feel right, the fantasy was broken and it was just a game. He worked so hard to get that authenticity in."
As much as the isometric view grabbed gamers' attention, the growing reputation of EA Sports also earned FIFA some instant brand recognition – with canny marketing tools making the game a mainstay amongst their key demographic of gamer, according to Lange. "In the marketing group, we started working on this tagline 'I'm better than you and I can prove it', because we started noticing that the differentiating feature of our games was that people played head-to-head. There was this groundswell in fraternity houses, at colleges, where EA Sports games became a new form of pick-up basketball. FIFA was perfect for that; it was such a great multiplayer game in a time before online. Whatever got put in at 2am, when people got back from parties, was the game that became the cultural standard. The team was much smaller back then, so we could all get in a room and say, yeah, we want to get as many real teams as we can, we want as many real players, but we want them to play like they do in real life."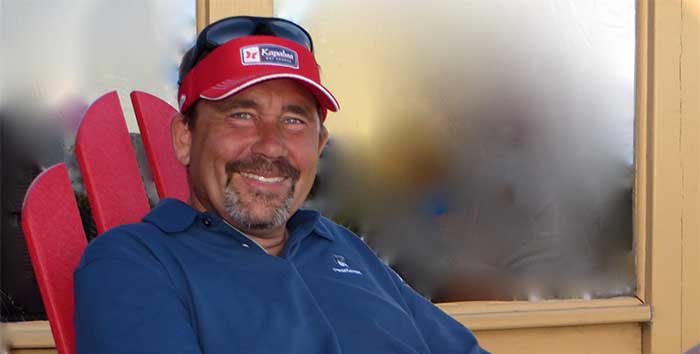 Chip Lange
Perhaps most famous of the marketing ideas is the now synonymous tagline, read by Andrew Anthony, who revealed that he recorded the line for nothing as a favour to an old friend. Speaking in an interview with GamerHubTV he said: "It was the early Nineties, and I had a friend in the advertising business, who was approached by EA asking him to do an advert, and he came up with the line. It was originally 'If it's in the game – EA Sports, it's in the game' and he called me, up in Toronto, his old buddy, and said 'will you do the voice for this thing, for free?' And I said 'yeah, of course I will. I don't even know what this is, but I've got a free trip down to see you, so, for sure'. I recorded it and thought I will never ever hear anything about that again – and 26 years later it has become this mega-brand."
Despite his team's role in supporting the pitch for a soccer series, Chip Lange confirms that it wasn't EA's marketing department that were responsible for Anthony's iconic phrase – read out in that instantly recognisable robotic voice – and says that it became a motivational phrase in-house. He said: "As simple as it sounds, it really was a unifying design theme that works not only for the marketing campaigns but also for the product. The team realised that the marketing was starting to play a role in the success of the franchises, and the collection of these games under that unifying banner started being greater than the individual whole. The challenge we had with FIFA over the years was, in the US you had Madden, NBA and NHL, and then FIFA as a smaller thing. But over in Europe nobody really cared about those other sports, so it was just FIFA. There was this tug and pull between which brand was more powerful – was it FIFA or EA Sports? Should we do a British version of 'EA Sports – it's in the game'? Do they even need the EA Sports brand?"
The Eternal Battle against Pro Evolution Soccer
Such marketing ability would prove to be crucial for FIFA in their battle with long-term rivals Pro Evolution Soccer, made by Japanese developers Konami (having emerged out of the Goal Storm series) and previously known as International Superstar Soccer Pro. In fact, though PES is now quite some distance behind FIFA in terms of both sales figures and actual product, it was the Eastern football game that was dominant for a long time.
For many years, they were top dog – with FIFA playing catch-up, in a reverse of the current status the two titles enjoy. For Chip Lange, it was a rivalry that provoked the best from those in Vancouver, working on FIFA.
He said: "We were very competitive individuals, we didn't like to lose and PES was a nasty competitor. They were good. Back then they had, in Europe, what Madden enjoyed in the States – it was the common denominator for gaming. If people back then played a soccer video game, Pro Evolution Soccer was usually the thing that got put in the system. That was the competitive standard – what the general mass public would use as the benchmark to see who had the best game. PES enjoyed that position for a long time. We were determined to beat them – we'd do focus groups, we'd listen to reviewers, we'd talk to players. It was a hard-fought, long battle. Ultimately, a combination of EA being able to consistently evolve our technology year in, year out; continuing to pour endless amounts of resources into the product; and the cool factor of EA Sports, won that battle. Over time, FIFA evolved into being that competitive standard, but it was quite a battle."
The peak of PES's powers probably came in 2004, when they had the audacity to poach FIFA's cover star – and the planet's most marketable player of the time – Thierry Henry. Having fronted FIFA Football 2004, the Arsenal striker switched to Pro Evolution Soccer 4 the following year. To add insult to injury, he gave a candid interview to accompany the announcement of that decision, which only served to illustrate the dominance of Konami over EA Sports. He said: "I started off with the Japanese version about ten years ago. I just love Pro Evo – it is by far the closest to real football."
Those quite traumatic comments – the Frenchman had never been quite so passionate about FIFA during his time on their payroll – left EA in something of a minor crisis.
That release, PES 4, was the first that had included licensed leagues, with Konami following the EA route by signing deals with the top tiers in Italian, Spanish and Dutch football. It also garnered better critic reviews – averaging 93%, generally scoring at least ten points more than FIFA Football 2005. PES 4, quite incredibly, was the eighth highest critically rated video game of 2004.
For Matt Webster, who was Associate Producer and Designer on early FIFA titles, it was a dominance that couldn't be ignored, even within EA's corridors. He said: "We could all see it. In Europe, we were like 'we are in trouble here'. I distinctly remember Bruce McMillan coming to visit us in the UK office and opening up to questions, as he hadn't been over for a while. There was a question from the back from a guy called Bob Summerwood, who was a software engineer, and he said 'why isn't FIFA fun anymore?' And you heard the whole room just go 'ooh'. You could hear a pin drop, but he'd done the thing – he'd said what had needed to be said. That started an ex-pat invasion, not just of Brits but of Europeans too, to help give that knowledge. Bruce offered Bob a job to go over, and everyone started realising that FIFA had been focusing more on production values and there was no gameplay innovation. It wasn't fun, like Bob had said. But, with the new blood brought in, things started to improve. People like Gary Paterson were instrumental in changing it from art-based to gameplay-driven animation, and really kicked it on."
Webster isn't the first, and certainly won't be the last, to highlight Scottish software engineer Paterson's importance – a man often referred to as the title's 'gameplay genius'. He was initially hired in August 2004, recruited from Codemasters after his work on LMA Manager, to further the FIFA Manager spin-off series, but he was soon switched to the main title, where he made significant changes.
Looking back, the modest Paterson – who would go on to become Creative Director on FIFA, and now holds the same position at the Criterion division of the company – is very matter of fact about his impact. He says: "After FIFA Manager 06, I was offered the role of Lead Designer on FIFA 07 on the PlayStation 2. Me and a guy called Joe Booth were the leadership team for that and we managed to effect enough change so that it was the first FIFA game in four years to gain Metacritic points – the review website used by the gaming industry. That was the way the company measured success. Obviously, sales were one aspect and Metacritic was another. It wasn't necessarily that I was hired to rescue anything, but the company had obviously seen that they needed to do some things differently. They'd started a new engine, and were looking for new faces, direction and ideas. I don't remember exactly the market share when I joined, but I know that it was a struggle. I'm pretty sure it was around 50-50 between FIFA and PES. Most of the people that were brought in at that time were from the UK, and we were all Pro Evo fans."
"In 2003, FIFA had tried to do a couple of things differently. They tried to free the ball up a little, and it made a difference but it didn't really make an impact on Pro Evo in terms of quality. We had to make huge changes. Also, when we rewrote the engine for the PS3 and Xbox 360 era, there was a change in attitude and design philosophy – going for much more systemic game mechanics, rather than the scripted mechanics we'd used in the past. The result of those things was that we created a much more dynamic game in terms of depth and variety that was truer to real football. So, with scripting, a header animation was two people locked into it – one person started a jump, the other hadn't, and it was always pre-determined who would win that header. We moved to a much more logical, systemic solution, where people chose to jump whenever they wanted to. If there was a contact then we'd resolve that with forces, weight, aggression and heading ability. That obviously felt much better to play. One of the first things we did was base the shooting system on real life. So we looked at different factors that would affect the result of a shot – was he off balance; was he under pressure; was he jostling; was the ball coming across his body; was it bouncing; what was its lateral velocity? We looked at all these different contexts and factors and said, in real life, if that was the scenario, how would the player most likely hit the ball? In this scenario, he'd most likely mis-hit it by hitting the left-hand side of the ball because he mis-timed it. Or, in another scenario, he'd get under the ball and it'd go over the bar. Doing that created emergent moments within the gameplay, and that was the path we took – a shift in design philosophy and the company's focus around FIFA. They invested heavily in gameplay as they'd realised that was what mattered and the results came."
That's putting it mildly. What Paterson witnessed, under his guidance, was a huge swing in popularity for FIFA – with critics raving about the new gameplay experience he'd helped to implement. Slowly, but surely, PES was reined in. "FIFA 07, for me, was really big. It was the first FIFA that increased our Metacritic score. FIFA 08 increased by ten points, then FIFA 09 was only up five points but we knew we were onto someting, because people around the company had started to play it at that point, on their lunch break. FIFA 10 was where we really got excited, as we hit 90 on Metacritic, which was the goal all along – that was the Holy Grail for us. That's where we started to gain the momentum. You can be beating Pro Evo, but it takes a while before the consumers sit up and take notice, especially in the mainland European countries. I think Italy and France were two of the last bastions of Pro Evo. I suppose it's like switching from Manchester United to Manchester City – it very rarely happens, so when it does it takes a long time. At that time, Pro Evo had the Master League mode, which was a stronger experience than our career mode, so we had to invest heavily in that in FIFA 11 to 13. And on FIFA 12 we put Online Season play on and the momentum continued to grow, which was much more compelling than what we had before."
From a position of panic and fear, with FIFA trailing PES by some distance in 2004, the balance had tilted in the opposite direction by the end of the decade – Pro Evolution Soccer's reign was over. It was a transformation that would have seemed impossible at the time of Gary Paterson's arrival at EA – though the influx of Brits and Europeans at that time did demand some persuasive pitching, as many of the staff headhunted were reticent about the switch.
David Rutter, now a leading figure on FIFA, admits his own disdain for EA prior to working for the company: "Previous to joining EA, I worked for a bunch of different video games companies, starting from 1995, and have only really ever made football games. Coming here, for a lot of people, was this weird double-life: when it came to EA you were one of two mindsets, you were either a video gamer who thought they suck, or you were the businessy kind of person who thought they were a brilliant company to work for. I was certainly the former, and a lot of people took some convincing to come and work here, from the period of time when I started. To put things in perspective, we have more than 20 nationalities working on the game, most of whom were imported to join the team between 2005 and 2008. It was a big transformation that happened here, when we went from lots of marketing, lots of glitz and glamour, lots of licenses but not a particularly great game to deciding we're going to make a really good video game to match the budget that was being spent on everything else. They hired in the best in the world at what they did and brought them to a beautiful city and great facility to work on a team that, previous to that, had been tasked with making a football game and didn't really get it."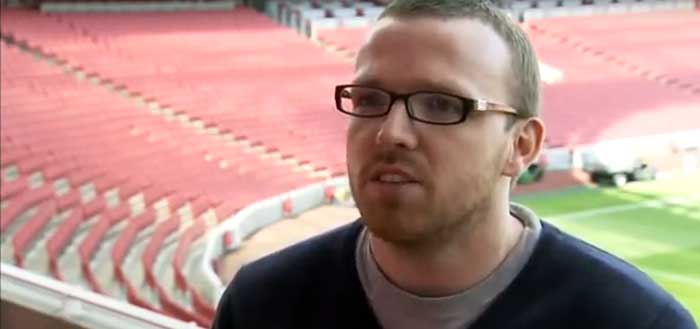 Gary Paterson
The first PES proper emerged in 2001 and was immediately pitched as the underdog rival to FIFA – minus the official licenses or financial might of their rival, with the east versus west dynamic an interesting undercurrent.
PES 5 was the market leader – signified by Henry's switching of allegiance – and its successor saw more licenses added to Konami's stable, with deals in place for international kits, plus France's Ligue 1, but various messy wrangles saw them lose the rights to the Bundesliga, while Chelsea also disappeared. Serbia and Montenegro remained in the game despite the nation being dissolved some months before release, while Arsenal's and Bayern Munich's stadium moves hadn't been reflected virtually.
PES 7, better known as Pro Evolution Soccer 2008, starred Cristiano Ronaldo on the game cover, and it was Lionel Messi who starred on 2009's version, which also had the Champions League license, as Konami really took the game to EA. However, the tide was in the process of turning – FIFA was developing rapidly and now it was PES playing catch up.
One new feature in PES 8 proved to be game changing, although it would be FIFA that enjoyed the most success from it. The Become a Legend mode followed the progress of a single player's entire career, and would go on to inspire FIFA 08's massively popular Be a Pro mode.
From that point, PES was a distant second to FIFA; the 2010 game underwent a huge overhaul to try and match their rival, a radical and desperate move. Off field, licenses continued to come – Europa League in 2010, the Copa Libertadores and UEFA Super Cup in 2011 – but had little impact on its share of the market. By then, EA's hunger to be the best was really showing.
So, it was inevitable that, in 2012, PES lost their star signing – EA swooping to poach Lionel Messi for their FIFA 13 cover. It must have been a satisfyingly sweet moment, serving up a taste of Konami's own medicine to their rivals, after Thierry Henry absconded seven years earlier.
That wasn't the first footballing video game feud that FIFA had experienced, having first entered the genre as the underdogs, playing second fiddle, very briefly, to then market leader Sensible Soccer.
It's a time that Matt Webster – one of the few current members of the EA team that worked on the first FIFA game – remembers fondly. He said: "We were going head-to-head. We wanted to beat Sensi, but they were an entrenched competitor – they had the brand awareness, everyone knew what Sensible Soccer was. But, from the US point of view, the people at EA didn't understand football at the time, really. No one did. When I was still based in the UK, working on the first game, we used to videotape Match of the Day and send it to Canada. We were saying 'you can't call this EA Soccer, surely it'd make sense to go to the governing body?' So I found the name of Keith Cooper, who was FIFA's spokesperson, and it was all pretty amateur at the time. We ended up doing the deal, but we got nothing really apart from the name. North America, at the time, with the World Cup coming up, was a real challenge. I remember reading some of the hare-brained ideas come up with by the American sports consultants – like having two balls on the pitch, getting rid of throw-ins and the offside rule – so we needed to go over there and educate those guys on football."
Webster arrived in Canada to work on the game, and his presence on the other side of the world proved serendipitous, as a late-night spot of procrastination averted what would have been a glaring error – and a bad start for a new video game franchise.
He laughed: "I remember being holed up in this hotel in Burnaby for three or four months. It was right opposite the office, but it was horrible, so I preferred spending time in the office than going back to my room. We had just submitted the final version of the game and we were in a rush because we wanted to get it out. I booted the game up at about 2am and I looked at the title screen and had to blink a few times – there was a f***ing spelling mistake. And it had been there forever. We'd written 'licensed by Sega Entepises'. We'd missed the 'r'. And there was no-one around. We didn't have mobile phones then, so I had to try and find a way to call people and wake them up, and then go and pick them up in cars to get someone to change the text and resubmit a version for Europe."
That instance alone makes Webster a legendary member of the FIFA team – an all-star lineup that makes them the Real Madrid of the gaming world…

In order to bring you the best FIFA content possible, we read everything that is published about this game. Our favourite book is 'FIFA FOOTBALL: The Story behind the Video Game Sensation' written by Lee Price. The article from this page was taken from there. If you want to read the full book, you can buy it clicking on the banner.