Welcome to Tête-à-Tête with Silvio Teixeira: a very special opinionated area that we are proud to include on our website.
Follow the wise, intelligent, humorous and insightful comments from Silvio. At the end of the article you may know him a bit better too.
In this extra episode, "FIFA 16 – Starting off the trading!", the author helps you start your FIFA 16 trading with the right foot.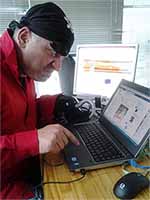 Fifa16 – Starting off the trading!
And tête-à-tête is baaaaaaaack!!!!!
Okay, it's not really like that, it was just the guys from Marketing that said I should start the article this way, to cause some impact, you know? Actually this is just an extra edition. After all, like I said, I never left, there was just no more interesting content left for you guys, and on the other hand I've been writing in some other areas, but I keep getting my payment just fine and since the time has come, here I am!
That being said I'll start off by talking briefly about the game, because although trading is my main subject on here there's been some people (two people) asking what were my impressions. Contrary to most people I really wasn't impressed, I did like the new animations, I found the players' new speed super weird but it might be something interesting in this edition, it forces us to re-adapt, but in general the demo didn't convince me at all. Mainly because FIFA 15's biggest problems could only be experienced on line and not offline. You should've been able to play some kind of on line friendly at least against your friends, but since that wasn't possible on the demo we'll have to play the full game some more as EA Access subscribers in order to say more.
So that's why I'm currently avoiding commentary towards the game, although I do know that EA have worked to give pace abusers a hard time. The only problem is that they've certainly contributed to other abuses, after all the company understands that goals make players happy (and the opposition sad, of course). Happy players spend more money, so all we gotta do is look for the newest magical scoring formula, will it be headers? Long shots? Finishers? Runners? I'm sure we'll find out what it is soon and channel all our rage on it.
Starting off the trading (again)
The good news so far have to do with trading, finally we have the web app back, and it's already important to hold on to it while still it works (since we don't know how long it'll last). I think shutting the web app down is already part of EA's policy. I believe they released it to stimulate initial sales but it shouldn't stay up very long, so let's milk it for all it's worth.
As I always say, the beginning is the only moment you should spend some real life coins to buy FIFA Points, because at this moment every player you get is good and worth something, since you don't have anything anyway. Besides these that you buy (if you can), you receive a starter pack full of players that you can't sell, but at least for off-line tournaments they'll do. It's important to play as much as you can with these players to generate some coins for your trading.
If you've been playing the game for some time you'll also receive extra packs according to how long you've been playing. I received 4 packs and my luck remains the same, the best player I got was Atsu, that's it.
I sold everyone and started my trading with just 5k (I still haven't bought FP). With so little money you must know how to spend well, we can't afford to lose. "But sir, how do I know what I should invest in right now? I have so little!"
The answer isn't simple, I don't know, but the thing is that no one knows, it's even possible that I end up losing the opportunity to profit more by selling Atsu for 1500 coins right now (which I did), maybe he'll hit 2k. No stress, the important thing is that you've won, you've made some coins. "Winning more" is still something we can't afford to think about much right now. It's like when you're searching for something to buy, you find it in a store for a good price and buy it. After that, don't look for prices of the same product in other stores, because if you find a better one you'll end up feeling really bad about yourself. The important thing is that you made a good deal at the time, and little by little you'll make even better deals.
"Mr. Silvio, can you just cut the crap and get to what matters?" Okay, okay, sorry, it's just that I missed this…
Let's assume you also got to start off with 5k in your club. What are we investing in? Right now you can't just go for players with the best attributes on this or that, at the moment everyone is surrounding them… Even the non-rare that have good attributes are being way too disputed, so their prices are not very nice. You have to open your mind to try and find some interesting "leftovers" among the crowd. My first choice was to search for gold players with maximum price set to 1000 coins, nothing more. We're focusing on players that get to their final seconds with a price below that, but of course not all of them, this is just the first filter. Here we'll find some good rare gold player deals (at the moment I'm ignoring the non-rare). Since in the beginning not all of us can afford to have the perfect chemistry, there will be maaaaany people buying players from any league as long as they're good. In fact, this year FIFA has knocked out the pace abusers but everyone's still going for pace on attackers. They still sell really well, so at least for now that people aren't entirely sure about it, they're good investments.
Without looking at their leagues or even their names, let's go bidding for those that come first: Marco Matias, Podolski, Casco, Gakpé, Uche, Llorente, Sau and the goalkeeper Julio Cesar were the ones that came first. All of them won for 650 to 800 coins, and since everyone's got little money right now we'll set 1000 coins starting price and 1300 buy now for their auctions. Do consider that no one has a lot of money, so you still won't get to sell them all on the first auction. It's important that you re-list all every hour, and there are moments of the day when bids are more active, so don't panic in case you don't manage to sell anyone for a few hours, that's cool.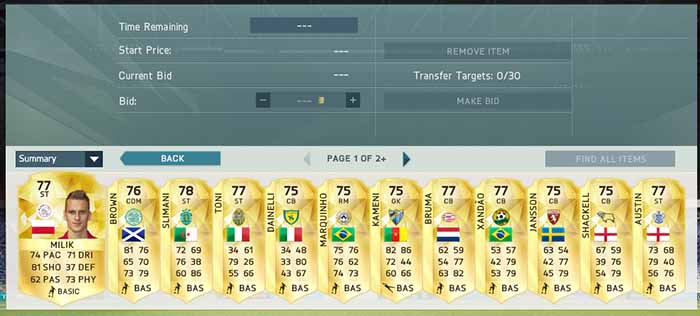 Our first players start getting sold brilliantly as planned. Podolski goes for 1300. Sau with his 94 of pace also goes for the maximum price we set. The others end at their minimum, which isn't bad because the important thing is to sell them all. Marco Matias was the one who took the longest to let go, one day and a half to get sold for his minimum, moral of the story, I won't buy him again for now. Now I give preference to buying back those that were sold for their maximum price.
Another way you have in order to search for "interesting" players are the following filters: set minimum price and maximum price 650, quality gold. At the moment most non-rare gold are being sold for less than 650, while the best usually surpass this price. Doing that, this is what we got: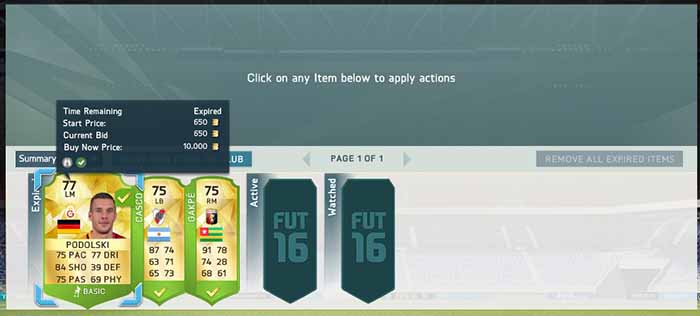 Among so many rare gold we may find something interesting, but you better give them a good look before buying to see if their supply is too big. Not a good moment to buy these that you can find very easily, search for players that don't appear that often such as Narsingh, whom I paid 650 coins for and didn't see many on the market for the same price. I'm pretty sure he'll be sold for at least 1200 coins. Brazilian players are very demanded, but leave your club favouritism aside, it doesn't matter how much of a beast Valdívia from Internacional actually is, he won't sell well because his attributes in the game aren't good if compared to other Brazilian players.
With that in mind I have no doubt that buying players such as Kaká and Julio Cesar is a great deal, but stay alert for names among the best cost-benefits because those are what people are looking for the most right now. Cruzeiro centre back Manoel, Boavista left back Anderson Correia and Walter the chubby from Atlético Paranaense are some examples, they should sell very well, so if you find one for 650 don't even think twice!
Since there will be thousands of people starting to play the game in the next couple of days, the players' real price will only get verified in at least 10 days, because right now there's more supply, and many players will have their price dramatically changed. This way, don't use the player's price from FIFA 15 as basis. Players being sold for 650 coins right now will be sold for more, sooner or later they will, the problem is we don't know when, so it's important that you choose wisely so that you can get the investment back fast. By the way, in the beginning keep playing with your untradeable cards plus the ones you've won on auctions (in case your trade pile doesn't have room for them). This way you'll save contracts, but do watch out for when the player has only one contract left, everybody knows the "0 contracts" icon is a big turn off. It doesn't matter too much if a player has 1 or 7 contracts on the market, unless there's too much supply, of course.
All beginnings are slow, but you can use a little help from buying FIFA Points, exchanging FCC for coin boosts on the catalogue or simply by playing the game, raising your rewards with good performances. If there isn't anything you can rely on, but simple old school trading, do celebrate when you reach 10k, that's perfectly cool. Don't listen to those guys saying they've hit 500k from pure trading without spending a nickel, after all talking is the easiest thing on the planet, finding Ronaldo in a pack, now that's hard.
Detail: By playing the game I could notice that this year having fast centre backs will be more important, because attackers don't get past them as easily as before, so with a fast defender you can win the ball more easily going shoulder-to-shoulder. This way buying cheap fast centre backs may be a good investment at the moment, but in that case I recommend you don't buy any from small leagues, people "spend" more with a quality centre back because they're also worried about chemistry. Focus on some of the most important nationalities like Brazilian, English and Spanish.
Raise a list of the players you're being able to sell the most, with the most profit, but let's do this only with players bought for less than 1k to see who will be our newest trading diamonds. I've got a strong feeling we'll see many players we've never heard of showing their faces on here. What do you think? Next week I'll bring statistics on who is being sold the most and who's rotting in our trade lists.
And that's it for today! See yooooooooou later!