Welcome to Tête-à-Tête with Silvio Teixeira: a very special opinionated area that we are proud to include on our website.
Follow the wise, intelligent, humorous and insightful comments from Silvio. At the end of the article you may know him a bit better too.
In this third FIFA 16 episode, "How to find out about new trades", the author teaches you how to find good cards to buy and sell.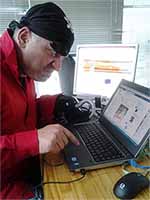 How to find out about new trades
This week some people asked me how I knew which players were going to have their price increased, how to know if these players that no one knows of are worth the investment. That's pretty easy and simple, but demands work. The work pays off as it gives you the opportunity to be one of the first to buy the right player that'll guarantee you great amounts of profit later. Of course some of the best trades need to be done in these first weeks of the game, because as people start playing FIFA 16 these golden mines start being more explored and opportunities get smaller, but as for now, I'm bursting with joy seeing all the coins I'm making.
Since we focus on actually giving it away here, I'll be the less brief possible in order to explain what I do so that others, too, can make interesting kinds of profit in these first days, for the market still hasn't saturated itself. Of course you can't always win 100%, what I do is maximize/potentiate my predictions based on future projections.
The complicated part of explaining this is that there are several important points, and each one of these would turn into a new article, but let's try and take a general look at it.
First of all you need to get to know about all the attributes, what each one of them does. People who go for pace in players aren't looking deep enough, and in this FIFA they might even be wrong to give this attribute priority. In fact I don't even look at pace because, although velocity is still important, it's not mainly about pace, but acceleration; which happens since, as everyone knows, the game has been wiping the pace abusers away, so basically using extremely fast players isn't nearly as effective as before. You should look at acceleration, which is the time a player needs to go from standing still to reaching his maximum speed, rather than just pace. But of course, in case 20 of speed is as far as he goes, having great acceleration won't do much. However, even if your defender is much slower than the opponent's attacker, in case the "slower" one is able to reach maximum speed faster he holds an advantage.
Let me give you a clearer example: a race between a man, a car and a plane, who wins? It depends. If it's a 30 meters long race the man wins, and it would take him only 4 seconds to finish. However, if the race had been longer, around 150-200 meters, the car would win, and then the plane would be the winner at anything beyond that. That happens because the man's acceleration is greater than both the car's and the plane's, but when it comes to maximum speed capacity he naturally loses. Got it?
Besides that, it depends a lot on the player's position. While acceleration would be super important for a full back, it would be more interesting for a striker to have great finishing, which measures his shooting capacity while inside the opponent's area, rather than acceleration. But we could also leave finishing aside and choose strikers with remarkable heading accuracy, since it's pretty common to choose an exclusively great header, especially when you're using a formation with two ST's.
This way, so far we can say you have to at least be aware of the importance of attributes and which ones are special for each position, those that will make you choose to buy or not to buy a player. Let me give you an example regarding the importance of attributes in a player: if I'm looking for a centre back, of course there are like 10 attributes that are important for him, but when it comes to buying you have to focus on the few most important ones, that's what most people see before buying.
CB – Centre Back
DEF – MRK – ACC – INT
I first look at his DEF, yes, the general attribute. Although it's generic, pace isn't the main one any more, so let's go for defending. Of course, if you have a centre back with 83 of pace like Cáceres that's quite a tie breaker, but look, he already has 86 on DEF. Once I've separated the best defendings from the rest, I go for Marking, then Acceleration and then Interception. Since the players that have good numbers on all of these attributes at the same time are already expensive, what I do is put them in order with a filter. Carrying on with this example, let's take a website as database that shows us the players' attributes with a filtering system. I'll take Futwiz but it could be another one of your choice.
So first select CB, for now I don't care where he's from because there could be someone really good from a smaller league. I also don't care about rating, maybe there's a bronze player with DEF 94 out there, who knows. Although, I only select cards of the type rare, since the common ones are usually too cheap (or else incomprehensibly too expensive) and IF are not our focus here.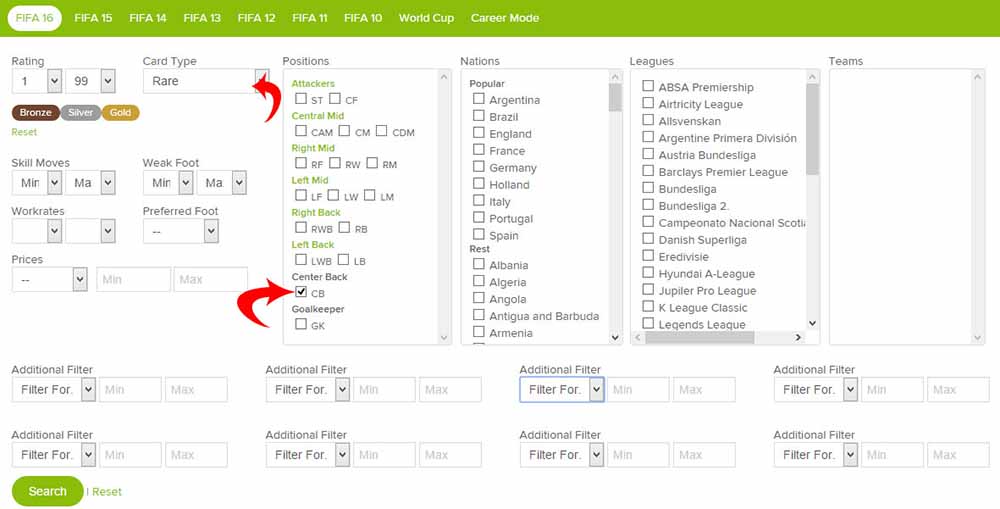 Since the first attribute is DEF it should be set high, so no one with less than 85 will make it to my list. If you don't know how high to set an attribute at first, select a value in order for the filter to show only two pages full of players, this way you'll have the top 30 (more or less) on that specific attribute, out of all the players in the game. Now that we have our first filter applied, we apply the second one along, Marking 85 as minimum.
Once again it's important to see how many players are left, if there are too few maybe it's worth it to lower the minimum a little, but right now 85 is good since the search result reduced to one page. Notice that I only set a minimum value for the attribute, there's no point in setting a maximum.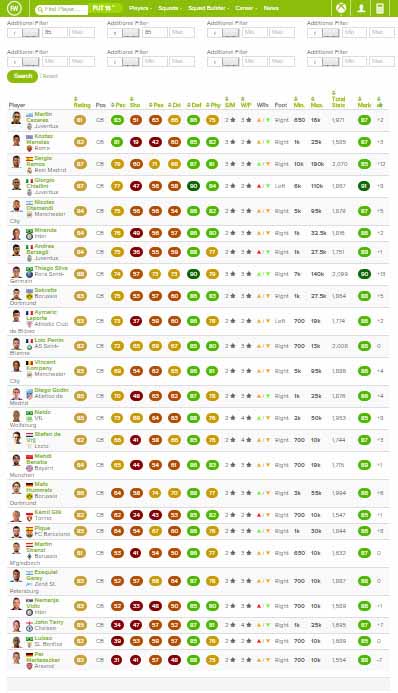 We can see at this point the ones who have the highest Marking stats, it's there on the right, you just need to click the arrow and choose your preference accordingly to see the best markers in order.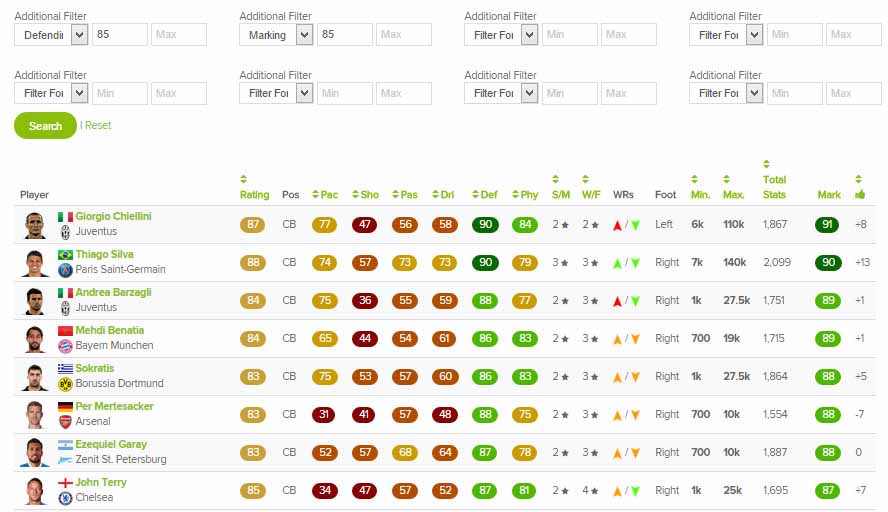 Now that we already have only one page of centre backs with high DEF and MRK, let's set an Acceleration filter without worrying much about it, we just want to put them in order, no need to eliminate anyone just yet.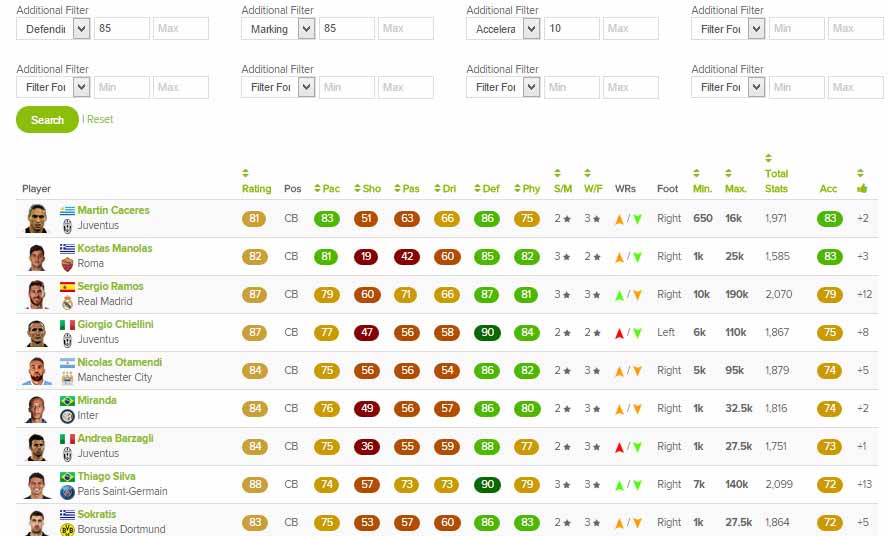 Okay, now we have our first names to be analyzed. Cáceres is among the best centre backs of the game, he's the one with the highest acceleration, goes straight into my list, just like Manolas, Sergio Ramos, Chiellini and Otamendi. Now let's add Interception and see what we get.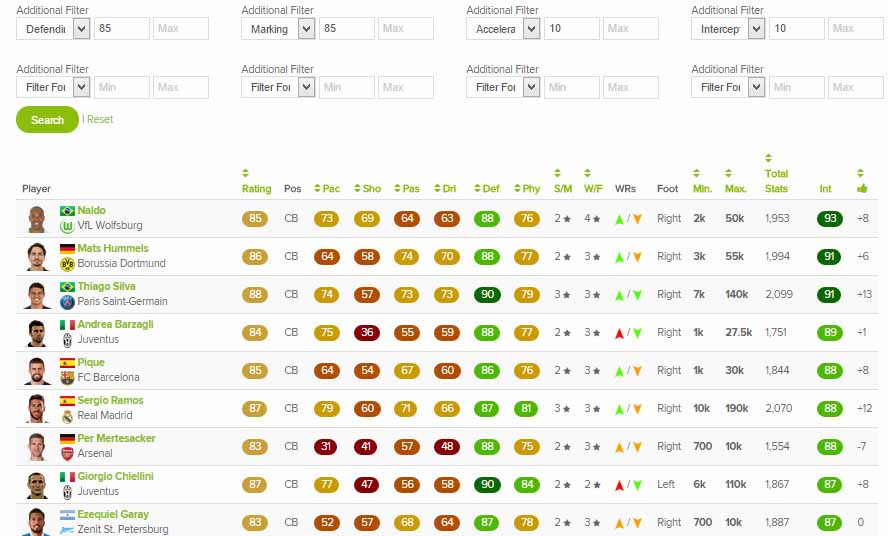 Now we have Naldo, Hummels, Thiago Silva, Barzagli and Pique.
Out of the players that showed up for this list, now I have to look at their league, nationality and price. Notice that everyone in this Interception list is from strong leagues and important nationalities (for people that like building squads based on nationalities). In the previous list, the one for Acceleration, we have Manolas who is from a strong league but quite an inexpressive nationality for a nationality-based squad. So his price won't increase much. Besides, Manolas competes against Cáceres and Chiellini (they're all from the same league). I'd only put Manolas into my initial buy list, and keep it for now that people still don't have enough money to buy the best and most expensive centre backs, he'll fit into their Série A squads just fine.
From this list of players I verify each one of their price at the moment. Then I take a look at how much they used to cost back in FIFA 15 (there are websites that keep prices from the past). That gives me an idea of how much he used to cost, but it's necessary to consider if he remains in the same league as before, how much of an increase or decrease his attributes experienced, and how the concurrence is doing.
Let's see a concrete example of this. Recently I advised a follower to sell the James Rodriguez he had gotten from a pack because I believed James' price would decrease (he was at around 100k that day). He's a good player but that's not only what it's about, and yes, many people will buy him (making his price increase) or not. Points to consider:
– Strong league?
– Strong nationality?
– Is he the best for his position?
– If he isn't the best, how many are ahead of him?
– What was his average price in the previous FIFA?
– Have his attributes changed for better or worse? How much?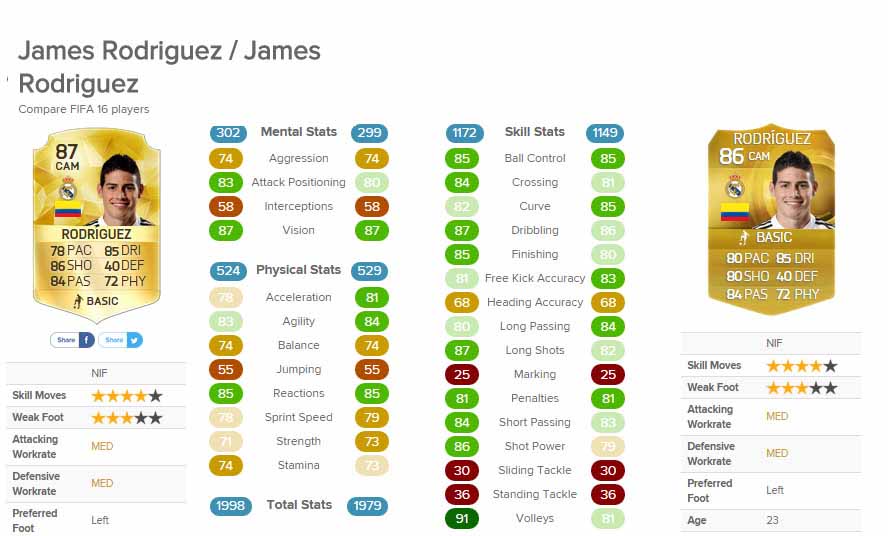 And the answers in this case:
– Strong league? Yes, BBVA.
– Strong nationality? Not quite. You might want to build a Colombian squad but there isn't a single decent Colombian goalkeeper out there, that's frustrating for many people.
– Is he the best for his position? It depends, there's a lot of concurrence, so it depends on which attribute you prioritize for the position.
– If he isn't the best, how many are ahead of him? There are like 4 other players in the dispute (A. Iniesta, Tony Kroos, Modric and Sergio Busquets)
– What was his average price in the previous FIFA? Around 50k
– Have his attributes changed for better or worse? How much? Won points in some, lost in others.
As we can see he really is a top player, but he'll hardly reach a price over 100k, which is how much he was costing back when they asked me. His price might still rise a little, but he does tend to stay below 100k, therefore selling him was the best thing to do in order to avoid risks. You can do the same with players from all the other positions. It might seem complex but once you get the hang of it you'll see it's no big deal.
Another way you have to find good players is going for smaller leagues. In this initial state of the game everyone is going for BPL, BBVA, Serie A and Bundesliga players, while the poor Turkish league is left forgotten, by the way, in my first tete a tete I approached the subject of squads based in one league, and it was exactly the Turkish league that I talked about back then. Now it isn't just Galatasaray, there's also Fenerbahce, Besiktas and Trabzonspor as bigger names. Take a look at how it could look like if you decided to build a Turkish league-based squad: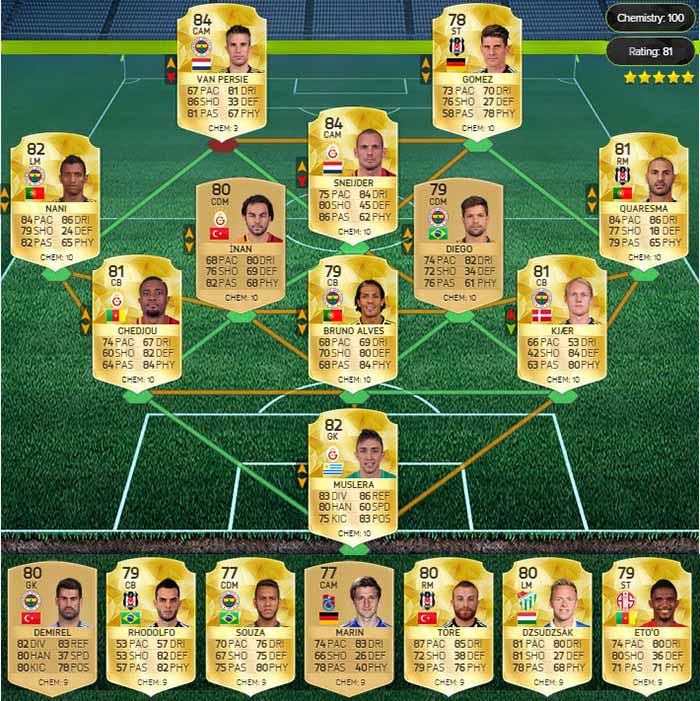 Another group of cards of the same level are the silver Brazilians. There's quite a market for the silver ones and we have players with some gold-looking attributes, while many people don't know about them so they sometimes end up setting much lower buy now prices for some players not being aware of how much they're actually worth. If you do know how much these players are actually worth, then you're holding a serious advantage. If you don't… well, then keep reading our articles as we always have fresh new ones for you.
ps. Since EA decided to block the web app's early access and I still haven't bought the game, I won't be able to keep writing on tete-a-tete for now, so I'll be out for some weeks, but I should be back as soon as I have my FIFA 16 copy. I'll be back, I always come back…
See yooooooou later!