Do you want to know how FIFA 14 Ultimate Team will be ? Is seems a bit complicated ? Don't worry.Just read this article with the First FUT 14 Details Explained.
First FUT 14 Details Explained
FIFA 14 Ultimate Team will be the version with the biggest change in UT history. This year, for example, FUT 13 introduced the seasons mode and brought minor morale changes. Not much more. In FUT 14, a lot of things will change: single matches are back, seasons will get 10 divisions, filters will be improved, it will be possible to customise some things, chemistry system will change a lot, etc…
Some of these new things, may be a bit confuse. That's why we are here. We will try to explain one by one. Let's go…
FUT 14 Game Modes
On line Single Matches are back to FUT 14.
EA Sports has decided to drop single matches in FIFA 13 Ultimate Team. Seasons took its place. FIFA community have request the return of Single Matches and it seems that they had success. Players will be able to play against other opponents in on line single player matches. The matching will be based on chemistry / team rating.
With the addition of on line single matches, there will be three game modes in UT: single matches, tournaments and seasons.
Seasons has changed too. It has been improved to include ten divisions, more five than currently has. It will provide better match making and it will increase competition in the top divisions. Winning the title of division 1 will be now much more difficult.
With the expansion of on line seasons mode, you will have more goals to achieve. You can be relegated but if you get enough points you can proclaim yourself a Division Champion or get the promotion. It happened too in FUT 13 but with FUT 14 there's more: you have the chance to qualify for tournaments and get rewards such as coins, items and players. If you feel, as we do, that the number of trophies won is not enough to keep us motivated, you are lucky. In FIFA 14 Ultimate Team, it will be possible to tracks your career thanks to the new historical statistics.
FUT 14 Customisation
Ultimate Team is about creating our own team. It makes no sense if we can't customise it. Until now, that's what happened. But things will change. Slowly. Don't expect to upload your own logo or to change the name of your stadium. One step at a time.
In FIFA 14 Ultimate Team you will be able to change kit numbers, set a captain or a set piece taker. You can do it direct from your active squad menu.
Changing Player's kit numbers was one of the most wanted features by the FIFA community. It has no effect on the gameplay but gives that special touch to our squad. In order to do it, you just need to select "Kit Changes" option from you active squad menu and assigned the kit numbers to all your players. You can get an idea about how it works looking to the following screenshot.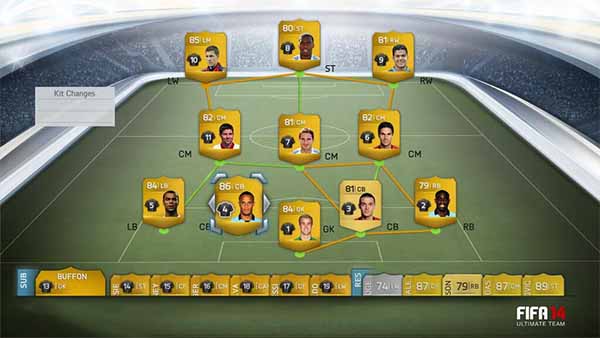 To set a captain is also a new feature that will not affect anything in the game. It is only aesthetic.
With the set piece takers it is different. You can choose to auto-assign players roles but we strongly recommend not to do it. This is a feature really important. Why? For example: do you always choose the player with highest PEN attribute to take a penalty ? Most of people don't do it because it takes too much time. In FUT 14 it will not be a problem any more. Just select "Change Player Roles" from you Active Squad Menu and you will be able to choose which player will take a corner (left and right), a short free kick, a long free kick and a penalty. It's easy. And it will work for every match you play with that squad until you change the player roles again.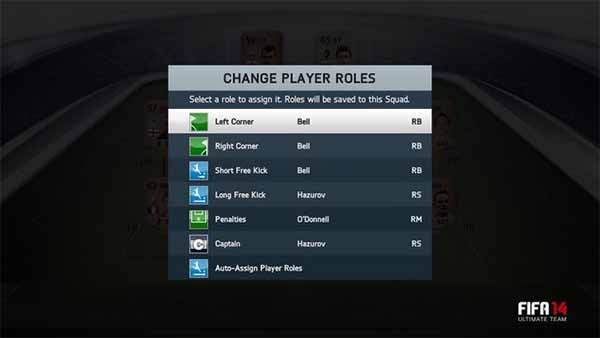 FUT 14 Filters Search
If you are a trader you know how painful is to search in the FUT market. Thankfully, in FIFA 14 Ultimate Team everything will be easier. The filters search system will be more simple and powerful. And we are not talking only about players cards. It applies to all cards.
Now it will be possible to type a player name and find him on the Transfer Market. Do you want to find Iniesta ? With the FUT 13 filters it was almost impossible to search for him without finding Pedro, for example. In FUT 14 it is as simple as typing his name.
Other filters are still available in the new Ultimate Team. Searching a player by name is not the only thing new in FUT 14 filters search. Now, you can ask to FUT to recommend players based on attributes and similarities straight from your team management screen. It will be possible to compare players too even if you do not own them.
The new players search system sounds great but probably the major improvement was in the other cards filters. FUT 14 will have custom search criteria for specific consumables like it will happen for players. Finding that CF-ST card will be much more easy now. Thanks god…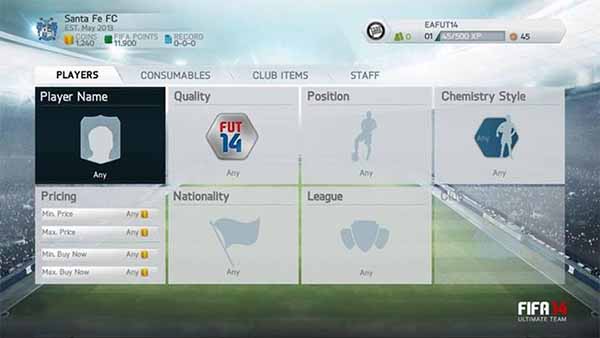 FUT 14 Formations, Morale and Positioning Cards
This is probably the major change in FUT 14, even bigger than chemistry changes: there will be no more formation cards. Why ? Because right now, every time you want to try another formation you need to buy formation cards to every one in your squad. With the end of formation cards you can easily change it and try new things. Your chemistry won't be affected since formation no longer contributes towards player chemistry. You are free to switch between formations whenever you want. Players aren't affected by which formation they're put in.
As you may imagine, there will be no more manager formation cards either. They are free to be place in any formation since it will not affect the chemistry. You can learn more about it in "Managers" chapter.
The Morale cards have been removed from the game too but the positioning cards are still the same (RB-RWB; CDM-CM-CAM-CF-ST; RM-RW-RF).
The gap resulting from the end of formation and morale cards will be filled in the Transfer market by the styles and manager leagues cards. That is, there will be the same quantity of consumables which means that the market won't be affected.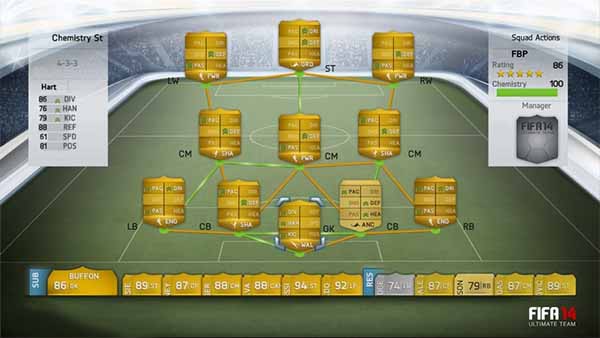 FUT 14 Managers
With the end of formation and morale cards, Managers role will be affected. Since they will not boost morale cards any more, the only effect that they will have is the contracts boost (besides chemistry, of course!). All the managers that you place in your club will give a bonus to contract cards. It means that it will be much easier to hit the 50% boost.
The most complex thing about managers in FUT 14 is their role in chemistry. We will try to simplify it.
As you know, in FUT 13, managers do not affect players chemistry. They affect squad chemistry. And they do it by their level, formation and nationality. In FUT 14 it changed a lot. Now, managers will affect the players chemistry (and not squad chemistry) by their league and nationality.
A manager can give one extra chemistry point to a player if he has the same nationality or league. He can not give more than one point to each player even if he has the same nationality AND league. Each manager comes with one league but you can change it whenever you want since manager leagues will be a new consumable. It will work the same way as formation cards work on FUT 13. You can buy the league card on the market or get it on packs, apply to a manager and it will last until you change it with another card. It will be easier to get this extra chemistry point if players play in the same league or have the same nationality. You can also mix both: having one main league and one main nationality will be enough to get that extra point. You can learn more about it in "Chemistry" chapter.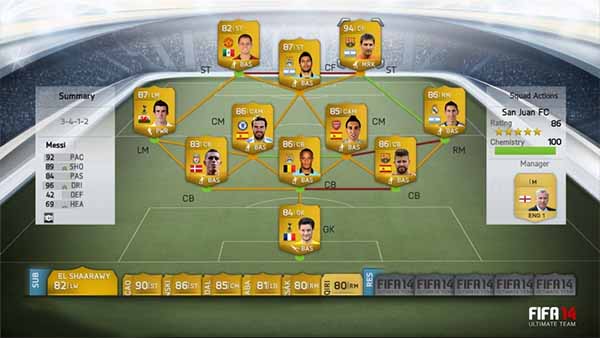 FUT 14 Chemistry
To most of people this is the most difficult subject to understand. Chemistry has changed but not so much as you think.
The way as chemistry is calculated has changed because formation cards are over. To get the maximum attributes boost, players need to get individual chemistry 10 (and not 9 as it happens in FUT 13). The links with team mates work on the same way and contribute with 5 points. The position of the player contributes with 3 points, the manager with one and there is another extra point to reward loyalty.
Player loyalty isn't bought, it's earned. A player becomes loyal to your club if you get them in a pack or if you play 10 games with him. You don't get any more after that even you play 1000 games. It will give you, at most, one chemistry point. In fact, it is a very easy chemistry point. It is as simple as it.
The way the Squad Chemistry is calculated has changed too. Now, the squad chemistry is calculated by the sum of the eleven individual chemistries. At best, it will be 110 but chemistry squad can not be higher than 100. In FUT 14, the manager doesn't have any role in squad chemistry.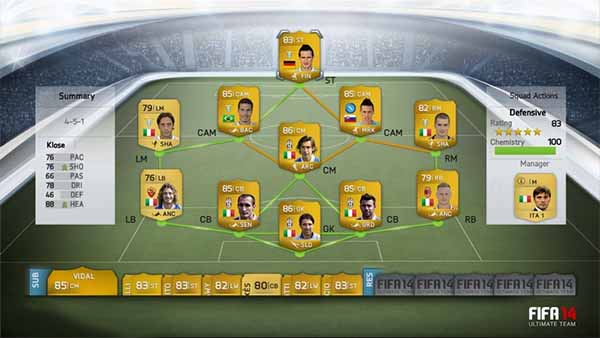 Another new thing in FUT 14 is the Chemistry Styles. Many people didn't understand how it works. We will try to help them.
Have you ever think how chemistry affects your players' attributes ? You probably know that their stats are equally improved by the addition of some points. In FUT 14 you have the chance to choose which attributes will be affected by the chemistry. Chemistry Styles are items that decide what stats chemistry will boost. It dictate which stats are increased by chemistry. Chemistry styles do not change your chemistry numbers. It is easier than most of people think.
When a player is released in a card his chemistry style is basic (BAS), the starter style. It means that all his attributes are improved in the same way (one point if chemistry is the higher possible). If you want to change it, you can apply chemistry style cards that you can find in the transfer market or in packs. They are consumables, which means that you can use it once. However, you can apply these cards to each player as many times you want but only one per player at a time. As it happens with positioning cards, its effects is permanent unless you use a new one. If you trade it, the buyer will keep the style. The Chemistry Styles allow you to let choose what stats are changed but not how much it will change. It depends of your chemistry. If you get individual chemistry 10, you will get the higher improvement possible in the stats you chosen.
There will be more than 20 different chemistry styles of Rapport for goalkeepers, defenders, midfielders and forwards, and each style affects the attributes of player to which it's applied. For example, to the players with finisher style, the chemistry will have effect on shooting and heading. To the players with Anchor style it will affect pace, defending and heading and to the players with power style, defending and passing attributes will be affected. There will be two goalkeeper specific Chemistry Styles. It will allow you to create a new layer of depth, to make the players in your team stand-out.
On the following picture, you can see a visual indicator (little green arrows) next to the stats that player styles will affect and showing how much of the potential chemistry boost.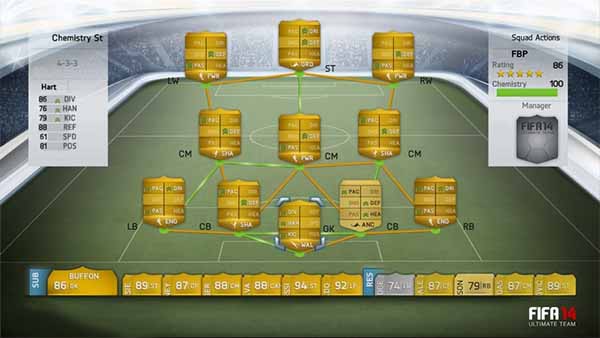 More FUT 14 Details
To not make this article too long, we will summarize in topics another known FUT 14 changes:
Player Cards has changed to a crest style;
Brand new in-game, web app and mobile UI;
Chemistry differences between the web app and console were fixed;
Brand new pack opening animation;
Transfer Market is the new name of the Auction House;
It will be fixed the goal kick glitch where the fullback goes really far back;
Online Injuries are back;
Skill moves are now done with just the stick and not LT/L2;
Attribute items are still in the game and fitness is still the same as FUT 13;
Auto contain and auto tackling are gone;
Bio includes more info as player's work rates and assists.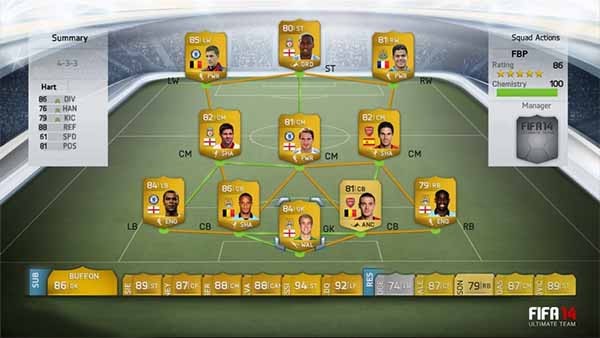 Feel free to ask us whatever you want to know about FIFA 14 Ultimate Team.