Who will get the title in Brazil this summer ? Get prepared to the greatest football competition of the world with our 2014 FIFA World Cup Preview.
2014 FIFA World Cup Preview
We know that every football fan is very excited about the World Cup and is counting the days to start. We are almost there; just a few more days and we will see the starting match Brazil vs Croatia.
Also, World Cup mode is already on Fifa Ultimate Team. It is pretty fun and a lot of players are trying enjoying this mode. If you haven't read already out Guide about FUT World Cup, you can get it here.
Today, we will try to go over the groups and predict who will get out of the group and do some analyse about players, teams, and some decisions of coaches.
We would like just to remind the players who are not going to world cup because of their injuries. The most important one is Falcão. Recently, we have heard that he is not in the final 23 men squad. Probably it was one of the shocking news because he was one of the best strikers in the world and without any doubt, he was the leader of Colombia National Team.
Benteke, Walcott, Jay Rodrigez, Gundogan, Strootman, Badstuber, Van der Wiel, Van der Vaart, Jese Rodriguez, Thiago Alcantara and Valdes are among other injured players who are not going to the World Cup. Let just wish them to get well soon and we hope to see them back to form in the next season.
Now, let's go over some players who were left out by their coaches. We think it was one of the worst decisions made by Scolari to leave Ronaldinho and Kaka out of the squad. Kaka had a wonderful season in Milan and Ronaldinho is still one of the most technical players if not the most technical in the world. In our opinion, they could have gone instead of for example, Bernard or Jo. In addition, one of the best LB Luis Filipe was not included in the squad as well. He could have gone instead of Maxwell.
Nasri was the second surprise from Deschamps. He had a wonderful season as well and being a champion of BPL he was worth to be in the squad for sure. There are a lot of players from Spain that were left out such as Isco, Negredo, Llorente, Jesus Navas, Diego Lopez, Soldado, Bartra, and Carvajal. However, Spain has a lot of very high quality players that these players could not earn their spots. The only player that we think had a lot of chances to go is Negredo. He could have gone instead of Torres because he had much better season in Man City and scored more goals than Torres. But Del Bosque trusted his experienced striker who was also in squad in 2010 World Cup.
There are just two more strikers that we think were good enough to be in the World Cup. They are Carlos Tevez and Mario Gomez. If Mario Gomez was left out because he did not have a good season due to his injury, then there is no any reason for Tevez to be out. He had a wonderful season in Italy and scored a lot of goal with the Serie A champions Juventus.
After talking about the players who are out of World Cup because their coaches did not include them or because of their injuries, now, we would like to go over the groups and try to figure out who has more chance of getting to Play-offs.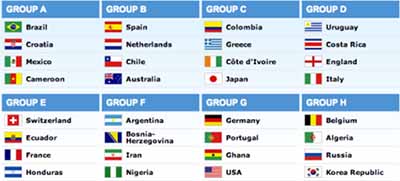 Here are our predictions:
Group A
Brazil is for sure the first candidate for play-off. Even though, all other 3 teams are very solid and they have equal chances to go out, we think Croatia will be the second team in the group. Rakitic, Modric, Srna, Mandzukic and Olic will play very important role in their team success.

Group B
In this groups, things are easier. Spain and Holland are two favourites for play-offs.

Group C
Probably, Columbia has the best chances in this group to go further and Cote d'Ivoire will be the next team in play-offs. Yaya Toure, who had his best season in Man city and in his career, will be very fit and without any doubt will be the leader for his country with Didier Drogba.

Group D
Group of death. We can understand that Costa Rica has the least chances but Italy, England, and Uruguay has the same chances to go to next round. In our predictions, England and Uruguay will be the 2 teams that will play in play-offs.

Group E
Without any doubt, France has the most chances to be the first place in the group and the second place is Switzerland in our predictions.

Group F
Argentina and Bosnia-Herzegovina will probably be the 2 teams who will play in play-offs. Dzeko, Pjanic, and Begovic, will be very important in their team.

Group G
This group is the second group of death. Germany has the most chances for the first place. The other 3 teams have similar chances but Portugal has a little more than USA and Ghana. We hope that Cristiano Ronaldo, the main leader of Portugal, will be fit for the starting games.

Group H
Belgium has the most chances in this group and we think Russian will be the other one. Fabio Capello will be the key man.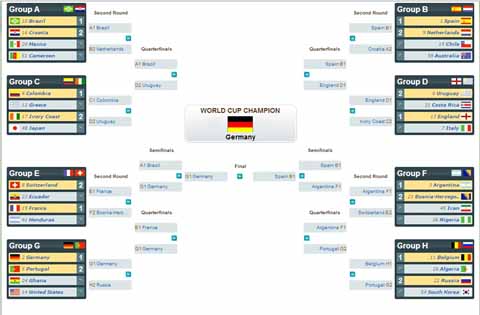 Here are our predictions.
We think that Germany has is main candidate for the winners because they have been growing a lot. They were very good in 2010 World Cup, even better in Euro 2012 and now they are in a perfect form to win the World Cup Brazil 2014. In addition, Belgium will be the main surprise.
Again, everything above are just predictions and we respect everybody's opinions.
Thank you very much for reading and feel free to leave your comment below.