It was released the first FUT 14 gameplay video. The great news is that FIFA 14 Ultimate Team will be included in the FIFA 14 demo.
First FUT 14 Gameplay Video – FUT 14 will be included in the Demo
For the first time ever, FIFA Ultimate Team will be include in the demo. The news was revealed by Marcel Kuhn, Associate Producer FIFA 14 Ultimate Team, in the Gamescom 2013.
It will be possible to play a match with one of three Ultimate Team squads. Any of them with great players. But if you think that Ultimate Team will be fully unlocked, you are totally wrong. FUT will be part of FIFA 14 Demo only as Icebreaker: an interactive tutorial for new players that allow them to learn the basic game rules and play the match we have talked.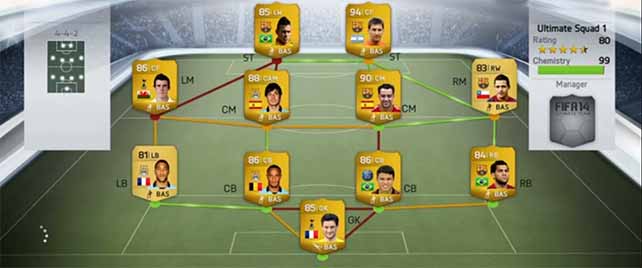 This is one of the amazing FIFA Ultimate Team teams available in the demo
If you want to watch Marcel Kuhn introducing the FUT 14 or if you want to watch the first FUT 14 gameplay video, we bring it for you in the final of this page . For the most sceptical, skip to the 8:20 where you can clearly hear Marcel Kuhn saying that "it is the demo, and for the first time ever FIFA Ultimate Team is also on the demo".
On this video you can also watch some of the FUT Legends in the Gamescom 2013 and a FIFA 14 match between a German FIFA 13 champion and NepentheZ, a popular FIFA Youtuber.
To get all the FIFA 14 updates and news, follow us in the Twitter and join us in the Facebook.
Source: FGN