FUT 14 Legends has showed to us (and probably for many people) that EA Sports don't have a so good knowledge about football as we thought. Why the best players of all time are all wrong?
FUT 14 Legends – Why the Best Players of All Time Are All Wrong ?
First of all, we love FIFA 14 as we love all the FIFA franchises. In our opinion, EA Sports is making a very good job with these games. We truly respect their work. But this time, we are very disappointed. The choice of the FUT 14 Legends is to bad to be real (click HERE to know them). We will explain why.
They Forgot to Include the True Legends !
We really appreciate the way how they deal with the player ratings and attributes. It is not easy but they already proved that they are good doing that. Obviously, that there always different opinions but, generally speaking, the ratings and stats of each player seems very well to us.
Unfortunately, the team that makes this wonderful job is probably too young to know some facts about football, a sport that is making 150 years old next month. We know that, for commercial reasons, they tried to gather the best players of the last 30 years (that's the period of time that FIFA players have memories). And we also know that they may had problems to get the rights due to to copyright reasons. But we do not agree with that. It is a crime to leave outside most of the best players of all time. Here is our short list of players that can not be forgotten:
Alfredo Di Stéfano
Ferenc Puskás
Eusébio
Bobby Charlton
Lev Yashin
Johan Cruyff
Franz Beckenbauer
Zico
Garrincha
Michel Platini
You may have a different opinion, but probably we all agree that these players are true legends.
Even in the players of the last 30 years, there are great players that were forgotten, like Ronaldo, Roberto Baggio, Eric Cantona, Zinadine Zidane and, the greatest one, Diego Maradona. We believe that EA Sports will fix it, adding some of these players during the year.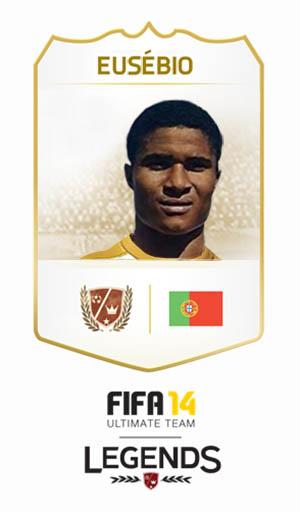 Eusebio, one of the true football legends
Wrong Ratings
In FUT 14 there are 30 regular players with the same rating as legends. It means that, in the future, they could be a legend. Sorry, but comparing Piqué or Fàbregas to a legend don't seems fair to us. Some of the legends should have a higher rating.
But the only thing wrong with the ratings are not the legends with low ratings. There are players with ratings too high, like it happens with most of the British players. Sorry if you reading from UK, but Owen and Fowler were not so great players as EA Sports says. It is also strange to see two goalkeepers that played by Arsenal in a list that forgot Yashin or, at least, Peter Schmeichel and Michel Preud'homme. The list of wrong ratings is so long…
Wrong Stats
We tried to forgive EA Sports by not choosing the best players to make part of the FUT 14 Legends, but we can not forgive for the wrong stats. The list of mistakes is really huge, showing that something is wrong with who did this job. Let's look to three simple examples:
Maldini was a legend as left-back, not as CB as his card show. He ends his career on the centre but he will be always remember as a wonderful LB.
Pelé 4 star weak foot ? 95 of pace ? More the older the player is, more mistakes we find.
Figo is underrated and everyone can see that. He had one fantastic shoot. Not 80, for sure.
What do you think about these legends ? Is EA Sports making a good job ? Or not ? Please, share your opinion with us in the comments.