There is only one special card in FUT 14: Miroslav Klose 90.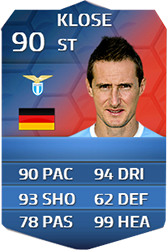 Other Cards

More Details
Release Date: July 9, 2014
Rating: 90
Position: ST
Nationality: Germany
League: Serie A
Club: Lazio
Att/Def Workrate: High / Medium
Foot: Right
Weak Foot: 4
Skill Moves: 3
Height: 184cm | 6'0″
Goals / Game: 0.95
Assists / Game: 0.28
Short Bio
Miroslav Josef Klose, who plays as a striker for Lazio in the Italian Serie A and the German national team, is the overall top scorer in the FIFA World Cup's history with 16 goals.
He is also currently Germany's all-time top scorer with 71 goal. The German national team has never lost a game in which Klose has scored.
Since 1998, he played by FC 08 Homburg, 1. FC Kaiserslautern, Werder Bremen, Bayern Munich and Lazio. German Footballer of the Year 2006, Klose won the Bundesliga twice.
Stats
Aggression 67
Attack Positioning 90
Interceptions 38
Vision 64
Acceleration 92
Agility 90
Balance 79
Jumping 99
Reactions 99
Sprint Speed 91
Strength 87
Stamina 99
Ball Control 99
Crossing 83
Curve 98
Dribbling 95
Finishing 99
Free Kick Accuracy 66
Heading Accuracy 99
Long Passing 56
Long Shots 69
Marking 36
Penalties 99
Short Passing 92
Shot Power 99
Sliding Tackle 20
Standing Tackle 40
Volleys 99
Klose 90 Review
by Hody

The world cup is over and slowly we are starting occupy those seemingly endless evening hours without any football broadcasts. But we wouldn't be the football freaks we are if we would not use them for – you saw this one coming – football.
So after the world cup extravaganza we can make use of all the new "Man Of The Match" cards that EA has on offer. Like normal inform cards, most of them differ just slightly in stats compared to their normal cards, a few have different positions like for example Arjen Robben but there is only one very special card, for only one special player.
If you play a crossing game this is the card for you!
The special card for my fellow German Miroslav Klose is one of its kind; it has a special colouring and pays tribute to the man that broke the goal scoring record of Brazilian striker Ronaldo.
When first on sale the card was worth an unbelievable 7 million coins, as it was only in packs for 24 hours. Later it was put in packs for another week along with WC MOTM cards and sells now for around two million coins on all platforms. Is it worth its money?
This is my first review for FIFA U Team so be kind on me. Let us take a look on the stats first, contrary to most informs cards, this card has gigantic improvements. Plus 15 on pace, plus 18 on shooting, plus 19 on dribbling, plus 16 defending and plus 13 heading.
If you take a deeper look then certain skills have even been enhanced more like plus 23 on curve and plus 22 on dribbling, plus 20 on shot power, plus 21 on agility and plus 20 on aggression.
While the normal shiny gold Klose card was already a fantastic card if you prefer to head in your goal, now it has become the most OP heading card along with IF Luca Toni.
Also boosts in speed and agility are present and so is the dribbling that has been moved up from 73 to 95 while the ball control was upped to 99 from 80. This gives a completely new feel to the player and lets the ball sticks to your feet, which makes it much easier to get in scoring situations.
This is the best striker card in the game – along with Ibrahimovic
The pace enhancement is feel able too: Acceleration from 76 to 92 and Sprint Speed from 75 to 91. Klose 90 will not win a race against Ibarbo or Robben, but he's far away from his normal sluggishness.
Anyhow, this card is not meant to play counter attacking football and will perform best if you have two decent wingers with a good crossing to feed Miro from left and right, like El Shaarawy, Armero, Cuadrado or Klose's teammate Candreva to boost chemistry.
I have used in Klose 90 in both a two striker 4-1-2-1-2 and a single striker formation and he scored amazing 15 goals in 20 online games (75% of Games) and assisted 4 times (20%). This makes his scoring even more efficient than the shiny gold Ibramimovic, he had a 63 % average per game for me.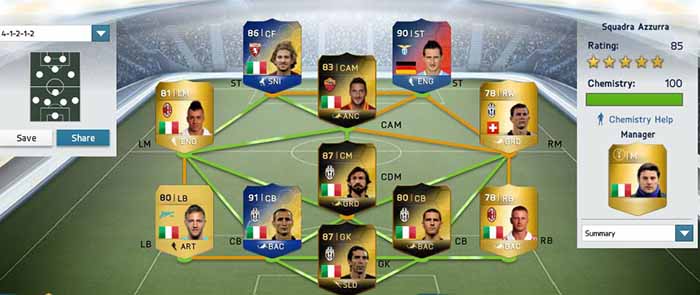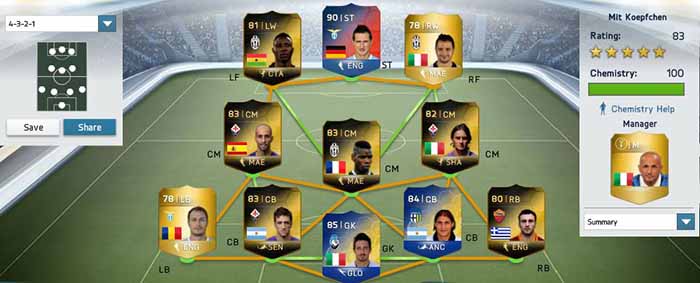 His heading and his shots are deadly, he is always in the right position for a header and with his 87 strength he can out muscle most defenders.
there's beauty in heading too
So is the card worth two million coins ? If you play a crossing game this is the card for you! If you play a mix on counter attack and crossing, pair him up with Cerci, Ibarbo or whoever is your personal Speedy Gonzalez! Only if you are a skiller, you will be disappointed by this card, as it remained on the original two star skill rating, which limits the arsenal of fancy tricks extremely. But since the Flying Dutchman of Robin van Persie we all know, there's beauty in heading too. For me this Klose card, is the best striker card in the game – along with Ibrahimovic with his five star skill rating.
Strong and Weak Points
– Best Heading
– Ball sticks to feet
– Pace enhancement
– Strength
– Ideal for crossing game
– Price
– Only two star skill rating
Suggestions


Best Position: ST
Best Formation: xx2
Best Style: Crossing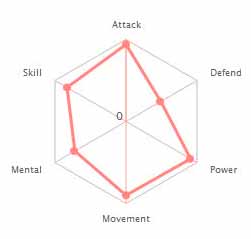 Notes
(1) Stats are H2H stats that may differ from Ultimate Team stats
(2) Goals/game and assists/game according to fut-score.com for the ST position
(3) Player's performance depends of your formation, play style, preferences, position, team mates, skills, etc…