The FUT 21 player items are the most important ones. In this page, we explain what information you can see in these cards.
FUT 21 Player Items
Introduction to the FUT 21 player items
As you may imagine, FUT 21 player items are the most important ones. If your club has that type of items, it means that you can control those players on the pitch. Before any game, you will need to fill the starting eleven slots but also the seven slots for substitutes. Without that, you cannot play.
If you want a specific player, our suggestion is that you go and search for him on the market using the player filters. This way you will only spend coins on cards you don't have and you will be equipping your club according to what it needs. Obviously, the items you get from packs should also be taken into account. However, if you think they are not necessary, put them on the market and get a few coins from them or use them to submit SBCs.
You can keep as many player's items as you want in your club, as long as there are no duplicates. You can have them duplicated on the transfer list or targets, though. There are many items of the same player but you can only have one of each. That is, you can not have two cards of the same player. In fact, you can have two items of the same player in your club if each one has different clubs (player was transferred) or have a special version and you place them in different squads.
Every time you get a player card in a pack or you buy one in the FUT transfer market, you need to send it to your team if you want to use it. In order to do that, you just need to select 'send to the active squad'. If you cannot find the card in your squad, and if you are sure that you haven't discard it or send it to the transfer list or transfer market, then it is because probably your squad was full and you have sent it to the club. In that case, look for it in 'My Club' and swap it for another player.
We will explain now what you can find on FUT 21 player items. It has a lot of information that you must pay attention to improve your chances of victory.
Rating and Attributes
To know how good a player is, you shouldn't look at his rating. It only shows, generally, how popular and how good he is in some attributes, allowing you to compare him with the others. The overall rating is not an average or an reflection of all attributes. Sometimes, players with lower ratings can be better choices.
Depending on their ratings, players may belong to one of the following groups:

Bronze, for ratings up to 64;


Silver, for ratings between 65 and 74;


Gold, for ratings between 75 and 99.
The rating is also important because it is responsible for the star rating system of teams. The star rating of a squad is a representation of the overall rating of each player in the squad. This is calculated from the players in the starting line-up and on the subs bench. It is a requirement for some matches and it is used too in matchmaking.
Here are the star rating ranges:
⭐ 5.0 | Overall Rating > 80
⭐ 4.5 | Overall Rating: 77 – 80
⭐ 4.0 | Overall Rating: 74 – 76
⭐ 3.5 | Overall Rating: 70 – 73
⭐ 3.0 | Overall Rating: 66 – 69
⭐ 2.5 | Overall Rating: 64 – 65
⭐ 2.0 | Overall Rating: 62 – 63
⭐ 1.5 | Overall Rating: 60 – 61
⭐ 1.0 | Overall Rating: < 60
If you want to know how good a player is, you should look to his attributes. The six main ones (pace, shooting, passing, dribbling, defence and physical) give you the idea of how they play. But it is not enough. If you want to know exactly what you could expect from them, you should look to all their attributes and not the main six. In this case there is the exception of goalkeepers who have on their cards all the stats that determine their performances.
Each attribute ranges between 1 and 99 (99 correspond to the perfection). Such information is written on the all FUT 21 player items. Depending on your play style, your formation and the attributes of the others players in the squad, it may be a good option to choose players that are better in some specific attributes. For example, a team that often uses crossing for heading should have a striker with good heading (included in physical). Since FIFA 21, weak foot and the skill rating are also on the player item.
Weak Foot and Skill Rating details are now also included in 'skill and health' view of any player item.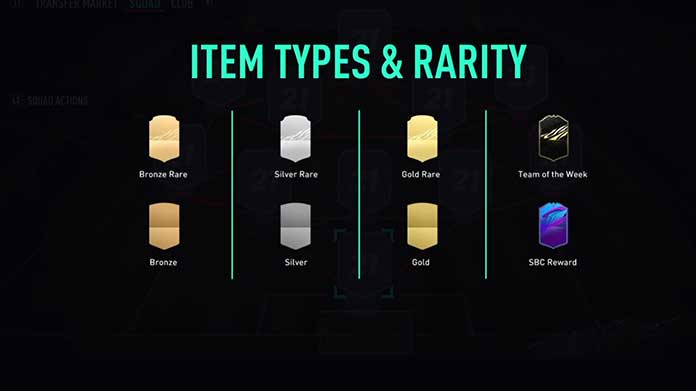 Position
A crucial information, when you are planning your squad, is the preferred position of the players. You can choose to place the goalkeeper as a striker but, as you may expect, the performance will be very poor. You should try to respect the player card detail about his preferred position. Otherwise, you will be damaging his individual chemistry and the chemistry of the team.
Items of the same player may have different positions. If you have a card whose position does not fit into the formation of your team, you may have to make one of the following:

Trade the card on the market by another identical but with the correct position;


Lose a few points of squad chemistry and keep the player adapted to the new position;


Buy and use position change items that modify the position showed on the player's card.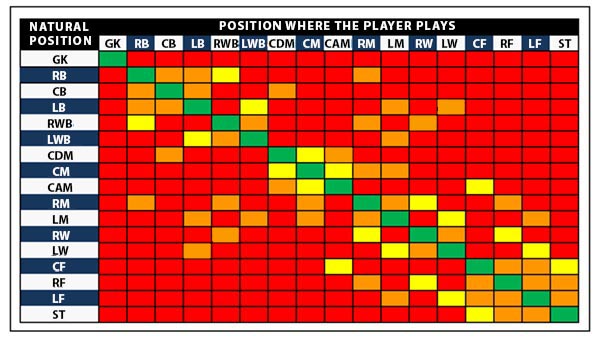 Injuries
During the matches, players can get injured and being out of the following matches. On the players' cards you can find the details about how many time the player will be out. Applying him a healing item, will speed up his recovery up to five matches.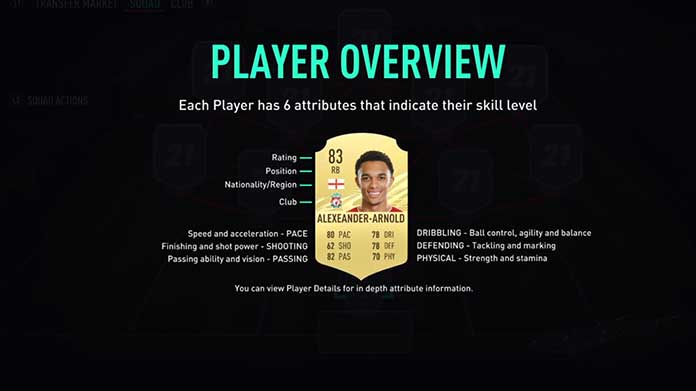 Contracts
Every match that a player plays is a contract that he spends. The only way to prevent a player from running out of contracts and being unable to play, apart from not using him, is buying a conract item. That is why it is recommended that you save some coins in order to being able to buy contracts and keep your players available.
The contract item is the only consumable that you really have to buy in order to play. That's why it is so important.
The number of contracts is also expressed on the player's card as a number between 0 and 99.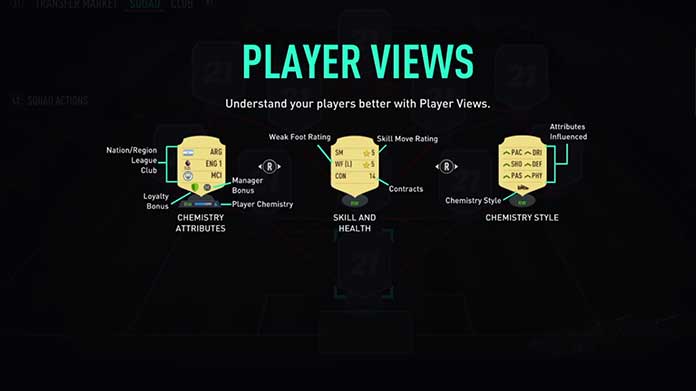 Chemistry Styles
When a player is released in a card, his chemistry style is basic (BAS), the starter style. It means that all his attributes are improved in the same way (one point if chemistry is the higher possible). If you want to adjust the players attributes to your squad needs, you can apply a chemistry style item. In the active squad menu, you have a visual indicator (little green arrow) next to the stats of each player showing which ones will be affected by the chemistry and how much will be the potential chemistry boost.
The Chemistry Styles allow you to let choose what stats are changed but not how much it will change. It depends of your chemistry. If you get individual chemistry 10, you will get the higher improvement possible in the stats you chosen.
When you buy a player, look very well to which chemistry style he has. If he doesn't have the chemistry style you want, you can apply him another chemistry style item or buy another card of the same player with the right style.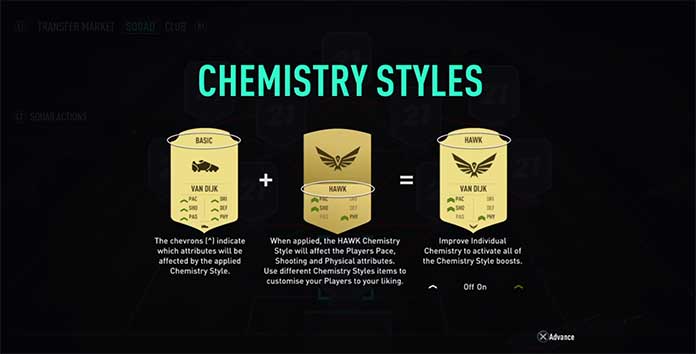 Chemistry
Expressed on the player item as a number between 0 and 10, the chemistry evaluates how well he identifies himself with his team mates, the manager and the team. It is a factor that helps the game play by interacting with the familiarity of the players with the positioning, the relation with the other players and the manager.
When you buy a player to your squad, you should check if he will get a good chemistry. We recommend to get, at least, individual chemistry 8. However, is specific cases, better players with lower chemistries may be a good option.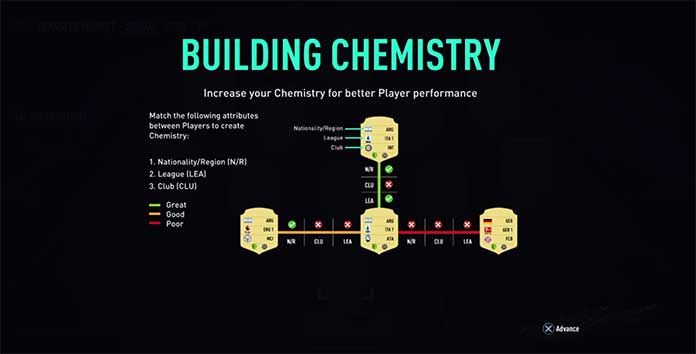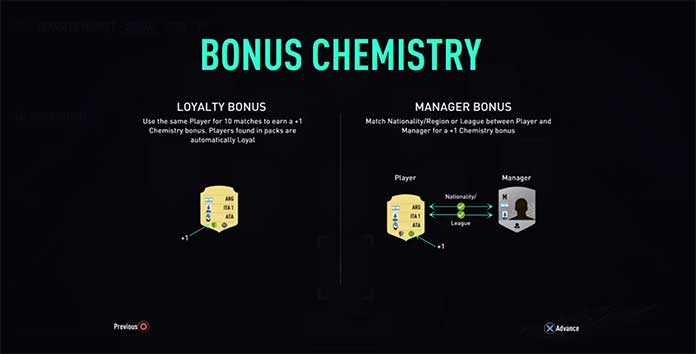 More Details
A player item gives you even more details. You can check the biographical details about the player, his statistics and the item details.
The players' cards have some biographical information about them that has a merely informative interest. In addition to a photograph of the player's face, it also includes his name, surname, nickname, nationality, club and country where he plays, date of birth, height, foot preference, weak foot, skill moves, work rates, fitness, injuries and if he is untradeable or not.
On the FUT 21 player items, you can also see all attributes, including traits, and some statistics about performance of those players. In particular, you can check how many matches he played, how many goals he scored, how many assists he made and how many yellow and red cards were shown to him.
It is also possible to check three details of a specific player card: the purchased date, the price of this acquisition and the cumulative number of owners.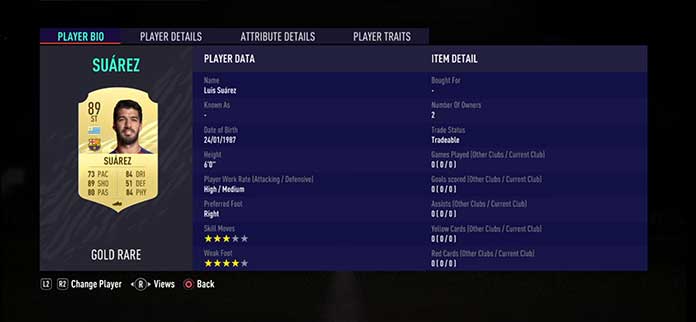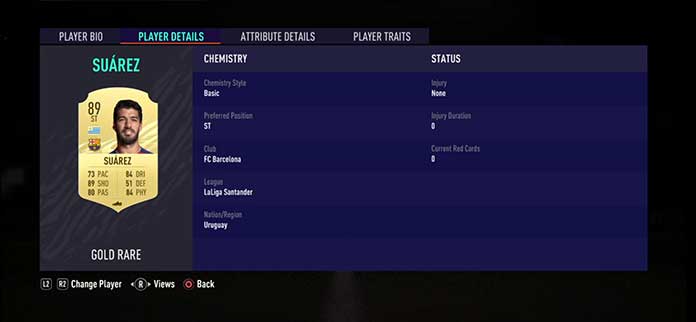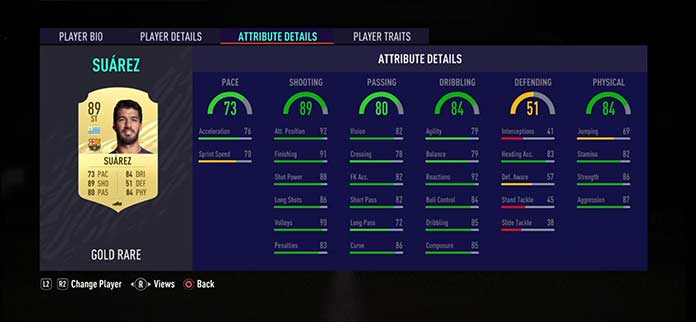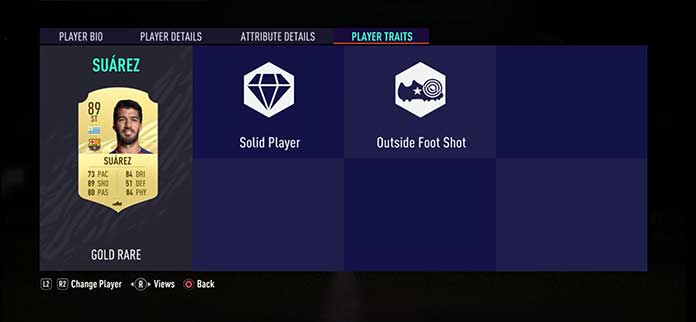 Graphic Signs
Sometimes you find a player item that has something different on it. If you don't know what is it, we will try to help you to identify four different situations.
When a player or a manager is out of contracts, their cards have a red folder sign on the top right side. It is very useful, especially when you are searching players or managers on the transfer market. As soon as you apply a contract item, the sign disappears.
When a player is suspended, his card has a red rectangle sign on the top right side. It is very useful, especially when you are on your main squad menu. As soon as he is able again to play, the sign disappears.
When a player is injured, his card has a red band-aid sign on the top right side. It is very useful, especially when you are on your main squad menu. As soon as he rests or you apply him a healing card, the sign disappears.
The players on loan are also identified by a specific signal: a blue retangle on the top right side of the card, showing the remain matches.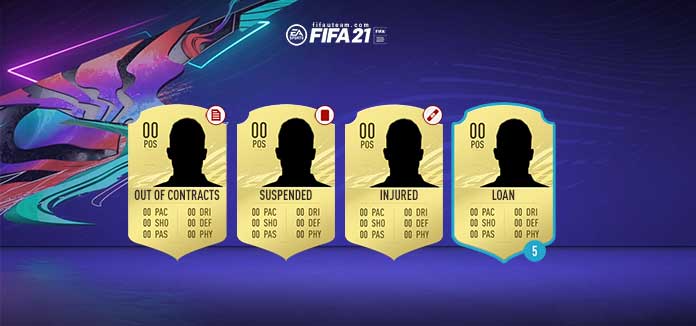 Basic Management of Players
Tips for begginers
For the less experienced Ultimate Team players, sometimes it may be a bit tricky to perform a few basic management players' tasks. Here they are the most common ones and the best way to lead with them:
➡️ Buy Players
Go to the transfer market, use the filters and buy.
➡️ Send a Player to the squad
After you have bought him, choose 'send to club' or 'place in active squad'.
➡️ Use a Player running out of contracts
Choose the player, select 'Apply Consumable' and apply him the contract item.
➡️ Use a Suspended Player
Put him in the reserves (on the right of substitutes) and wait until the suspension expires.
➡️ Use an Injured Player
Put him in the reserves (on the right of substitutes) and wait until he recovers
OR select the player, choose 'apply consumable' and apply him the healing item.
FAQ
FUT 21 player items frequently asked questions
Q: Where can I find all the attributes of my players?
A: You can see the attribute details directly in your console or PC.
Q: Can I have more than one item of the same player stored in my club?
A: You can have several cards of the same player but only in the transfer list. To have more than one card of the same player in your club, you need to place each one in different squads and they must be from different clubs (the player has moved to another club). You can also have a NIF and an IF card of the same player in different teams.
Q: How do I change the work rates of my players?
A: That's not possible.
Q: Getting a high/high work rate is a good thing?
A: Usually not. It means that your players will be often out of position. They want to attack but they also want to defend. It depends on your formation, play style and the player position.
Q: I don't use skills. Do I need players with high star skills?
A: No. If you don't perform skills, it doesn't matter the star skills of your players. However, our advice is that you should learn, at least, one skill movement. It doesn't need to be a 5-star skill movement.
Q: Is a gold player always better than a silver one?
A: Usually yes, but not always. What makes the player gold is his rating. What really matters to know if a player is good or not, is his attributes. Some silver players can have better attributes than gold players. The same happens with bronze/silver players.