Discover in our FUT Champions Channel Guide for FIFA 18 Ultimate Team, what is this new feature and how you can use it to watch the best players in the Weekend League.
FUT Champions Channel Guide for FIFA 18
Watch the best FIFA players playing Weekend League

The FUT Champions Channel is a new feature of FIFA 18, that lets you watch full match replays from the top players in the world competing in the weekend league. Control playback and cameras through matches of your favourite pro players to learn how they play and raise your game!
Anyone can access Play > Ultimate Team > FUT Central > (R) > FUT Champions Channel to watch some of the matches that are happening in Weekend League. As soon as the rounds finishes, fans are able to watch the highlights of a selection of the best matches, and also pause and play, change the camera, change play speed and hide the menu.
Below the controlled options, a timeline will appear featuring pitch graphics created exclusively for FUT Champions. This map will indicate when highlights, goals, and cards from the provided match occurred, allowing viewers to jump back and forth between the game's best moments.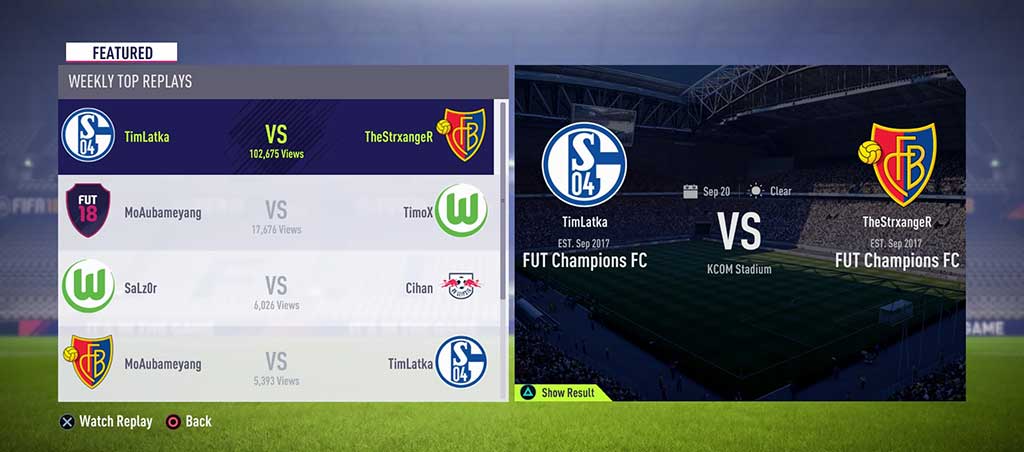 If still got some questions about the FUT Champions Channel, take a look to the followig FAQ.
Q: When are replays available?
A: As soon as the Weekend League begins.
Q: Are there any rewards?
A: No.
Q: Can EA remove the replay of my match?
A: EA can't remove replays from the channel.
Q: My replay was hot fire. Can EA upload it to the channel?
A: EA can't upload replays to the channel.
Q: How do EA choose replays?
A: It's an algorithm. This means a computer selects the matches. If your replay didn't get selected this time, keep playing. It may get chosen later. If you participated in the Weekend League, you're eligible to have your match replayed.
Q: I don't see replays or I'm having trouble watching them. What's up?
A: This might be because of a patch. You can't replay the matches that happened before the patch, after EA patch. You can see new replays as soon as the upcoming Weekend League starts.
Q: Can I rewind the replay?
A: No.
Q: If I play on Xbox, can I view PlayStation replays or vice versa?
A: Nope. If you play on Xbox, you can only watch Xbox replays. If you play on PlayStation, you can only watch PlayStation replays.