FUT Exchange is a service that allows you to buy and sell coins, which has been a real threat to the traditional coin sellers. If you wish to know all about FUT Exchange, be sure to read our independent review, the only one you'll find out there.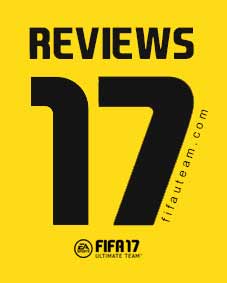 ✍ More Reviews
FIFA 17 Millionaire
FIFA Rosters
FIFA Gamers Pub
FIFA Websites
FUT Facts
FUT Watch
FUT Exchange


FIFA 17 Reviews is a space that we're proud to present in our website.

Although we do already undoubtedly provide the best FIFA Ultimate Team content around the internet, the truth is that part of the community will only reach out to the best gaming experience once they use some other tools as a complement to our website. Our main objective here is exactly to serve you, the community, and for that reason, we're starting these monthly reviews which will show you the newest products and services alongside the unknown potential of the ones you already know.

Our team has been working daily for almost five years with subjects that are in some way related to this game. With the exception of databases, we're the website players come across the most when they want to know something about FIFA. It's about time we transmitted some of this accumulated knowledge to the community, analysing books, apps, websites and multiple services. All of that in order for your FIFA 17 game experience not to end here and be even more gratifying. We'll here publish completely independent reviews, advising or admonishing determined products and services according to their profile. We don't limit ourselves to just giving our opinion. We analyse everything and for everyone.


FUT Exchange Review

What is FUT Exchange
The FUT Exchange project came to light in May 2017, although it started being planned over a year before that. It consisted basically of the idea of allowing players to buy and sell coins amongst themselves, with no intervention by the habitual coin sellers. There, you can both auction your own coins and look for someone else's coins to buy. Thanks to FUT Exchange, you can make some money out of those extra coins you have or buy the amount that you need in order to get the players you've always wanted.
Buying Coins
Whether you want to buy or sell coins, the first thing you need to do is sign up at futexchange.com. Is directly from this domain that all the service is provided.
If you've tried buying coins at some point and got confused with the process or didn't like the price, consider trying out FUT Exchange. As soon as you click 'Buy' it's all settled in four simple steps. When choosing the amount of coins you want and its corresponding platform, you're automatically given the lowest price available so you can proceed to checkout. After that you just have to fill in some information relatively to a card you don't need and the coins are delivered to you.
Alternatively, you may consult all the auctions available and decide which one you intend to go for. Not always the lowest price for each 10k coins is the one that interests you the most. It can depend on your choice based on other variables, such as type of delivery, seller feedback, or the type of auction.
If you've ever bought something on eBay, you won't have a hard time using FUT Exchange. The process is simpler and you won't have to compete directly against anyone since people aren't allowed to place bids and you always buy at a fixed price.
Selling Coins
Selling coins is a strategy used by many players who intend to save money to buy packs or even the game itself at the beginning of the following year. Whatever your motives might be, you might as well do that on FUT Exchange.
The process of monetising your coins is even simpler than the one you go through when buying. You just need to click 'Sell' and fill in a simple form. You must define the amount of coins you intend to sell, the price you want for them, for how long your auction will be active and which type of auction and type of delivery it will be.
In this case you'll face the concurrence from several other sellers that, like you, intend to receive the best price for their coins. In case you wish to accelerate the transaction, there's a button that allows you to beat the whole concurrence by fixing your price as the lowest one amongst all the other active auctions.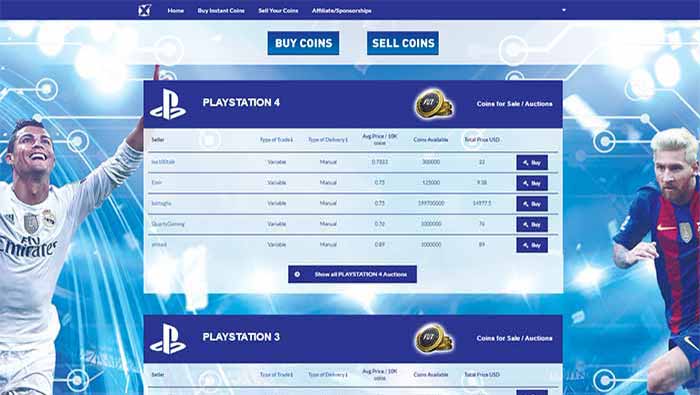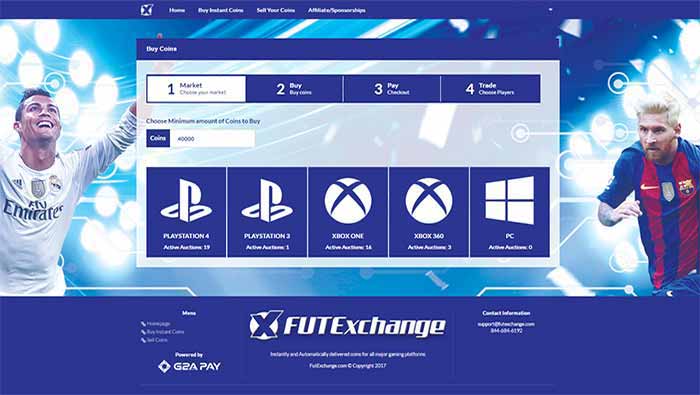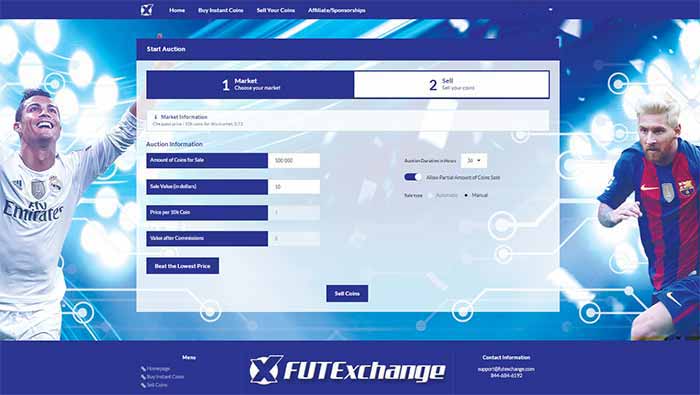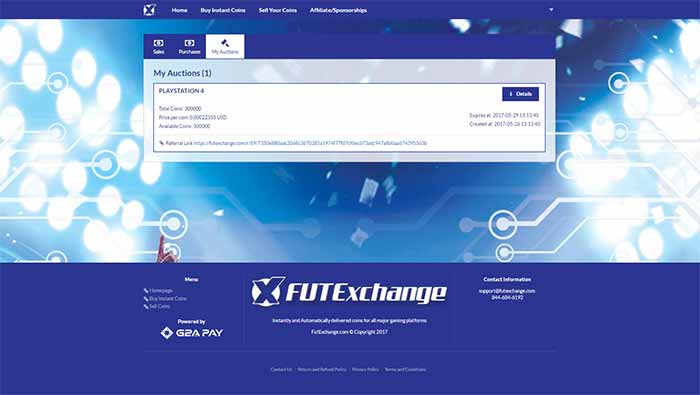 FUT Exchange – Strong Points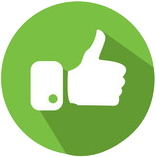 PRICE
It's undeniable that the most decisive factor whilst buying a product would be its price. There's no running away from that fact. People who sign up to FUT Exchange have legit expectations on being able to buy coins at a lower price or sell them for a fair price.
Fighting against the traditional coin sellers' profit margins is one of the objectives the creator of this project had in mind. Effectively, when comparing the prices practiced at FUT Exchange with the most popular coin sellers' price tables, we can see savings of up to 40%, still considering the 20% charged by the service in every transaction. There shall be an even bigger difference when this service gets more popular. This is expected because when you buy coins, supposedly hundreds of sellers are competing to offer you a lower price each time.
Have you ever tried selling your coins to one of these coin-selling websites? The price they'll pay you for them is three or four times lower than the actual market value. At FUT Exchange you'll receive significantly more for the same amount of coins, because the only intermediary there is, the website itself, charges a much inferior percentage relatively to those practiced by the coin sellers.
SIMPLICITY
In case you've sold or bought coins through another service before, probably you went through a bit of a headache at some point. One of the biggest advantages FUT Exchange offers has to do with how easy it is to use their service. The website is pretty well designed, it's intuitive and transactions can be made quickly. The variety of means of payment shows a good example of a service that clearly intends to keep it as simple as possible. You may pay, among other means, by PayPal, credit card, Skrill, Bit Coins, Multibank or even by bank transfer. Just so you're not missing out on any details, the website provides you with a history of all your transactions and active auctions.
FLEXIBILITY
Power of choice is always a virtue. In this service's case, no matter if you're the seller or the buyer, there's flexibility in being able to make some decisions according to your preferences. There are two things that are especially useful: the type of auction and type of delivery. Regarding the first one, the seller may choose to sell his coins separately or only accept to sell the 'whole package' at a fixed price. The type of delivery can be manual, which involves the seller having to upload the proof of delivery; but it can also be automatically done by the 'FUT Exchange Coin Auto Delivery System'.
SAFETY
Until proved wrong, we have every motive to say that the service offers its users a high level of security. Firstly, the website is prepared so that every transaction occurs in an encrypted mode. Secondly, the creators of the service have a history of well built products in the sense of being able to avoid detection by EA. And finally, such as what happens on eBay and other popular services, the sellers are rated by the buyers, therefore when you're looking for someone to buy coins from you'll have access to their reputation. There's also a commitment by FUT Exchange as they have a team for the purpose of monitoring transactions.
The only problem you might run into comes up when choosing the automatic delivery type. In this case the system does everything by itself but you have to give away your account information. It's almost certain that you won't have any sort of problems, but again, we did say almost.
FUT Exchange – Weak Points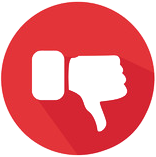 EA'S POLICY
Selling and buying coins violates the game's terms of service. By doing so you are not only compromising your account, but also having an advantage over players who don't. A considerable part of the community condemns this type of behavior. They're usually 'honest' players who work hard to earn their coins and build their squads. They feel as though it's unfair that there are people who use money in order to skip the hard work but, opposingly, they don't feel the same way about buying FIFA Points. We've always defended that buying and selling coins has no significant negative influence over the market's regular behavior, and after all we do judge this practice as morally acceptable. We respect, however, people who don't think the same way we do.
SMALL AFFLUENCE
This review was published shortly after the service had been made available. It is, therefore, natural that in this initial period users are still not in very high number. However, we couldn't not point this out as a negative point. The thing is that without there being many sellers and buyers, prices are far from what we'd wish them to be, and in some cases there might not even be any auctions available at all, such as what happens with the current PC platform, one of the five there are.
Although it's obvious that the product being transacted are FIFA 17 coins, the truth is that the website at no point states that. It'd be good if, in the future, it could be technically possible to sell or buy coins from previous FIFA's.
TECHNICAL INFORMATION
Name
FUT Exchange
Official Website
futexchange.com
Price
Registration is free.
There's a 20% charge per transaction.
Release Date
May 2017
Included Tools
Buy Coins
Sell Coins
Affiliate Program
Private Area
Final Analysis
FUT Exchange offers a sturdy, easy, quick, intuitive and apparently safe service for FIFA coin transactions. If you're one of the coin sellers' client, you should definitely try it sometime.
The rating we're giving them is harshly penalized by the scarse level of use the website is still going through. It may come to be an excellent service in the future, which, who knows, ends up destroying the coin sellers' business, but at the moment it is no more than a project in its starting phase. Its success depends almost fully on the community's adherence. After all, the more people use FUT Exchange, the cheaper coins will be.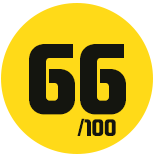 –