FUT Facts is a website that intends to scientifically analyse the most polemical themes related to FIFA, such as handicap. If you wish to know all about FUT Facts, make sure you read our independent review, the only one you'll find out there.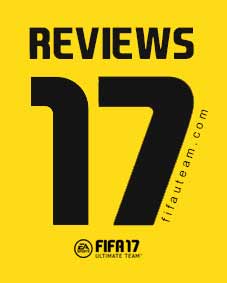 ✍ Outras Reviews
FIFA 17 Millionaire
FIFA Rosters
FIFA Gamers Pub
FIFA Websites
FUT Facts


FIFA 17 Reviews is a space that we're proud to present in our website.

Although we do already undoubtedly provide the best FIFA Ultimate Team content around the internet, the truth is that part of the community will only reach out to the best gaming experience once they use some other tools as a complement to our website. Our main objective here is exactly to serve you, the community, and for that reason we're starting these monthly reviews which will show you the newest products and services alongside unknown potential of the ones you already know.

Our team has been working daily for almost five years with subjects that are in some way related to this game. With the exception of databases, we're the website players come across the most when they want to know something about FIFA. It's about time we transmitted some of this accumulated knowledge to the community, analysing books, apps, websites and multiple services. All of that in order for your FIFA 17 game experience not to end here and be even more gratifying. We'll here publish completely independent reviews, advising or admonishing determined products and services according to their profile. We don't limit ourselves to just giving our opinion. We analyse everything and for everyone.





FUT Facts Review

What is FUT Facts
The FUT Facts project was born in northern Europe back in summer 2015. Available in English, this website's main objective is to publish well-written articles with a scientific approach, about themes that cause polemics among the FIFA community, such as price ranges, matchmaking, player statistics and, above all, handicap.
The Website's Content
Within FUT Facts you'll only find articles related to FIFA. There's not much to browse, although you can filter the content by four distinct chapters: the 'Must Read', a selection of articles the author considers the best; 'Scripting', where the subject is simply the most polemical theme of the game; 'FUT Matters', which gathers interesting facts about the Ultimate Team game mode; and finally 'Data Section', dedicated to posts that analyse the game statistically.
By visiting the website you'll find a series of very interesting articles. Did you know, for example, that people who play FIFA on the PS4 score more goals per game than those who play it on the XBox One? Do you know how the ELO matchmaking system picks your next opponent? Do you know what your current division can say about your skills as a FIFA player? If the answer is no, you can find all that out in their articles with guaranteed concrete data. In FUT Facts you'll even find a series of attempts to justify certain occurences we consider abnormal and that the community tends to call handicap: 90th minute goals, superpowered opposing goalkeepers and ridiculous game losses.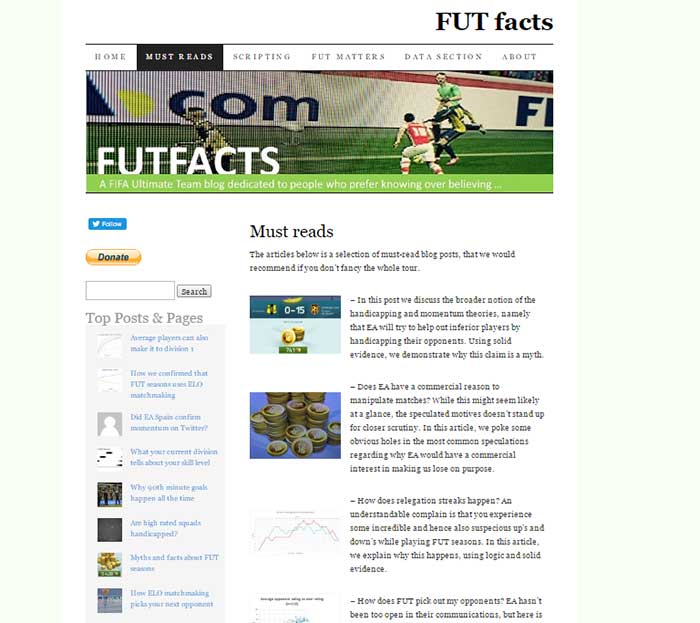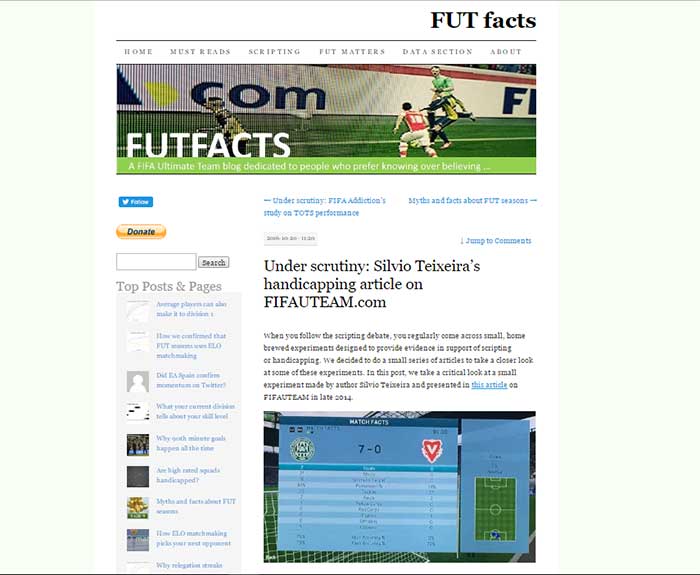 FUT Facts – Strong Points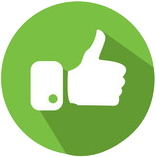 QUALITY OF THE ARTICLES
Would you be interested in reading an article about homing pigeons and their sense of orientation? If the answer is no, reconsider your answer. If the author of this website were the one that wrote it, maybe you would even want to re-read it. The truth is that reading about uninteresting subjects, which is not FUT Facts's case at all, can be extremely gratifying in case the texts are well written. This website's articles have a head, trunk and limbs, and try to answer not only to the question from the title, but also to all the others that come up during the process of writing, which often redirects you to other more specific articles.
ORIGINALITY
There are many websites about FIFA out there but most of them post the same type of articles. As if that wasn't enough, many are a copy of the official EA website and our fifauteam.com. Fortunately, this isn't FUT Facts' case. They differ in debating about themes that are usually very original and interesting at the same time.
Allied to the quality of their texts, this originality contributes decisively for us to look at FUT Facts as a kind of 'cult website'.
SCIENTIFIC APPROACH
'A FIFA Ultimate Team blog dedicated to people who prefer knowing over believing''. This is the tagline that perfectly describes FUT Facts' philosophy.
For people with a scientific background, like us and the author of the website himself, it's very easy to identify in these texts the different stages of the scientific method: in almost all of them a problem is defined, an observation is made, a hypothesis is formulated and later testable predictions are developed so that a conclusion can be reached. In order to find the answers to the complex questions that emerge, the author reaches out frequently, and precisely, to the numbers. Relying on data acquired from the game, and using samples on a large scale, he makes use of his extensive professional experience in statistical analysis and is able to justify many of the most complex FIFA Ultimate Team questions. The result are very well structured articles, which feature clear conclusions that could only be reached if supported by facts. In other words, by numbers.
If you are, for example, a fearless defender of the existence of handicap, know that it won't be easy to counter FUT Facts' arguments. It's just that the conclusions are well formulated in such a way that you will feel 'disarmed'. If you want to get the best from this website, we recommend you adopt a bit of this scientific philosophy, being open to all hypotheses. Put your convictions aside and try to look for the answers yourself.
FUT Facts – Weak Points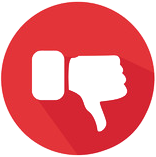 UPDATES
It's a recurrent mistake to compare websites with different goals. Saying, for example, that FUTHead is better than FUT Facts reveals an enormous lack of comprehension of things. FUTHead is essentially a database, whilst FUT Facts is made basically of texts about polemical themes. They're not comparable.
For it has such a limited spectrum of subjects, it's normal that the number of articles published in FUT Facts is also smaller. However, we still think the website could do with more frequent updates. After all, a new article every 15 days isn't enough to keep the followers satisfied.
PROFESSIONALISM
FUT Facts is not a website that pursues profit. It's mainly recreative. As such, it's natural that some elements don't have much of a professional aspect. We don't have any major critics regarding the website's design or its navigation, but you can notice the lack of professionalism in small details. There isn't, for example, a privacy policy or terms of use, which are mandatory, and the logo could've been designed more carefully. These are just details, but certainly they don't go unnoticed by the most exigent people.
COMMUNITY
A project like this deserved more participation by the community. Comments on the website are quite rare and its presence on social media is almost null. Obviously popularity isn't necessarily what indicates quality but, since most articles have such a polemical character, it would be great to see contrary opinions as long as they're well fundamented.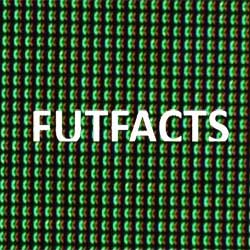 TECHNICAL INFORMATION
Name
FUT Facts
Official Website
futfacts.com
Price
The website is completely free but the author accept donations
Release Date
July 2015
Included Tools
Articles

Final Analysis
FUT Facts is a small project that has a giant power: making people stop defending certain ideas that were believed in in the first place just because they're accepted by a significant part of the community. We admired them for that. They try to make us leave our convictions aside and look for answers to the hottest FIFA Ultimate Team themes, following a scientific method kind of philosophy as much as possible. If you believe in the existence of Handicap in the game, you won't like what FUT Facts has to show if you're not willing to hear arguments that defend the contrary idea. No one is asking you to accept the author's ideas, if anything they're giving you the option to find the answers that allow you to defend your own ideas using the same resources.
Unfortunately, FUT Facts is unknown by most of the community. It could be a much more interesting website if we were able to see contrary ideas, with arguments as good as the author's. Sometimes, it looks that he is not impartial enough.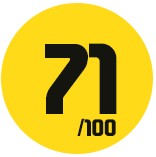 –