FUT Friendlies is new hub to play FIFA 20 with your friends locally or online, as well as head to head online in traditional 11v11 gameplay, with or without House Rules.
FUT Friendlies for FIFA 20
What you should know about the FUT Friendlies for FIFA 20 Ultimate Team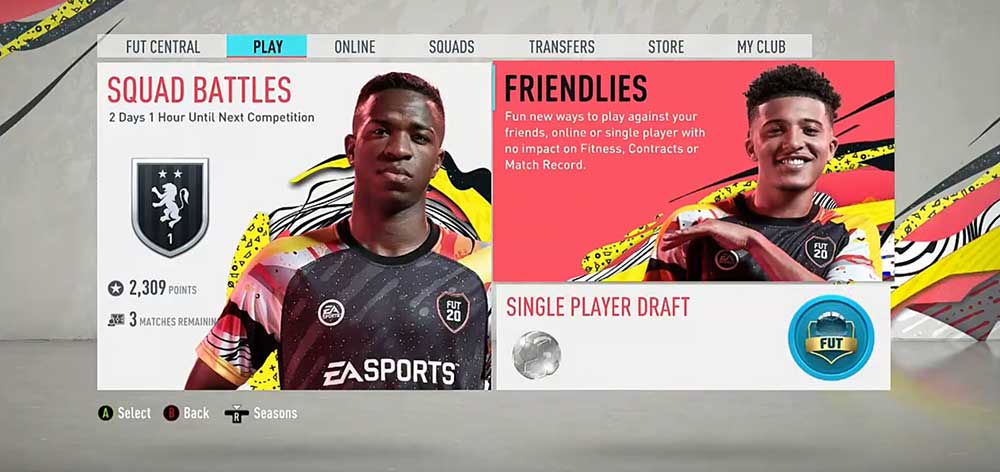 One of the main drawbacks on Ultimate Team in years passed is the inability to play relaxed matches with your mates. Well on FIFA 20, that changes as EA have announced the launch of FUT Friendlies.
To access FUT Friendlies, you just need to go to the 'Play' tab and select 'FUT Friendlies'.
Matches within FUT Friendlies do not consume contracts or fitness, or count towards your club record and they do not carry over injuries and red cards making them the perfect place to experiment with your new players.
EA've also paired the mode with deeper stats tracking in FUT Friendlies, so that you'll have a one-stop spot to know which of your friends is truly the best at Ultimate Team. Use the stats to analyze and refine your game plan, tweak your pre-game tactics, and prepare for every match. With a host of detailed, immersive information, FIFA 20 allows you to approach every match just like you would an actual game of football, utilizing tactics and strategies gleaned from your stats. Tracked Stats include wins, losses, draws, win %, goals scored, goals allowed, goal differential, goal types (inside box, outside the box, penalties, free kicks), goal heatmap on net, shot on target %, total shots on target, total shots, average possession %, average possession % in areas and pass % completion.
Ways to Play
Choose how you would like to play the mode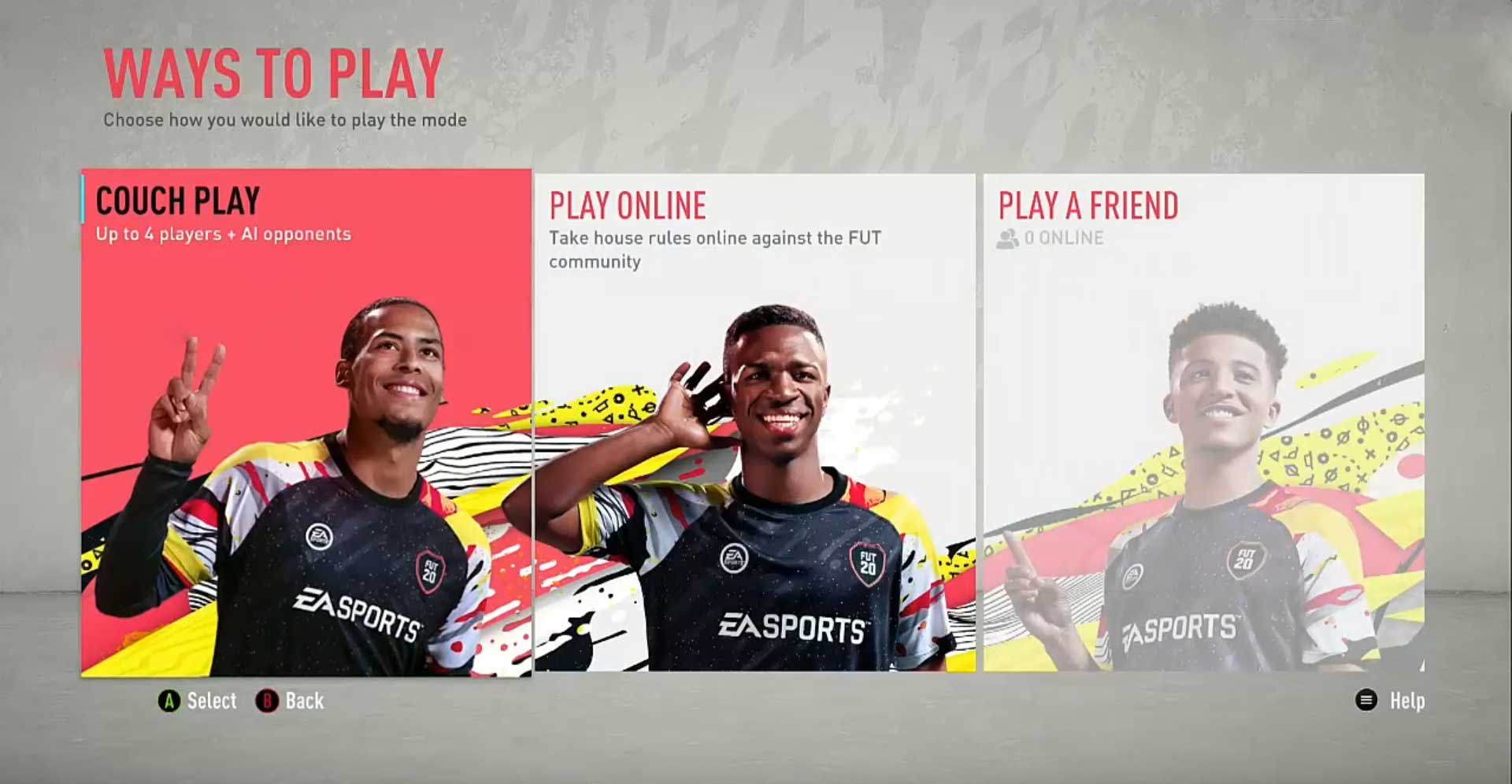 When you start FUT Friendlies, you have to select one of these three options:
COUCH PLAY
Play locally with up to four of your friends. AI will take care of the rest.
PLAY ONLINE
Play online against another FUT Community player.
PLAY A FRIEND
Play online against one of your friends. This window shows you how many friends are online. If no one is online, this option will be disabled.
FUT Friendlies Modes
Match modes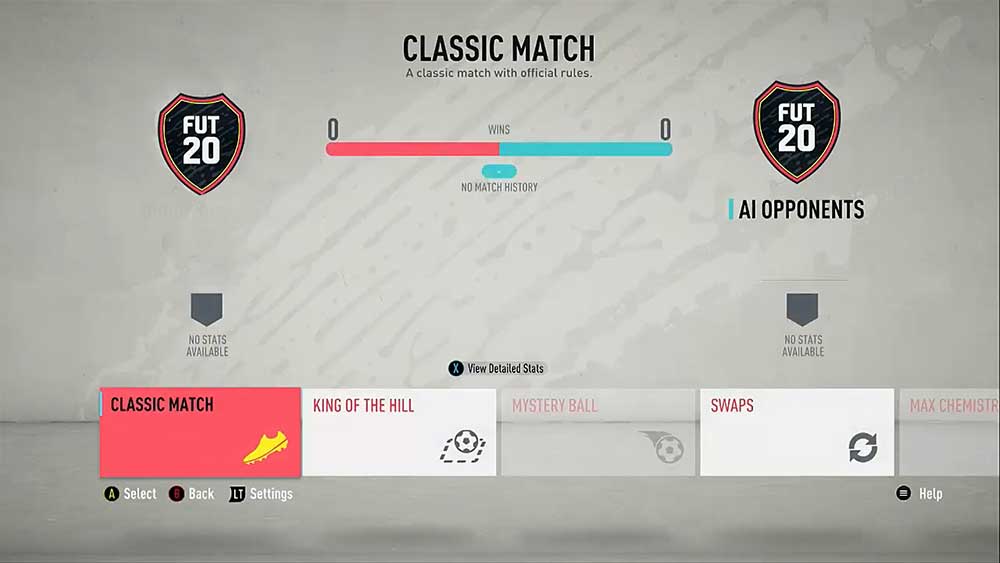 The mode features 11v11 Classic gameplay, but the true fun in comes when you branch out into some custom House Rules. In FUT Friendlies, you can build your own playlist by selecting a range of House Rules for your own custom playlist or select the exact type of match you want to play. Let's see all the options available to play in FUT Friendlies for FIFA 20.
FUT PRO KIC CLASSIC MATCH
A classic match with official rules. This is the default option and the favourite one of the old-school players.
FUT PRO KIC KING OF THE HILL
King of the Hill combines the power of dribbling in a control zone with a goal value meter making the focus of the game different than ever before. A control zone will spawn in the attacking zone which you will have to get the ball inside and then continue to control it as the space shrinks and your goal meter starts to fill. Balance your chances between retaining possession and pushing for a max goal value of 3, and then work your way up the pitch and try to score. This mode is new in FIFA 20.
FUT PRO KIC MYSTERY BALL
Mystery Ball brings the element of surprise each time the ball leaves play as it comes in as a new mystery ball type. Each ball has a custom goal value that ranges from 1-3 goals and boosts the player in possession with over the top effects that take their Shooting, Dribbling, Passing, Sprint Speed, or the all powerful All Ball, which brings each of the other effects at the same time. This mode is also new in FIFA 20.
FUT SWAPS
Swaps brings a team building twist to the match. At the start of each game you'll have 3 players randomly swapped from your squad with your opponent. Will you get your opponents best 3 and replace them with some of your bronze starters? Or will you just get to experience what it's like to play with some different players you have never used before? As an additional benefit, if you manage to score on your friend with one of their players you'll be awarded 2 points for that goal. Each match in Swaps will bring some fun opportunities to use your friends' players against them. This mode is new in FUT 20.
FUT MAX CHEMISTRY
In Max Chemistry, the restrictions of team building were taken away and added a full boost to players' Chemistry, regardless of their position in the squad or their links. Each player will play at 10 chemistry and the team will have 100 team chemistry, allowing you to experiment with new squad combinations with the full power of chemistry styles.
FUT PRO KIC HEADER & VOLLEYS
You can only score in this match type with a header or a volley. Free kicks and penalties also count, but any other goal scored using your feet outside of a volley will be disallowed.
FUT PRO KIC LONG RANGE
Any goal scored inside the box will count as one goal, but goals scored from outside the box count as two goals.
FUT PRO KIC NO RULES
Anything goes in this classic match type, in which there are no offside calls, fouls, or bookings.