By completing challenges, you earn Stars which can be used to redeem rewards in the FUT Moments gallery.
Frequently Asked Questions
You earn FUT stars by completing challenges. In some cases, you can adjust the difficulty of the challenge and earn extra stars.
How does the Tri-Daily Challenge work?
The Weekly Challenge is always available from the first day. It offers you simple tasks you can complete once every week.
Which FUT Moments Challenges should I do first?
We suggest starting with the easiest ones. The 'Pitch Perfect' story was primarily designed for those playing FIFA 23 FUT Moments for the first time.
Can I earn a player on FUT Moments rewards?
Yes. However, the player items you earn in this game mode are always untradeable, and you can only use them for a limited number of matches (loan item).
Can I redeem the same reward more than once?
Yes, you can redeem the same FUT Moments reward more than once, as long as you have enough FUT Stars. Each reward has a specific number of times you can redeem it.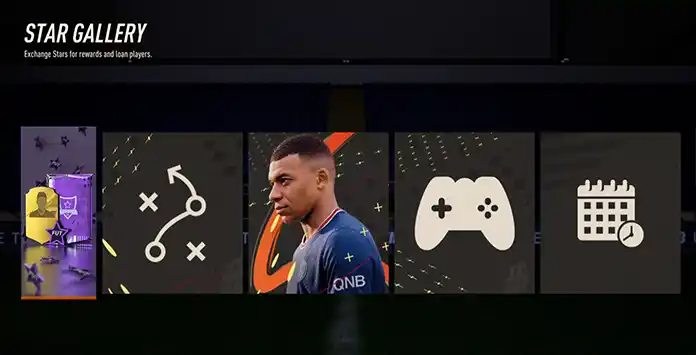 Rewards List
S4
Reward
Stars
Welcome Pack T 1
03
84+ Super Loan Player U 5
07
Rare Gold Players T 5
10
Gold T oo
12
83+ Player Pick U 4
15
Premium Gold T oo
16
Ultimate Draft Token U 3
20
84+ Rare Player U 3
20
Future Stars Token U 1
20
Small Rare Gold Players T 3
20
Click or tap in the player or pack to see more details.
S3
S2
S1
S5
S6
S7
S8
S9